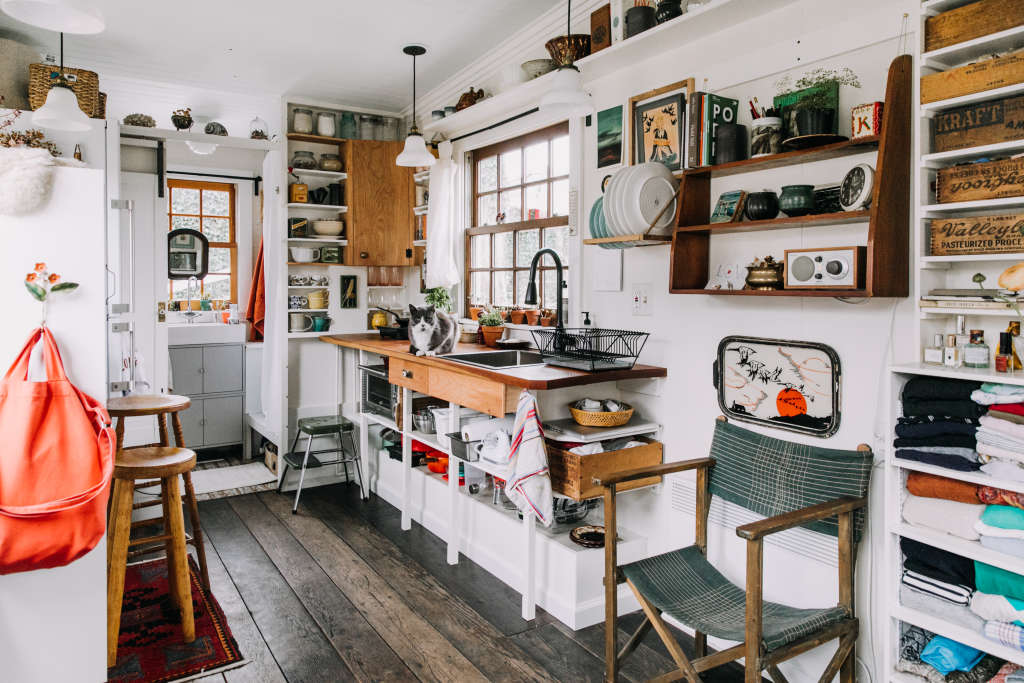 You might think that tiny house dwellers are their own particular alien breed, capable of stripping off worldly concerns and living an ascetic life without possessions or care. You would be wrong. Tiny house owners: They're just like us! They have to deal with the same stuff the rest of us do (things like doing dishes and finding alone time), but living small means it just catches up to them a little bit faster. And they have to find creative ways around their problems.
We dove into the Instagram universe for a (sometime humorous) glimpse of what it's really like to live in a tiny house. You might relate to some of these.
Privacy and Alone Time
Sometimes, as humans, we need to get away from the people we love. Nor do we want to let everything hang out in full view of our partners (not to mention any guests). Tiny house dwellers in particular have limited options when it comes to carving out some alone time, or maintaining a sense of privacy.
When all else fails, sequester yourself using a retractable doggy gate and pretend no one can see you, and you can't see anyone else.
Bathroom etiquette is turned on its head in a tiny house, and, when there's little between you and the next person, know that headphones are your friend.
Regular Chores
Pry the lid off any marriage or partnership and you'll see household chores at the top of many couples' lists of things to argue about. But, when you can't fit a dishwasher into your tiny kitchen, or move easily around furniture to clean, the difficulty of household tasks goes up a notch or two.
Stacked dirty dishes don't have many places to go when your sink and countertops are the size of a postage stamp.
We've talked before about the life-changing benefits of making the bed each and every day. So kudos to these folks who have built-in furniture that makes that whole process harder.
Living with Pets
Everyone who's ever lived with a dog or a cat knows they have an extraordinary gift for getting in the way and taking up space. Especially when you're trying to get stuff done, or, you know, just sleep while they lay there crowding the bed. It's a good thing everybody loves the little space hogs, because there's not much you can do here except go outside.
The awkward dog cone of shame is a well-documented phenomenon. Can you imagine how many walls this guy bumped into during those long two weeks?
Sometimes you have plans, but your pets have something else in mind. Adjust accordingly.
Room for Hobbies and Exercise
Most hobbies require some elbow room, but with no craft room or separate studio anywhere in sight, you have to figure out what will work in the space you've got, and deal with the consequences.
I think most people are familiar with the explosion of stuff that happens when you're about to tackle a new project around the house. When you live tiny, every surface gets quickly covered with tools and supplies, with little room to maneuver.
While an elliptical machine would never fit in a tiny house, a slim vertical exercise pole is completely do-able, and this tiny house owner found a way to make exercise work.