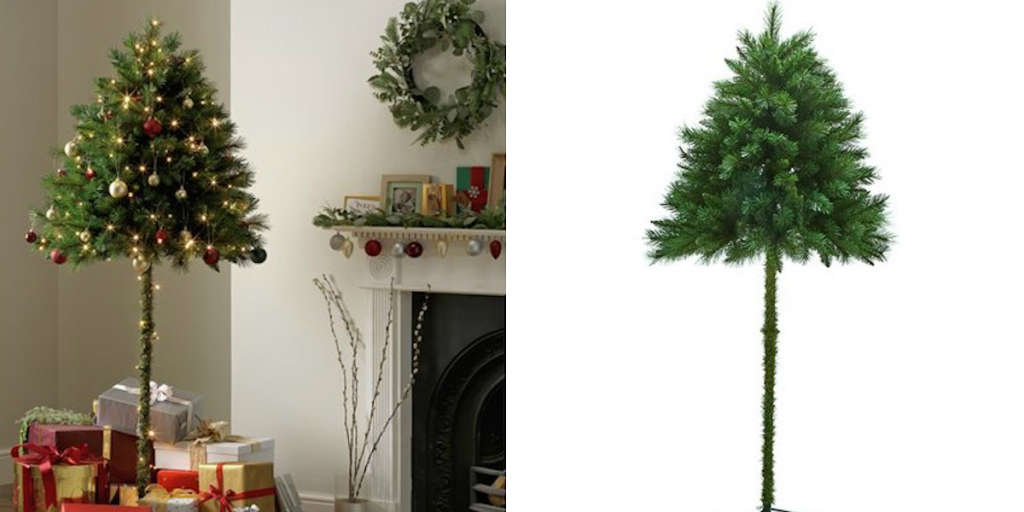 Now that it is officially December, Christmas trees are going up all over the world. People are pulling their stockings and ornaments out of storage. For cat owners (and parents of little ones), decorating the Christmas tree can be a bit of a nightmare. You never know what ornaments they might like and then break later on.
Many cat owners have come home to find their cat sitting inside of their Christmas tree. They are so nimble and small, most cats can find their way easily inside of a tree. However, some cats are much clumsier than others and in their attempt to climb all the way up, they knock the whole tree over. You might be able to put the tree back up, but chances are, quite a few ornaments are broken in the process.
The UK company, Argos, has a solution to this problem. Instead of buying a full tree, they sell a 6-foot tall artificial Parasol tree that is actually a half tree. It has just the top portion of a fake tree, with lots of room between the bottom branches and the floor. Your cats would have to be very skilled to reach that high! This is also great for homes with little ones. Because toddlers and babies are so small, there isn't much of a chance of them reaching that high up.
The tree description reads:
Keep your perfectly placed baubles, bows and bells out of reach of curious, crawling kids or your cats' playful paws with this 6ft parasol tree. If Santa's been extra generous, there's plenty of room to stack pressies underneath rather than scattering them around it. It's also a great alternative to the traditional tree if you're a tad tight for space.
If you live in the UK, you're in luck because Argos ships to you. You can order this half Parasol tree for £33.33. However, if you don't live in the UK, sadly, this specific tree is not available to you (at least, not right now… Argos does say international shipping might happen one day). QVC does sell an artificial tree with a longer trunk that is comparable for $55.93, and it comes with free shipping! You can also get a half tree from Amazon that fits into the corner of a room that might help keep curious kitties and kids away.