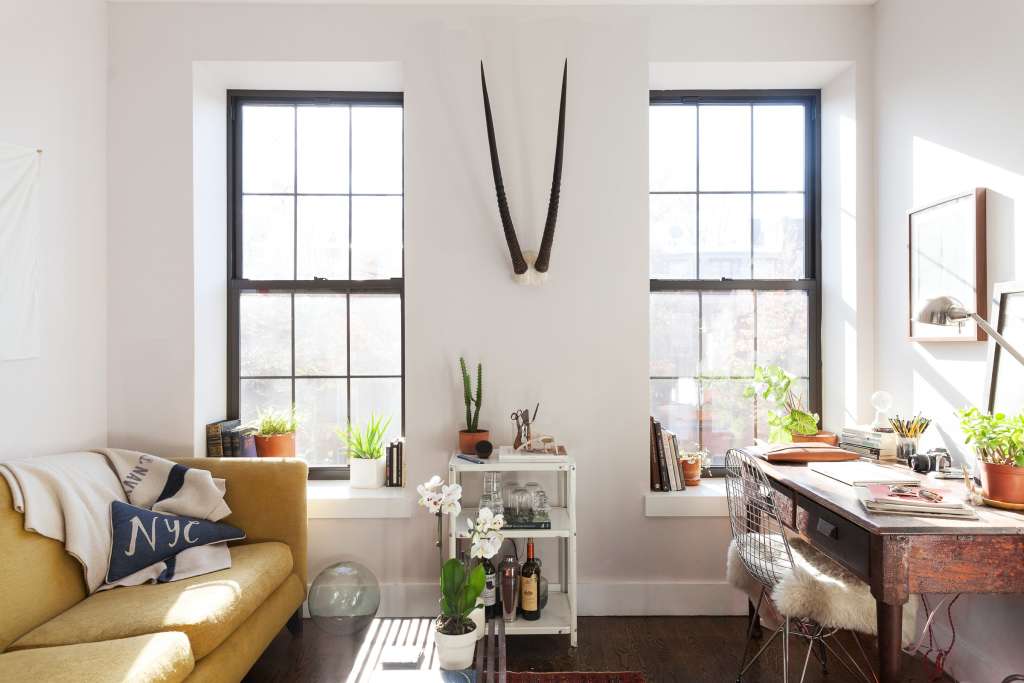 The perfect touch can transform a room from sterile to cozy in an instant. To add comfort to a room, designers often recommend looking to texture and color and integrating earthy elements—and ceramic pottery integrates all three elements seamlessly.
There's a reason homeowners are stuffing their spaces with unique ceramic castings: Large colorful pots are the perfect home for your jungalow plants, and their smaller siblings hold single blooms that bring color to a minimal spread. (Or maybe we just like watching Eric Landon do his thing.) Each clay piece is individually thrown for the perfect handmade feel.
Want to bring the ceramics trend home? These 11 pieces add a one-of-a-kind element to every room.
Ceramic is the perfect medium to add a little quirk into your humble abode. These colorful cacti from Spanish ceramicist Noe Marín bring a hint of playfulness—and are the perfect accompaniments for a minimalist room. At slightly less than five inches high, this cheerful duo fits perfectly on any shelf.
Decorative fruit might be enjoying a modern renaissance. One glance at these gorgeous black ceramic pears and it's easy to see why. The deep, dramatic matte black finish gives these faux-fruits surprising depth. And they have literal depth, too: The stem is a removable lid so you can show off a few of your favorite sprigs.
Why eat your cereal from a standard-issue IKEA bowl when you can sip out of these stunning creations? Canadian artist Parceline creates a number of fabulous ceramic goodies, but we particularly love the reverse-drip effect on these 4 ¾-inch diameter bowls. If you're all stocked up on bowls, the shop sells similar hanging planters for $37.
Accompany your new ceramic bowls with these Southwestern-feeling turquoise plates. Each plate has a unique style, giving your dinner table a handmade feel. Looking for a different shade to match your home's decor? These glazed plates come in six different colors, including cherry red and a particularly eye-catching black.
Swap the Mason jar where you store your wooden spoons for this contemporary yellow utensil holder. Minnesota ceramicist Emily Murphy hand-stamps the unique diamond pattern around the crock's top and base before glazing—and the artist personally develops and mixes all of her glazes.
Dispense your condiments the fancy way with these adorable blue-and-white salt-and-pepper shakers from Latvian ceramics studio Jogita. At two inches high, they're not going to slip by unnoticed—but they won't dominate your tablescape, either. (And as a BOO!-nus, the pepper shaker for the set slightly resembles a startled ghost.)
For a morning dose of cheer, start your day with these ceramic cups decorated with splattered confetti in fun colors. The peach-glazed rim and interior tones down the über-bright shades, keeping these mugs classy—without sacrificing their unabashed attitude.
Show off your air plants in unparalleled class with these spectacular "leggy bowls." Choose your favorite shade of blue and enjoy the hand-carved design on the exterior—no two are the same. These 3 ¼-inch tall bowls can also store rings or other easily lost jewelry, or any other tiny trinkets that deserve a unique home.
If you're the kind of person who uses a cupcake stand to show off one perfect cupcake, please share your secrets—because we're certain you're living the dream. This itsy-bitsy stand is even decorated a bit like a cake, with blue-ish marbling throughout the base.
Serve your Super Bowl faves in this curvy chip-and-dip bowl. The main container is large enough for a healthy serving of chips, and you can load up the dip section with any of your most-loved recipes, from guacamole to super-spicy salsa. Pick up a few sets to give everyone their own bowl—or to create a drool-worthy dip spread.
Apartment Therapy supports our readers with carefully chosen product recommendations to improve life at home. You support us through our independently chosen links, many of which earn us a commission.