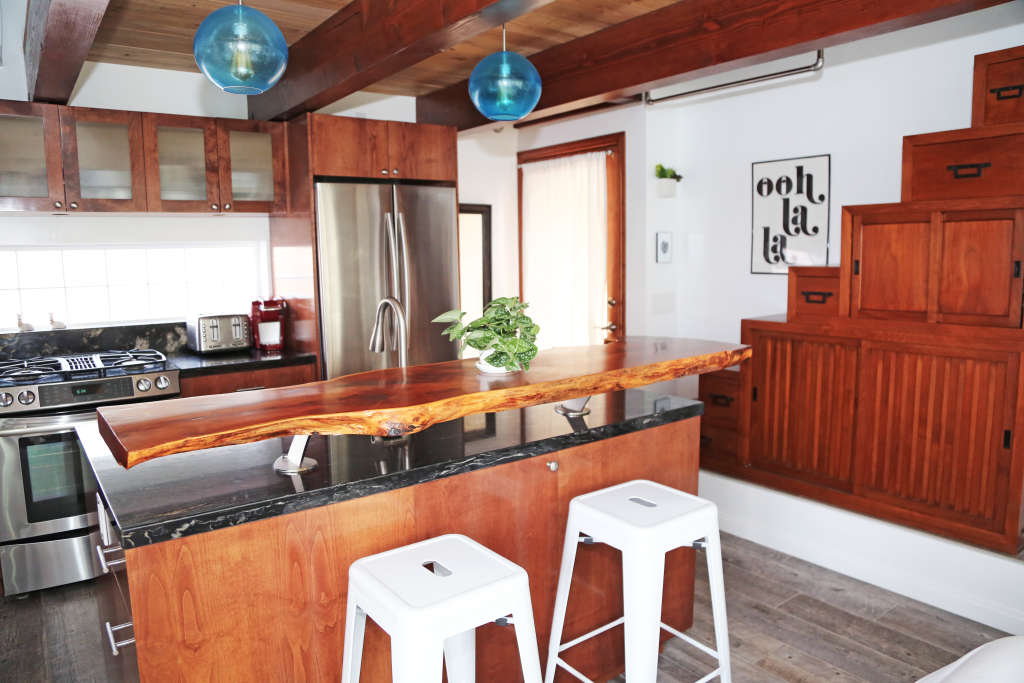 Name: Steve and Nikki Carlson
Location: Encinitas, California
Size: 544 square feet
Years Lived In: 4 months, owned
Our home, which we named "Cottage + Sea," is a tiny 544-square-foot beach bungalow studio steps from Moonlight Beach in the quaint surf town of Encinitas near San Diego, California. We never knew we could live tiny. However, as we have learned to live more simply with less "stuff," it is so very freeing and we are able to spend time on things that are most important to us. While our indoor living space is a small studio with kitchenette, bathroom, and fireplace, we love outdoor living and spend a lot of time on our upper patio with an outdoor couch that serves as a living area as well as our outdoor fire pit seating area.
There is also a rooftop balcony with couches and tables as an outdoor living space with an ocean view that we love to enjoy. We also spend time gardening on our patio with our plants/trees such as tomatoes, peppers, mint, blueberries, guava tree, lemon tree, lime tree, loquat tree, and plumerias.
We love our cozy space and at the same time, we love the outdoors and spending time exploring. Steve is an avid surfer and we both love to ride bikes, try new restaurants, take hikes, walk to Moonlight Beach, go to church, spend time with friends and family, ride the train to nearby cities (including a Padres game in San Diego). Moonlight Beach, in walking distance, is one of the most family-friendly and nicest beaches, and often hosts events such as Wavecrest, Bro-Am, concerts, and more. Steve loves surfing at D Street, which is within walking distance, where famous surfers love to go including Rob Machado, Coco Ho, and others.
Nikki loves to find creative ways to design and Steve loves to refurbish furniture and refinish things around the house such as re-grouting and refinishing wood embellishments. We also love to offer our home as an occasional Airbnb to share our space with guests.
Apartment Therapy Survey:
Our Style: We love the relaxed beach atmosphere with cheeky art and plants with a style mix of bohemian and boho chic.
Inspiration: We love creating our own unique style but have drawn inspirations from Blissfully Eclectic, Arrows and Bow, A Naber Design.
Favorite Element: Blue light fixtures as they add a unique element and showcase the coastal relaxed atmosphere.
Biggest Challenge: Biggest challenge is adjusting to tiny house living. However, we've realized there are very few things we "need" and it's actually freeing to live more simply and only bring things into our home that we truly value and love.
Proudest DIY: We found a cabinet by a dumpster near our house that the neighbor was getting rid of. We filled cracks in the wood and refurbished. It looks brand new.
Biggest Indulgence: We have a few more expensive pieces from companies we admire that tell a story and bring our space to life including an Equipale chair, a Turkish rug, African baskets, and a rug that is handwoven by a cooperative of 60 women weavers in Oaxaca, each one takes about a week to complete. All made start-to-finish in a fair trade environment.
Best Advice: Only bring things into your home that you absolutely love. Mix new things with items that have history and tell a story. Never compromise your unique personal style.
Resources:
ENTRY
Ooh la la Print — Urban Outfitters
Prints (palm trees, sea, plant leaf) — Mayumi-Ko
KITCHEN
"These are the days" Print — The Bee and the Fox
Faux Succulents — "Curated Encinitas"
White Planters — Holistic Habitat
Ooh la la Print — Urban Outfitters
BEDROOM
Designer Pillows — Kaekoo
Yes, Sea Print — Artist Daniella Manini
Rug — The Citizenry
Equipale Chair — Bohemian General
Blanket on Chair — Urban Outfitters
Mudcloth Throw Africa — Mesa Vintage
Shag Pillows and Coasters — Bed Bath + Beyond
Nightstands — HomeGoods
Faux Cactus — Pottery Barn
Lamp and Light-up Cactus — Target
Curtains — Walmart
Sign — Hobby Lobby
Bed — IKEA
BATHROOM
Wood Hexagon Shelves — Bijouxlu and Co
African Planter — Clothe + Arrow
Plant — In Succulent Love
Camel Planter — Anthropologie
Turkish Towels — The Longest Thread
Basket — KRT Home
Spray — Poopouri
African Baskets — Amsha Studio
Bathtub — Signature Hardware
PATIO
Custom Doormat — Fox and Clover
Pillow Covers — Amazon
Thanks, Steve and Nikki!
---