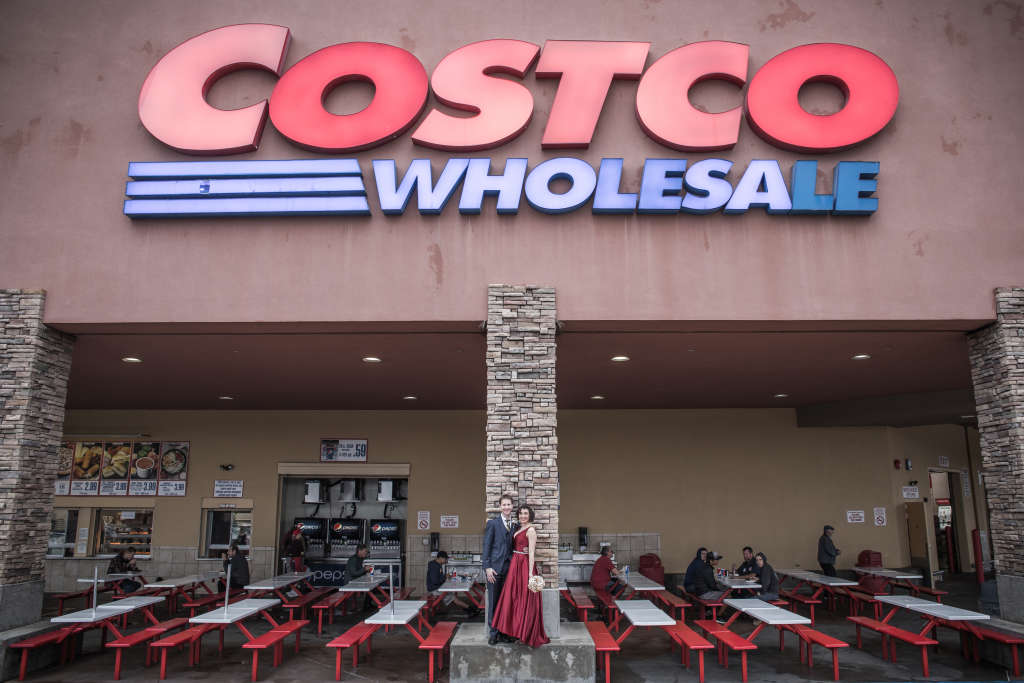 Every couple has an original backstory of how they fell in love, which tends to be reflected on the wedding day in some way, shape, or form. And in the case of Margot Schein and Julian Parris's nuptial celebration, there was no denying what brought the two together: Costco.
On November 29, 2018, the duo tied the knot at the Costco location in Mission Valley, CA, where their first date took place exactly three years before. During the ceremony, Schein and Parris were surrounded by an intimate gathering of loves ones—including their Costco family—as they became husband and wife at the front of the store.
Their love connection to Costco all began when Schein saw Parris's profile on OKCupid, where he wrote "going to Costco together" as one of his favorite things to do on a date. "I messaged him to let him know how much I appreciated him featuring Costco on his profile," said Schein. "We started messaging back and forth and at one point, one of us suggested that we go on a date to Costco. So we did!"
Their first date at Costco consisted of a pizza and hot dog lunch, followed by an hour-long trip browsing the aisles—although both admit that they were too distracted to do any actual shopping. After loading up Schein's car, the two decided to continue the date at a nearby coffee shop, and the rest is history. Every anniversary after that was spent at Costco Mission Valley, and so when the couple got engaged this past June, having their wedding there was a no-brainer.
One other element Schein and Parris wanted to be represented on their wedding day was their love for Harry Potter. When Schein unintentionally chose Gryffindor colors for her wedding day look—a red dress and golden shoes—Parris decided to make his Ravenclaw pride known with a blue suit and blue and gold striped tie. Another ode to Harry Potter can be seen in their bouquet and corsage, made of the pages straight out of the beloved books.
On the day of their wedding, the Costco staff set up a ceremonial arch surrounded by bushels of roses and petals scattered around the area. After saying their vows and making their marriage official, Schein and Parris put on their official Costco name tags, clinked their glasses of champagne, cut their custom-made cake (from Costco, of course), and roamed the aisles as husband and wife.
"By the end of that amazing first date there was pure excitement that I had found the person with whom I'd be writing our story," said Parris during his vows. "So we've been writing together for three years today, a story that has already included a cross-country move, a masters degree, new jobs, the purchase of a house, a trip half-way around the world and back, more trips to Costco than I can count, and so much more."