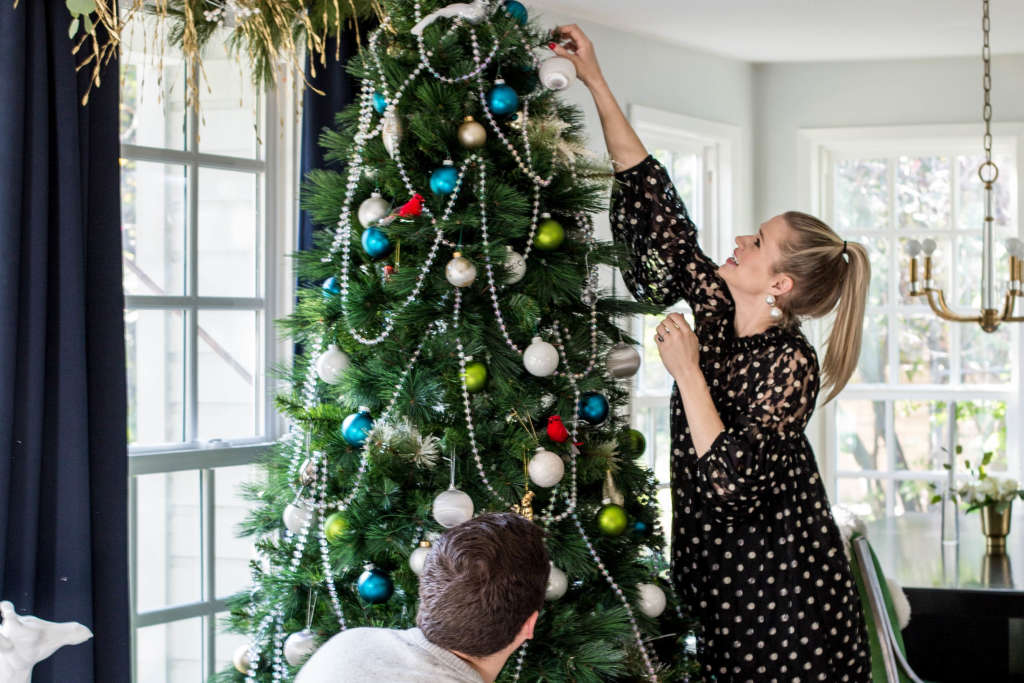 They may be pretty, but choosing and taking care of a Christmas tree takes more effort than you might think. Whether you go all out for a traditional Douglas Fir or opt for an artificial tree, planning ahead will make your holiday season far more festive—and, more importantly, safe.
Time to deck the halls in your neck of the woods? Here are a few things not to forget as you purchase, set up, and care for your tree.
1. Don't bring a Christmas tree home without measuring your ceiling height
Bigger isn't always better, especially if your tree won't fit on your car or in your living room. Before heading out to the Christmas tree farm, don't forget to measure your ceiling height. Is your living area small or crowded? It would be a good idea to measure the area of the space where you want to put the tree, too.
2. Don't buy a tree that doesn't fit your tree stand
Along the same lines, don't make the mistake of bringing home a tree that won't work with what you already have at home. It might seem perfect, but is it worth buying a whole new base? Solve this potential problem by simply measuring before you leave home, or bringing and testing out your base or tree stand at the store or tree farm. You shouldn't have to whittle down your tree's stem to fit the base, either—according to The National Christmas Tree Association, the outer layers of wood are the most efficient in taking up water.
3. Don't wait too long to buy a tree
There's debate about the best time to deck the halls—more festive folks prefer to set up the tree on Thanksgiving day, while others wait until closer to Christmas. Either way, don't put off your tree purchase too long. Buying early means you'll have a better chance at the best of the bunch, and if you're buying a cut tree, preserve its "freshness" by getting it home to water ASAP.
4. And don't wait too long to put your tree in water
Experts say you don't want to keep a tree out of water for more than six or eight hours. If you absolutely have to—say, if you traveled out of town to get a tree—try to keep the trunk in water or store the it in a cool, shaded area, like an unheated garage.
5. Don't set up a tree in your stand before making a fresh cut
Before you trim the tree, don't forget to literally trim it. Like cutting flower stems before you arrange them, trees best take up water when you remove about a half-inch disk of wood from the stem first. The tree farm should be able to do this for you, which is great if you're taking it straight home to set up.
6. Don't let it dry out
Water is key to keeping your tree fresh. While the temperature and source of water don't make a difference, frequency and amount do. You'll want to make sure your tree stand can hold about a quart of water per inch of stem diameter, and that the water level never drops below the base of the tree. It will likely absorb more water during the first week; after that, try to change the water daily. Think you'll forget, or are you going out of town for more than a day or two? Opt for a bigger water-retaining base, or buy a watering system that keeps the water at a consistent level (this one's $15 and looks like an IV for your tree).
7. Don't add anything to Christmas tree water
There are a number of Old Wives' Tales about adding sugar or Miracle-Gro to Christmas tree water, but there's no real evidence these things will do any good for preserving your tree's moisture. It's best to stick with plain old water instead.
8. Don't let kids or pets around the tree unmonitored
While most types of Christmas tree needles generally aren't toxic for animals or humans, they're also not easily digested and can cause stomach irritation or vomiting. Keep an eye on little ones and pets who might be tempted to eat the needles—or to pull down the tree.
9. Don't position your tree too close to a heat source, or block an exit
Experts suggest keeping trees at least three feet from heat sources like fireplaces, gas stoves, or radiators—this is both for the very important motive of preventing fires, but also because too much heat can lead to a tree's dehydration. If you're committed to keeping your tree looking its best, try to keep your home thermostat a bit lower than usual, too, since having your heat blasting can also work to dehydrate it. And as long as we're on the topic of safety: Make sure not to put your tree in a doorway or in front of an egress window, which could create a fire hazard (that goes for real and fake trees).
10. Don't neglect safety with lights
Though every manufacturer has its own guidelines, consensus is never to connect more than three together. Also, don't forget to inspect for frayed wires and loose connections—and to make sure you purchased lights that are meant for indoor use. If any of the wires are frayed or cords are worn on your string of lights, it's better to just replace them.
11. Don't vacuum tree needles
If you're using a real Christmas tree, a little needle scattering is inevitable. If possible, try to sweep or pick them up, since sappy needles are known to clog standard vacuum cleaners. (If you have a heavy-duty shop vac, you can use that.)
12. Don't throw it away
Instead of leaving it for your garbage pick-up (unless your city has a special curbside tree pick-up program) or tossing it in a dumpster, do your part to care for Mother Nature and recycle your Christmas tree. The fastest way to find a solution is to search "christmas tree recycling near me," which could turn up results like hardware stores, fire stations, or local parks participating in tree recycling programs that convert your dried out tree into mulch for local beautification projects or a number of other clever uses.
Apartment Therapy supports our readers with carefully chosen product recommendations to improve life at home. You support us through our independently chosen links, many of which earn us a commission.