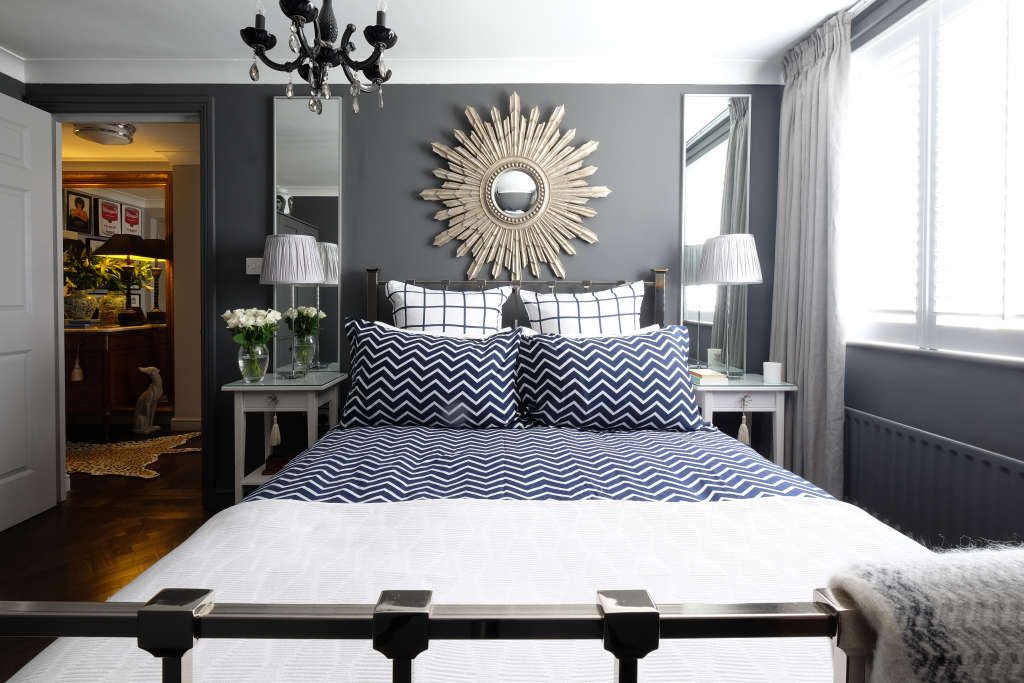 I get it. Even when you have the luxury of a guest room, you know it's often just a chore to get clean sheets on the bed 10 minutes before your guests arrive. But while your guests are obviously just happy to have a place to rest their heads, these extra touches stolen from some of the coziest of hotel rooms will take your guests' experience from one to 100.
1. Clean Lines (and Crisp Sheets) Win Every Time
There's a reason why many hotels use crisp white sheets as the base for their bedding looks. Besides being easy to keep clean in big loads without bleeding (hello, that's a lot of sheets to wash), it also instantly makes a bed feel fresh and the room feel super calm.
2. Play with Textures
Another way to add interest in a room that doesn't feature a ton of personal touches? Layering different textures on the bed with throw pillows and throw blankets. Chic, cozy, and certainly useful.
3. Don't Be Afraid to Go Dark
A guest room is the perfect place to go a bit edgy—since the essentials are pared down (bed, dresser, nightstand is really all you need) you can try your hand at fun color combinations or, yes, go dark. While the notion that dark walls will make a room feel smaller isn't exactly wrong, with the right elements it can actually create a cozy, centered space.
4. Stock the Goods
Take a tip from the Soho House hotels—keep the necessities that guests often forget (razors, makeup wipes, toothpaste…) in a small basket or container on the bedside table with a cute or funny note. (The Soho House free amenities also include condoms and lube, but that may be too intimate of an offering for guests… but just an FYI, ahem.)
5. Create a Signature Scent
Many hotels work to refine and pick a signature scent, which they use in their lobbies and common areas—so that your brain associates it with their brand. (Examples include Fairmont Hotels and Resorts which have a different scent for each hotel and The 1 Hotel South Beach which uses a signature scent of sandalwood.) Use that same thought and create a "signature" guest scent—maybe a vanilla candle or your favorite room spray—and leave it in the room. For an extra cute touch (and for those guest you don't see a ton) gift the same item to them for their homes. It'll help them remember the good times with you at your place.
6. Shelve Reading Material
Notice how hotels always have magazines and coffee table books? It's not only decor, it's entertainment too, so make sure to have a couple books for your guests to enjoy during any idle time. The perfect one to set near the bed? A city guide. (Just in case they want to explore on their own or you can't take them around the entire time.)
7. Always Make Sure to Have Extras
It sounds like common sense, but it can't be overstated: Please stock extra linens, including a blanket, in the closet, dresser, or in a basket near the bed. There is nothing—nothing—worse than being cold in a home that's not your own, with no one up to ask for extra bedding.