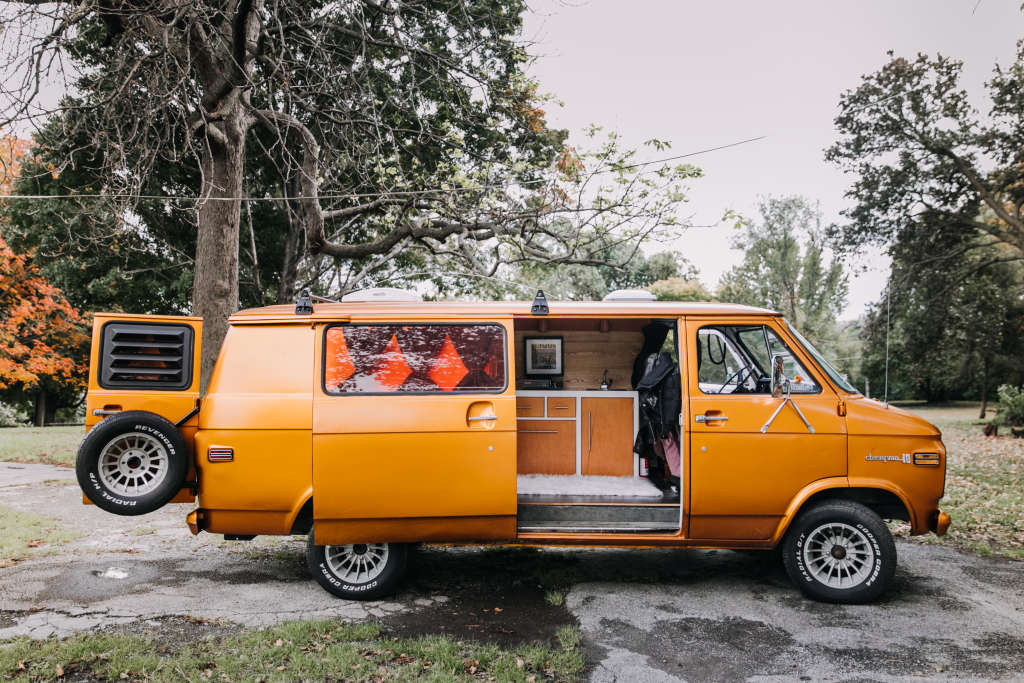 Name: Savannah and Zach Kolodziejski
Location: Lancaster, Pennsylvania
Size: 56.7 square feet / 259.68 cubic feet
Years Lived In: Owned
This rad retro 1976 Chevrolet van is more than just a home-away-from-home for Savannah and Zach. The couple was married this past summer in Palm Springs, California, and the van was both the groom's method of getting to the wedding and their honeymoon suite on wheels after getting hitched! It was also a family affair in terms of converting it; lots of love and DIY went into transforming this retro van into a cozy and functional vacation home.
Before the Big Day, Zach drove the southern route from Pennsylvania to Palm Springs, heading west doing a steady 55-60 mph the whole way to California. He left from Lancaster Saturday morning, arriving in Palm Springs Tuesday evening, and while he reports there were a couple of snags on the way, none were a big enough deal to keep him from getting married.
After the wedding, the couple embarked on a three-week honeymoon road trip that took them through 12 states. Now, back from their adventures and settled back into their lives—Zach works in the graphics department at Atomic Design producing the scenic aspect of special events and large scale concerts and Savannah works for the vintage and antique jewelry shop Maejean Vintage—the couple still recalls fondly their favorite moments from the trip.
"My favorite was getting down some dirt roads away from civilization in the middle of the Kodachrome basin in Utah," said Zach. "For me, also Utah," said Savannah, "I had no idea it was such an incredible place! I'm already planning a trip back where I can spend more time exploring the beauty the state holds."
Apartment Therapy Survey:
My Style: Scandinavian-inspired.
Inspiration: '70s boogie vans with more realistic functionality for comfortable living.
Favorite Element: The wall paneling was milled from Hackberry logs from Zach's childhood home. The cabinet doors that follow the lines of the van are a subtle little way to blow minds. The fold-away bed function to haul a motorcycle is also pretty cool. I guess we love everything about it.
Biggest Challenge: Finishing the project on time. (started March 3, completed May 28)
What Friends Say: No one can believe it is the same van.
Biggest Embarrassment: The desert heat causing adhesives to fail, and not having time to reupholster the captain's chairs to match the rest of the interior.
Proudest DIY: Every single bit of the van is DIY, so there is a lot of pride in every nook. Blasting the exterior back to bare metal and repainting it was a huge DIY undertaking that we didn't even plan on doing until the interior was almost finished. Oh yeah, the drink tray also rules.
Biggest Indulgence: The white diamond stitched ceiling/accents.
Best Advice: Give yourself enough time so it remains fun every step of the way.
Dream Sources: Old van magazines, some camper van building resources online, and photos of yacht interiors.
What is the appeal/how does this differ from "traditional" traveling/living: Other than rolling down the road with your best friend in a bitchin' '70s van, the math just makes sense. People say, "Yeah but the gas must kill you!" The truth is, it doesn't at all. Take for example, a "traditional" road trip; you rent a car for three weeks, still pay for its gas, plus pay for the hotels or campgrounds each day (which need to be set up and torn down), plus pay to go out to eat, or hope you find a room with a kitchenette so you can get groceries, then at the end you have to return the car…
With a van, it's literally all there for you. Your hotel is always paid, you never need a reservation anywhere, if you want to stay in a place an extra day (or five—why not?!). You always have the supplies you need, and at the end of the trip you have something in your driveway that you can be proud of. This van is strictly a vacation home for us, but it's cozy and functional enough to live in full-time if we wanted to.
Resources
Huge thanks to Zach's mom and dad for helping this project happen, and allowing the use of the garage. Shout out to various dumpsters for the great materials. Props to Target for always having the right fuzzy stuff. Cheers to The Pink Phoenix for upholstering the van bed/benches. X's and O's for all of our friends and family who flew out to our wedding, and a tip of the hat to all the true road dogs we met along the way.
PAINT & COLORS
Duplicolor Burnt Orange (Napa Autoparts)
ENTRY
Chevy slider door with extended swinger arm so curtain rods have clearance.
"DINING ROOM", "LIVING ROOM" and " BEDROOM"
Custom made by A.J and Zach Kolodziejski.
Cushion upholstery by The Pink Phoenix
Curtains — Michelle Kolodziejski.
Lighting — Recessed 12v LED puck lights installed into custom fixtures, from Amazon
Climate control — Maxx Air 12v fan (No A/C!)
Bedding — Target
KITCHEN
Stove — Coleman butane tabletop stove
Faucet — Valterra Rocket Hand Pump (five-gallon fresh water tank, six-gallon gray water tank)
Refrigeration — Coleman Xtreme 50qt rolling cooler (easy to remove from cabinet for portability)
Carpet — Something fuzzy from Target
75 percent of building materials used were upcycled from scrap, or acquired for little or no cost.
In case anyone wants to know about the engine and fuel economy:
1976 Chevrolet 5.7L V8.
4 Barrel Edelbrock Carburetor
3-speed automatic transmission
We averaged between 13 mpg and 15 mpg on the trip depending on incline, top speed, oil viscosity, and elevation.
"HOME IS WHERE YOU PARK IT!"
Thanks, Savannah and Zach!
---
Apartment Therapy supports our readers with carefully chosen product recommendations to improve life at home. You support us through our independently chosen links, many of which earn us a commission.