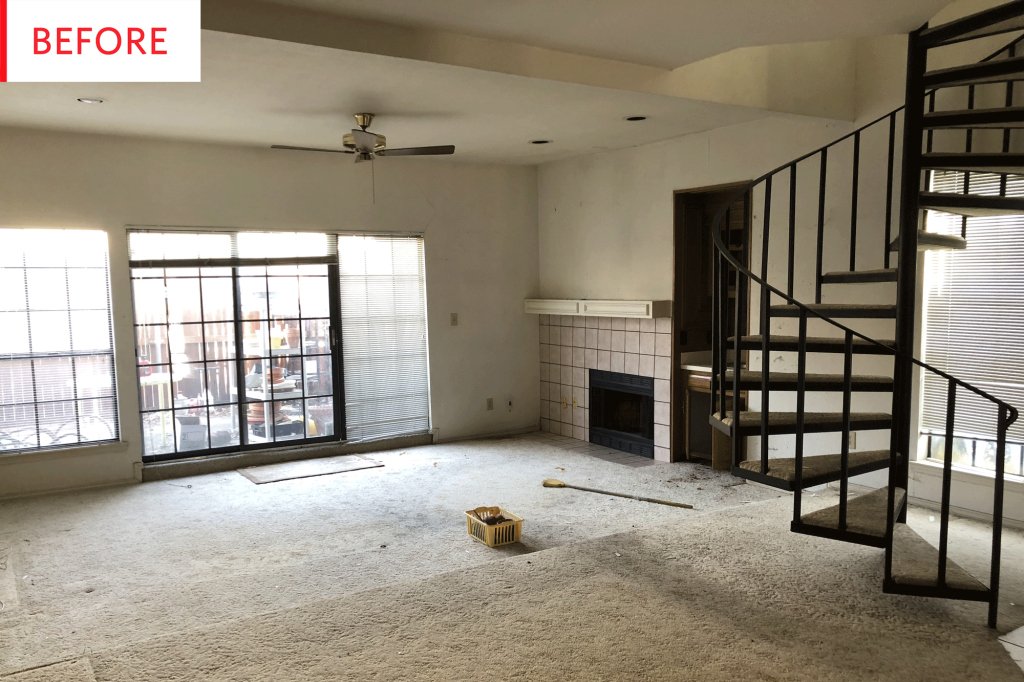 Hannah Wilson and her husband own a home remodeling/design company called Blank Slate Renovations, and the home they currently live in is a 1,300-square-foot condo in Dallas, Texas. They had to remodel the whole space and they had to stick to a pretty low budget. Now finished, it's got a minimal/modern/organic/Scandi/boho style. And they created this look by not only doing a lot of the work themselves, but also sticking to some tried-and-true ways to save money:
Covered in kind of grimey wall-to-wall carpet, instead of splurging on expensive flooring, they "installed hardwood lookalike laminate flooring throughout the entire space."
They "reused leftover tile from a previous house on both fireplaces" and "[k]ept the original texture, doors, and trim work (offset by textured Shou Sugi, Shiplap, and Plywood walls that we burned, painted, and installed ourselves) and used a fresh coat of Extra White paint throughout the whole house."
"I instantly fell in love with this property due to some unique, original elements such as its spiral staircase and large skylights," confessed Hannah.
Another way they saved money is using "IKEA (which we love) for all kitchen and bathroom cabinets, countertops, shelving, and vanities."
"We built and installed our entire IKEA kitchen along with all bathrooms ourselves."
"Although there are certainly rules and guidelines to design, the fun for me as an interior designer comes from the freedom to creatively express who I am through the spaces that I inhabit," wrote Hannah.
"Don't be afraid of trends but be sure to think outside the box and put your own unique spin on things when at all possible. Your home should be an extension of you, however quirky, reserved, or flamboyant that might be!" she advises.
Another way they saved a lot of money is painting the "original tile and tubs in the bathrooms with a waterproof white paint instead of replacing them."
"It began as an '80s nightmare, complete with laminate countertops and dated wallpaper," wrote Hannah about one of her favorite DIY projects in the home, the powder room. "We gutted the entire thing and replaced the back wall with a black shiplap paneling. Since the space was so small, we decided to save room by doing away with a vanity and simply installing a floating countertop with a vessel sink."
"Oh, and the wood that we used for the countertop was left over chop block from our IKEA kitchen! We then spray painted the exposed plumbing pipes with a metallic brass in order to maintain a cohesive finish. In the end, I think we spent less than 500 bucks for the entire makeover!"