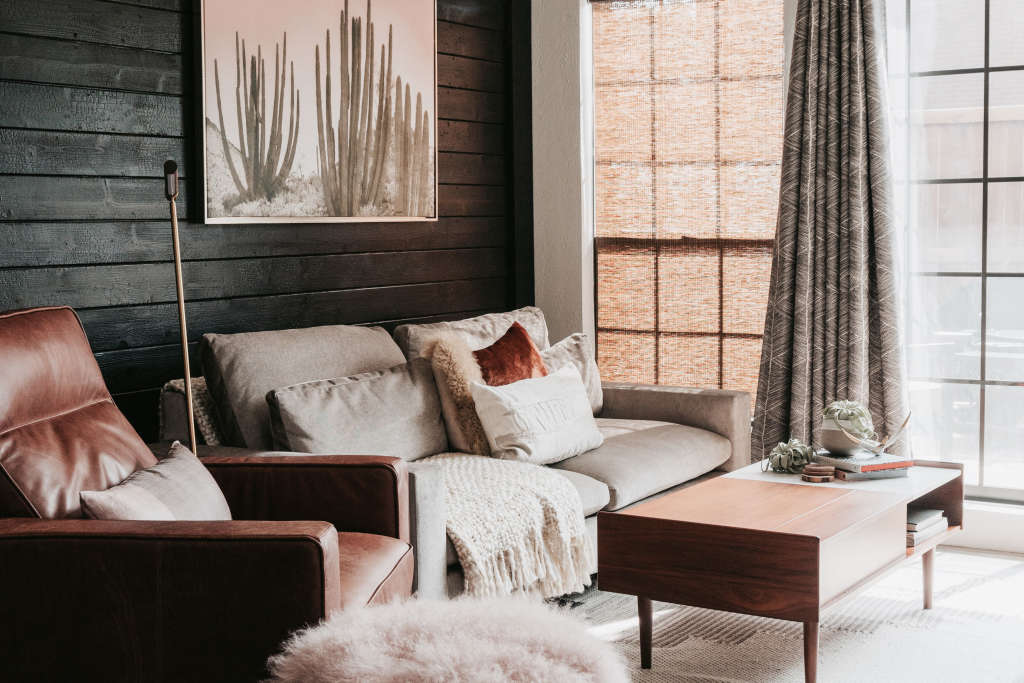 Name: Hannah Wilson
Location: Dallas, Texas
Size: 1,300 square feet
Years Lived In: 5 months, owned
My husband and I own a home remodeling/design company called Blank Slate Renovations. He is a licensed contractor and I've recently graduated with a degree in interior design. We flip houses full time and are always looking for the next project or creative outlet.
We found our current abode here in Dallas through an investor that had previously sold us a project a few years back. The home is a 1,300-square-foot condo that we've completely remodeled according to our modern Scandi/boho style.
I instantly fell in love with this property due to some unique, original elements such as its spiral staircase and large skylights. After completely gutting most of the interior, the home is now rich with neutral palettes, organic materials, and natural lighting. I love the simplicity and striking features that our casa offers and it now provides the perfect haven for collaboration and creativity!
Apartment Therapy Survey:
My Style: So I'm a sucker for anything mid-century modern or Scandinavian/boho, and a combination of the two is even better! Clean lines mixed with various, natural textures is my element. But to be honest, it's in a continual flux, and probably always will be. Five years ago, I didn't really have a specific aesthetic style, and when I first got married… I'm too embarrassed to even talk about it. Over the past four years of pursuing the design industry as well as being more intentional about my look, my style has developed and evolved into what it is today. At the moment, Scandinavian minimalism particularly intrigues me. I love how blending neutral palettes, organic materials, natural lighting, and live plants blurs the lines between the outdoors and indoors.
Inspiration: I think after moving with my husband for the 13th time in the past 12 years of marriage, I've really learned to appreciate the "less is more" mentality. The Scandinavian style achieves this look well with its minimal ornamentation and clean, simple lines. Out of all the places my husband and I have lived, I believe this house is the truest reflection of ourselves in this season of life.
Favorite Element: Hmm, that's a tough one… I spend the most time in the living room—where my home office is located—and we have long row of floor-to-ceiling windows that allow a ton of natural lighting into the space. This room contains our DIY Shou Sugi wall (a traditional Japanese method of wood preservation that involves charring cedar wood), which turned out to be a killer statement piece. Plus, (I know you said just one) this room houses our signature brass spiral staircase and a restored wood burning fireplace… how can I pick?!
Biggest Challenge: Thankfully, and for a nice change (knocks on wood), there weren't any insanely big issues that we encountered with this particular renovation other than having to be a little more creative with how far we stretched our money.
Proudest DIY: There were a lot of DIYs with this reno but if I had to narrow it down to my very favorite, it would probably be the total transformation of the powder bath.
Biggest Indulgence: Texture, texture, and more texture! Accent walls, striking ceilings and fun textiles make interior design interesting and fresh for me.
Best Advice: Although there are certainly rules and guidelines to design, the fun for me as an interior designer comes from the freedom to creatively express who I am through the spaces that I inhabit. Don't be afraid of trends but be sure to think outside the box and put your own unique spin on things when at all possible. Your home should be an extension of you, however quirky, reserved, or flamboyant that might be!
Resources:
PAINT & COLORS
Sherwin-Williams — High Reflective White, Iron Ore, Tricorn Black
LIVING ROOM/OFFICE
Harmony Sofa — West Elm
Cola Wool Rug — West Elm
Aztec Fireplace Tulum Tile — Cement Tile Shop
Henry Leather Recliner — West Elm
Cactus With Gold Frame Print — World Market
Linear Wood LED Lamp — West Elm
Cognac Bi Cast Leather Molded Chair — World Market
Mid-century Pop-up Table — West Elm
Roller Shades — IKEA
Mongolian Lamb Stool — West Elm
Carlo Mid-century Chair — West Elm
Modern Stroke Curtain Panels — Target
Linear Wood LED Table Lamp — West Elm
White Desk — IKEA
Ink Splash Pillow Covers — West Elm
Faceted Terrariums — West Elm
DINING ROOM
Ivory Flokati Donnan Wishbone Chair — World Market
Mid Century 72″ Dining Table — Target
White Plastic Modern Dining Chairs — Wayfair
Linear Wood LED Pendant — West Elm
Mid-century Turned Leg Planter — West Elm
Half Dipped Stoneware Vases— West Elm
Mid-century Shelving System — West Elm
Tree Trunk Mirror — West Elm
KITCHEN
Bar Stools — Target
Countertops — IKEA
Cabinets — IKEA
Backsplash — Lowes
Misto Tray — West Elm
BREAKFAST ROOM
Jenson Round Glass Dining Table — West Elm
Small Mobile Chandelier — West Elm
Pure White Vases — West Elm
Breakfast Chairs — World Market
POWDER BATH
Modern Sconces — Shades of Light
Countertop — IKEA
Mirror — Target
Sink — Kraus
BEDROOM
Mid-century Platform Bed — West Elm
Horse Art — World Market
Bedding — Target and West Elm
Nightstand Lamps — West Elm
Fireplace Mantel — IKEA
Fireplace Tile — Cle Tile
BATHROOM
Cactus Towel Hook — World Market
Vanity — IKEA
Brass Hand Jewelry Holder — West Elm
Makeup Mirror — West Elm
Glass Storage Containers with Wood Tops — Target
Wooden Soap Dispenser — Target
Thanks, Hannah!
---
Apartment Therapy supports our readers with carefully chosen product recommendations to improve life at home. You support us through our independently chosen links, many of which earn us a commission.