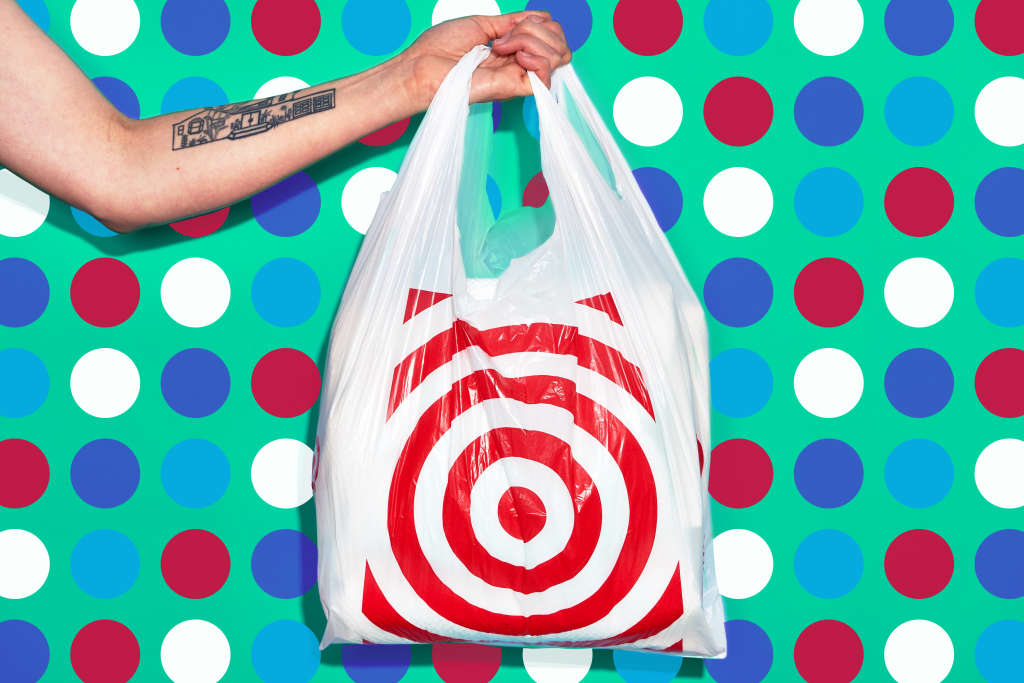 When it comes to holiday gifting, there are a lot of people—and situations—that are inherently hard to shop for. What are you supposed to get for your boss, your child's teacher, or that awkward White Elephant gift exchange your cousin insists on playing every year? Add a $10 price cap, and you could be left scrolling or browsing aisles for hours.
If the thought of wasting that kind of time during an already crazed holiday season makes you ill, we're here to perform a little holiday magic for you. We scoured Target for the best gifts under $10.
The 15 items on this list may be affordable, but they certainly aren't cheap-looking. And there's something everyone—from your neighbor, to your picky teenage nephew, to your mom—is sure to love.
Small, but mighty, this waxed cotton canvas pouch is roomy enough for organizing cosmetics, toiletries, or even diaper-changing essentials, but compact enough to stash in a purse, backpack, or weekender.
A great gift for a neat freak, this attractive fabric bucket is perfect for corralling small toys or winter accessories like hats and gloves. Alternatively, use it as an attractive (and reusable) base for a holiday gift basket.
So your friends decided not to exchange gifts this year? Break the rules just a little bit with these tickets. The pack of 20 includes a number of different experiences—movie night, spa day, retail therapy, fancy cocktails, weekend brunch—to do together. Choose the most appropriate one for each friend, package it in the included envelope, and let them know they can redeem it whenever they want.
It's not a White Elephant Gift Exchange unless someone walks away with something a little unconventional. Enter this lump of coal. At first glance, the packaging looks like something great—a fancy candle, maybe? Upon closer inspection, it's clear that this gift is for someone on the naughty list.
Let's be honest: No kid wants to find a toothbrush or other necessities in their stocking. A three-pound bucket of slime on the other hand? That's one small gift that'll elicit screams of joy and, much to your delight, will provide hours of entertainment.
The best revenge for all of those Santa photos you had to sit for every year while growing up? A set of six coasters featuring the most awkward family photos you've ever laid eyes on.
When a spa treatment doesn't fit the budget, bring the spa home with this set of nourishing face masks. Give the whole set to someone special, or split them up and use as stocking stuffers.
Forget that bottle of wine—your holiday host will receive plenty. Instead, bring her the perfect man. These tan, buff cabana boys won't judge her for that second glass of wine—in fact, they won't say anything at all.
Flowers are always a nice gesture, but the last thing you want to do is send your host searching for a vase while they're trying to get dinner on the table. This pretty ceramic vessel holds a few pretty buds, plus serves as a lasting symbol of your gratitude.
Once the holidays are over, the winter is just… the winter. With distinct notes of evergreen and leather, this air freshener will inject the spirit of the holidays into those cold, dark, endless days.
Though beautifully crafted, this wooden muddler is best received when packaged with a small assortment of other bar accessories. Pair it with a cocktail mixer or even a pair of highball glasses.
The only thing that makes a cold, dark morning bearable is a steaming cup of coffee, tea, or hot cocoa. You simply can't go wrong with this cheery pink and gold mug. Pair it with a quality roast or a Starbucks gift card.
Don't underestimate the gift of alone time. Present the most hardworking person you know with this fun, sweet-smelling bath bomb and a note instructing them to take the afternoon off.
So you've crossed everyone off your holiday list except for your hard-to-shop-for tween niece? You know she spends hours watching YouTube tutorials and scrolling Instagram, so why not give her this fun phone stand? The adorable balloon dog enhances grip, while the suction cup base adheres to any smooth surface for hands-free viewing.
Don't think of a gift card as a last resort. A Target gift card is your loved one's ticket to anything their heart desires—clothing, home decor, kitchen essentials, or even groceries.
Apartment Therapy supports our readers with carefully chosen product recommendations to improve life at home. You support us through our independently chosen links, many of which earn us a commission.