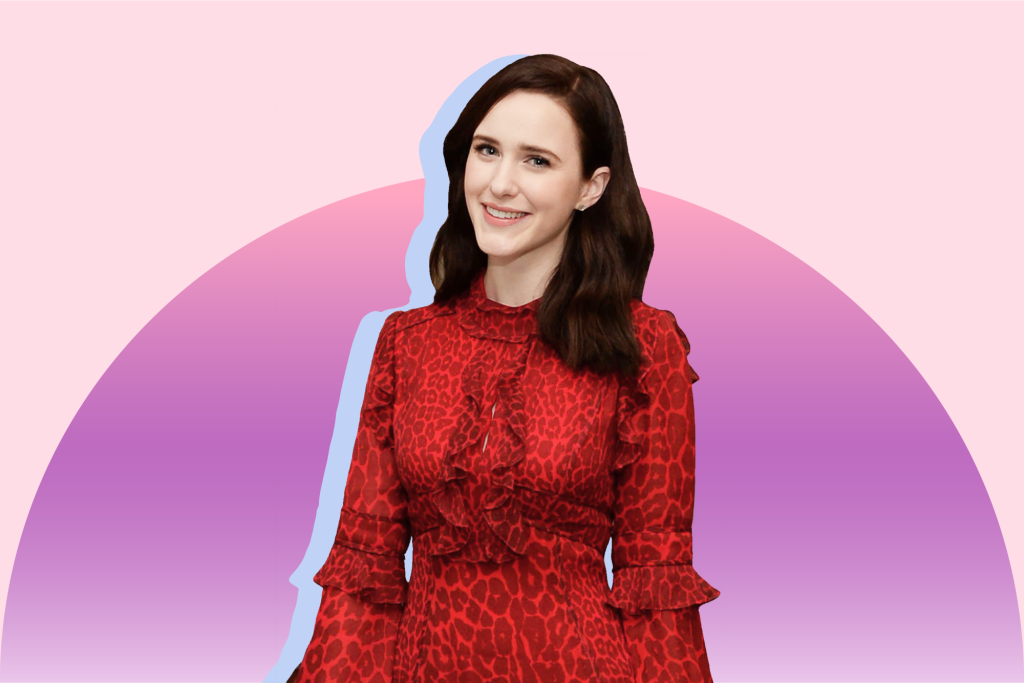 Welcome to My First Apartment! Whether it's your first studio, a four-bedroom deep in the city shared with a handful of roommates, or even an entire house (lucky you!), there's something special about moving into the first place that's truly your own. In this series, we'll showcase actors, artists, entrepreneurs, and beyond—asking them to revisit that oh-so-sweet nostalgia of newly-found freedom.
"The Marvelous Mrs. Maisel" is full of enviable fodder: Fantastic period clothing even Betty Draper would drool over, Tony Shaloub as a father, a working New York subway system, first-name relationships with kosher butchers, and, of course, a sense of wit that rivals Mark Twain Prize winners. But the show's most ogle-worthy aspect? The "classic six" apartment Midge and her parents share on New York's Upper West Side.
Though Rachel Brosnahan, who plays the show's titular character, has a lot in common with Midge (the perfect blend of eccentricity, elegance, and humor that only Joan Rivers and Lucille Ball could rival), her adventures in modern day New York real estate are admittedly less glamorous. In fact, the only way to describe her first apartment may be, well, "Millennial."
"Midge's apartment is about 10 times the size of my first apartment," says Brosnahan, "It has much nicer furniture and is much more beautifully decorated."
In anticipation of the show's second season, Brosnahan sat down with Apartment Therapy at an event promoting the American Express Cash Magnet Card. Though she admits that her first apartment was not super glamorous, it was a well-loved lesson in independence.
Intrigued? Read on!
My First Apartment: Rachel Brosnahan
City: New York City
Neighborhood: Chelsea (16th Street and 7th Avenue)
Size: Two bedroom, one bath. We cut the living room in half and put up a faux wall to make a third bedroom [where one of my roommates lived]. It was really a glorified closet. I had my own room, and two girls shared the other bedroom.
Rent: I want to say it was around $1,250 a month. It was just astronomical and so painful! But we were living in Chelsea and I had my own room so I paid more in rent than my roommates. It was tough.
How you paid your rent: I was a hostess at a restaurant called L'Express—that was my first job in New York. Every once in a while, I was lucky enough to do some acting gigs—mostly guest starring roles on television shows that shot nearby. That helped!
Why you decided to live there: I went to NYU, so living right in Chelsea meant I could walk to school. It felt pretty central. But I think we would have lived anywhere, as long as we found something we could all afford together.
What did you do on the first night: Before I moved out on my own, I lived in a dorm in Union Square. NYU provided these bins [to move out with], so I spent that whole day putting all my stuff into these bins and then wheeling them across Union Square Park with my roommates—pushing them back and forth and back and forth from 14th and Irving to 16th and 7th. The park is so huge. It was summer and it was really hot. We didn't have enough money to get a cab or hire anyone to help me. It was all us. So that first night we just collapsed from exhaustion—probably sat with all our boxes on the floor.
Set the scene in three words: Cozy, ours… and dark—we only had one window.
Roommates?: Three other girls.
Three things on your wall: We couldn't afford decorations, so my mother basically gave us a lot of stuff she didn't want anymore that she had sitting in the basement. So I had all these very strange vintage canvases that had been ripped off of their frames. They were all frayed around the edges, which actually looked really cool! They had very strange paintings of creepy women on them. But I really dug it. I also had a couple of vintage clocks. It felt a little bit like "Alice in Wonderland."
I also had a bulletin board that my mom made for me. It was really cute and framed. She gave it to me before I moved in. I stuffed theater tickets, my first headshot, and motivational quotes on it. It was very into quotes. Particularly "risk taking is free." It was drama school. We're all feeling very emotional and well… dramatic. I was always trying to remember to live a little.
Uninvited strangers?: It was the ground floor so we had lots of critters.
Neighborhood haunt: We went to The Grey Dog on 8th and 16th all the time!
Thing you loved most about living there: Living with my best friends. I loved sitting on our too small couch—one of us always had to sit on the floor—and chatting for hours and hours about everything and nothing whenever we all were in the apartment together. We'd drink coffee together in the morning and wine at nights. As an adult, I don't get to spend as much intimate time with my girlfriends like that. It was really special.
Thing you hated most about living there: We were on top of each other. We could hear every single thing through the walls. When one of us girls had a boy over… everyone could hear everything. When the first person got up in the morning, everyone was then up. That was tough. Looking back on it, it feels kind of romantic. It was our first apartment. We knew way too much about each other.
What was the funniest thing that ever happened in the apartment?: We hosted a party where everybody had to dress up as someone from the '90s. My friends and I went as the Spice Girls. We had such different tastes in music, but we would blast [them] while we were cooking and cleaning. One of our friends went as Vanilla Ice. The whole night devolved into an alcoholic haze of '90s music and nostalgia.
Why did you have to move out?: We graduated and it was too expensive to continue living there since we didn't need to be close to school. One of my roommates and I actually ended up moving to L.A. together. That was very short-lived for me, though, I only lived there for a couple of months before I came back [to NYC.]
Did you get the security deposit back?: Not all of it… One of us—and by one of us, I mean me—accidentally put a fork in the microwave and blew it up. So our landlord kept some of it…
Is there anything you still have from that apartment?: Definitely! I weirdly still have a lot of my clothes from that time. I still have those weird canvases, too. I just moved back into my [current] apartment—it was under construction—so they're not up on the walls yet, but maybe they will be now!
This interview has been edited and condensed for length and clarity.