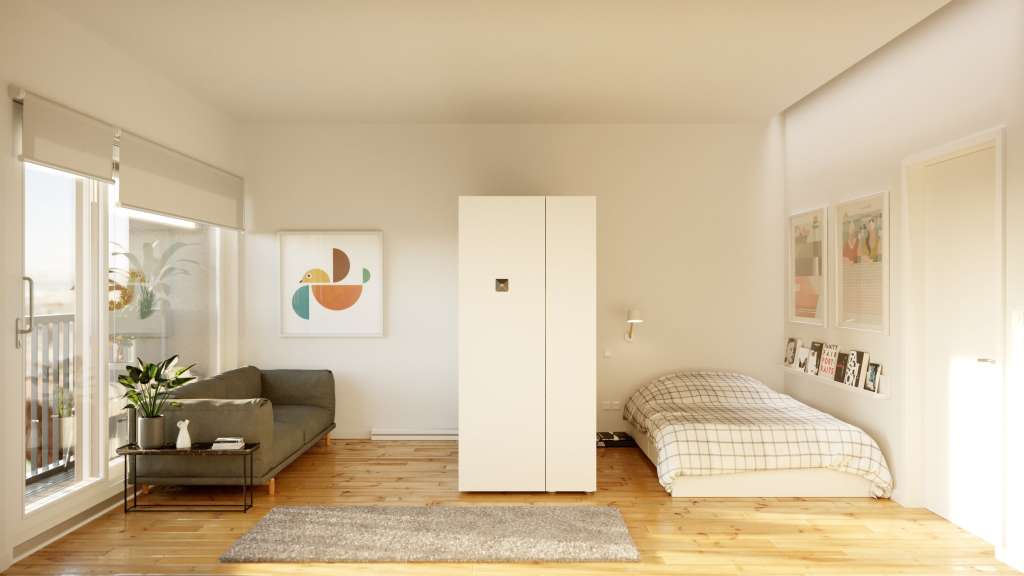 As someone who lives in just 570 square feet with no closets, I've come to know a thing or two about storage; when you don't have it you deeply appreciate it. Chances are, whether you live in a tiny house, a small apartment in a crowded city, or a dorm room, the same is true for you. You also probably don't think of a walk-in closet as a realistic amenity ready and waiting to walk into your life at any moment—but well, that's where you'd be wrong.
Ori, a robotic furniture company out of MIT is changing all that. Last year Ori introduced a robotic apartment in a box system, and now their newest invention—the Pocket Closet—is making life's spatial luxuries available to people in homes of virtually any square footage.
Ori describes the Pocket Closet as "the world's first walk-in closet that can be installed in any room without renovations." The modular, free-standing unit expands to create a walk-in wardrobe unit when you want it. Then, when you're done, a simple push of a button (or tap of an app or a voice command) contracts the unit for optimum space. The closet's exterior wall is, itself, also an efficient use of space. It's multi-functional, serving as a shelving system, media console, and a fold-down desk area all in one.
I mean really, who couldn't use a little more closet space in their life? According to a survey conducted earlier this year by storage company MakeSpace, Americans—nearly 50 percent of them—said they would give up sex for six months in order to have more closet space. Six months.
While it's not exactly IKEA prices—the Pocket Closet currently starts at $2,650 with $299 shipping in the contiguous U.S.—that's still less (and is less work) than the average walk-in closet remodel. According to Thumbtack, homeowners spend an average of $3,000 and $5,000 redoing a closet. And that totally ignores renters with a lack of storage.
Want to see it in action? Check out the video below:
Here are some of our best tips for maximizing your current closet space: