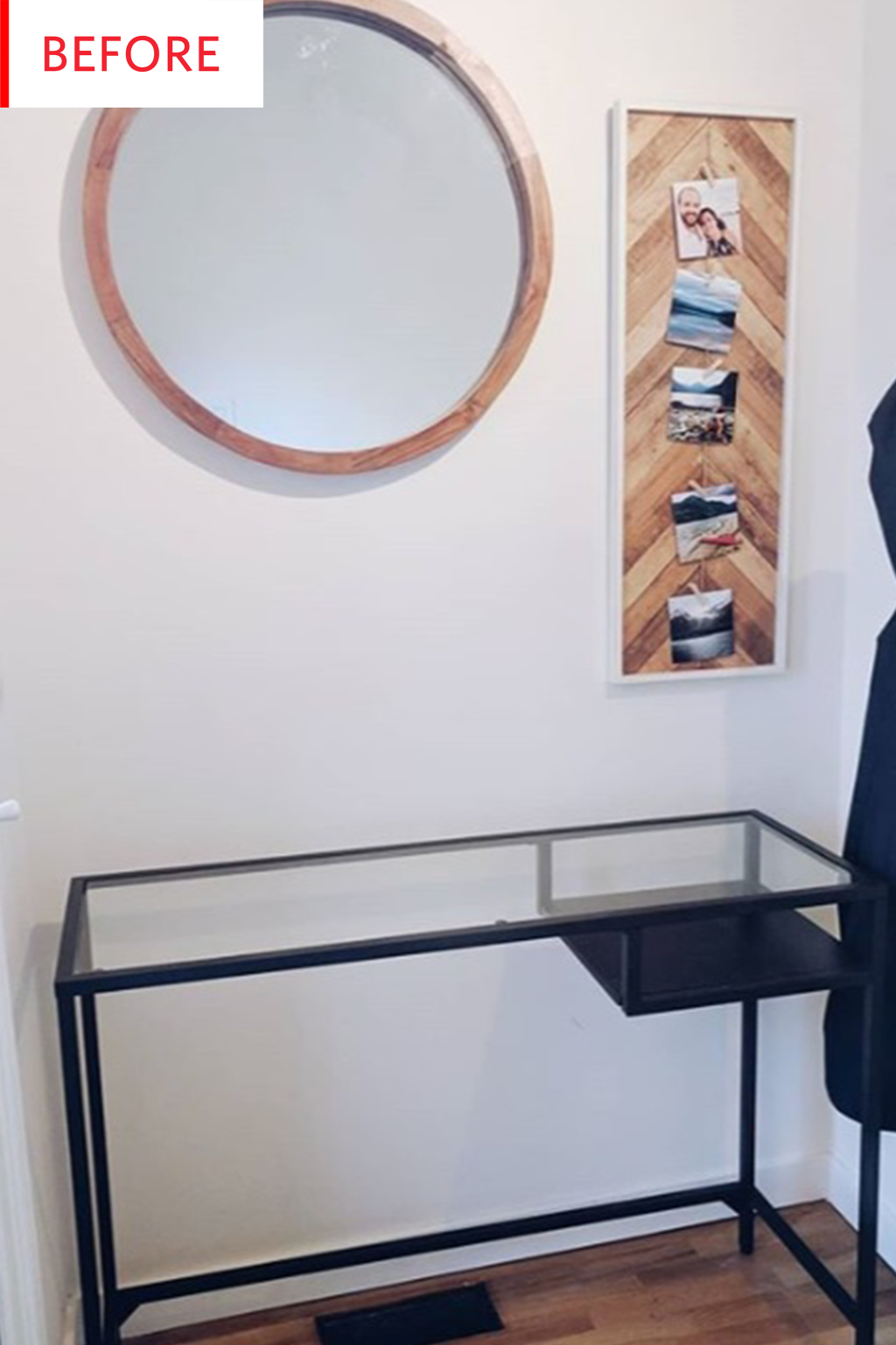 This entryway had a spot for coats, a large landing strip, a mirror for last looks, personality, and beauty, but it was lacking in storage for shoes and other odds-and-ends. A DIYer who enjoys "trying to figure out how to make things with no experience" solved the issue with a few ordinary IKEA drawers and some very special wood.
Scott and Anna of Scanna Industries created this handy and gorgeous entryway bench using four IKEA NORDLI drawers—like the ones from this dresser—and three beautiful walnut boards. The entry now has a place to store shoes out of sight and a lovely spot to sit whilst removing/applying said shoes. If desired, the two smaller drawers could be used to store winter gear (hats, gloves, scarves) or dog gear (leashes, bags, balls).
The pretty light-reflecting mirror is the same one as the one before, and it now looks as if it were made for the bench. The range of wood hues are the same, and the two pieces look gorgeous together. Whether that's a trick of the light, or the mirror was given a coat of stain or oil, the resulting coloration matches the bench exactly.
For someone with "no experience," Scott and Anna did some pretty advanced work here. They rerouted a duct, and made the base and bench using a drill, a jigsaw, butt joints, a table saw, a jointer, and cauls—and wished they'd had a pocket hole jig. These two consider themselves beginning woodworkers, but their work with wood is quite impressive.
Finally, an entryway might just be the perfect spot for a letter board. It can be used to welcome guests, exchange love notes, convey crucial info, post reminders, and share jokes. Beyond all that, the black-and-white board looks great with the white drawers, base, and the black negative space.
If you're interesting in tackling a similar project, Scanna Industries generously shared a ton of details and process shots over on imgur/Reddit, so be sure to check that out!
Thank you, Scott and Anna of Scanna Industries!