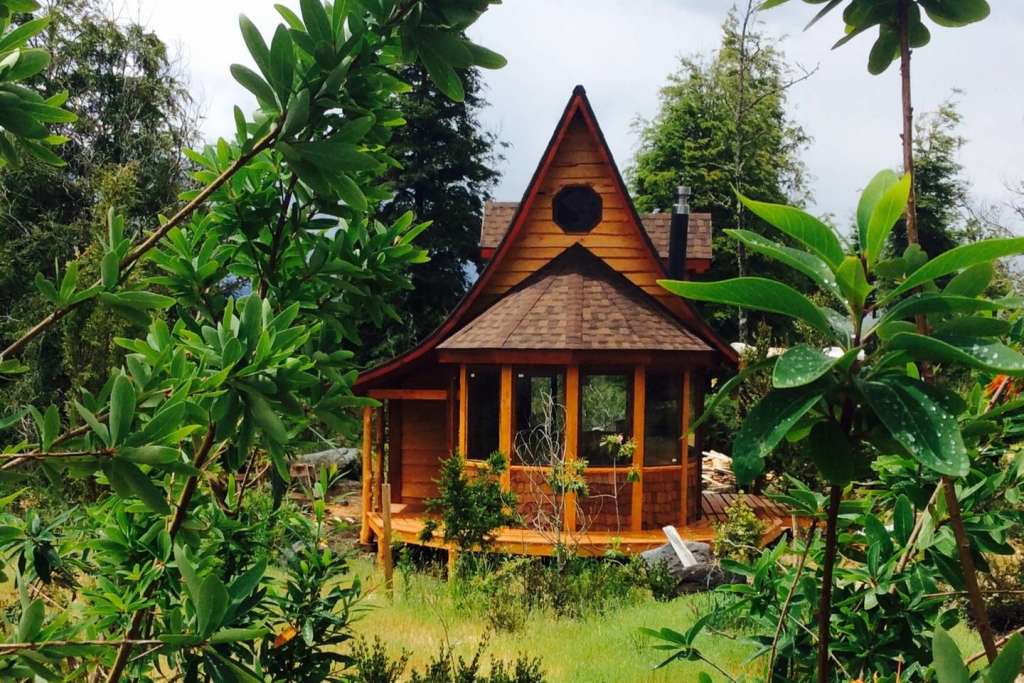 If the closest you've ever wanted to come to a steaming hot orifice on Earth's surface is inhaling Anthropologie's signature scent, Capri Blue's Volcano, that's totally understandable. However, that might change after viewing these photos of Casa Nido, a gorgeous rental cabin located near an actual volcano that you can rent out.
Couple Caroline and Julien dedicated 19 months of their lives to building the cabin in the vicinity of Calbuco Volcano in Ensenada, Chile. With construction costs coming in at just shy of $30,000, the cabin features a curved roof beam built from locally sourced wood, a furnished living room, a first floor terrace, a wood-fired hot tub for sauna-like steam (the kind that doesn't come spewing from the bowels of Earth), and a wood-burning stove that sufficiently heats up the space. Since the builders of a volcano-adjacent cabin have no choice but to capitalize on the amazing landscape, the cozy home is complete with a fully-equipped kitchen and large windows. Overall, the first level measures 290 square feet while the second level adds 129 square feet.
Another unusual and intriguing tidbit of information about this cabin-constructing duo is their previous lack of experience. Prior to building Casa Nido by hand and with no assistance, Caroline and Julien's construction expertise was non-existent. That's kind of hard to believe, considering the sophisticated amenities that keep the cabin up and running. For example, solar panels provide all the electricity, and a local natural spring provides all the water. Meanwhile, a natural, eco-friendly phyto-purification system handles the home's sanitation needs.
Described as the "ideal place to rethink one's priorities and experiment, for a given time, what is 'going back to the essential,'" Casa Nido is currently available on Airbnb for $131 a night.
via: Inhabitat