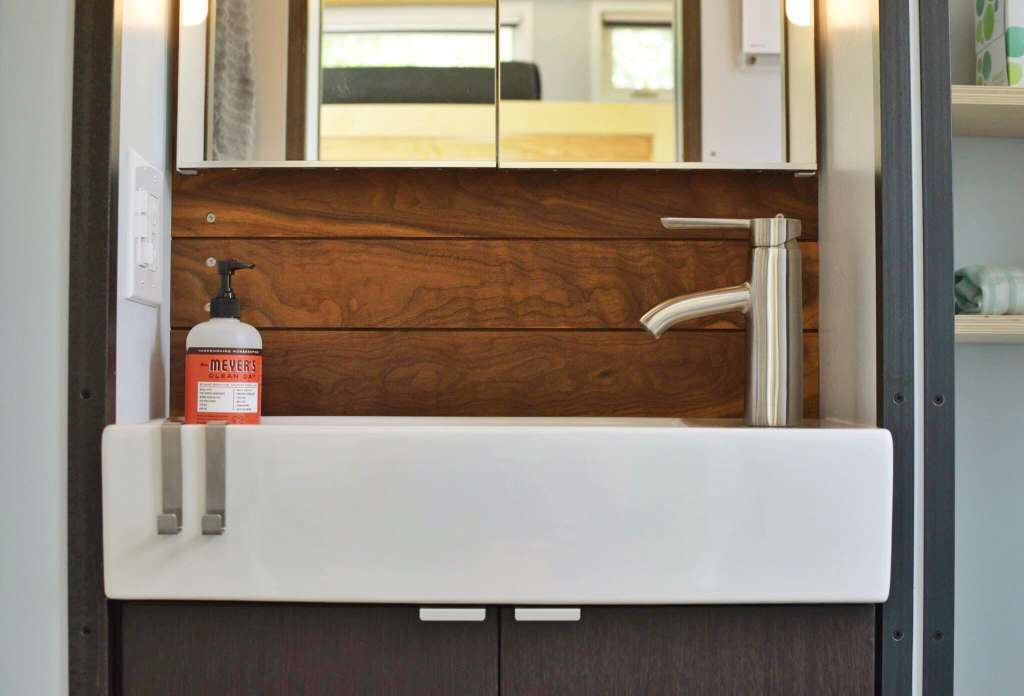 The idea of living in a tiny home is simple—you own, need, and use less stuff. But tiny home dwellers still do need some items in their home to, you know, live. The challenge is, these necessary items to store dishes and cutlery, work on, and sleep in need to not take up more room than they're worth.
When a tiny home owner does find one of these magic items, it can be a life-changing experience. And, just like you, tiny home owners often turn to IKEA for these small-space savers.
Curious what items make the tiny life must-have list? I asked tiny home owners for their favorite IKEA items. Here's what they recommend:
"My favorite IKEA purchase has been the NORBO (now the NORBERG in the States), a small, wall-mounted drop-leaf table that fit our tiny home perfectly. It functions as both a dining table and a desk (we both work from home.) It is durable, functional, and attractive. We thought about building our own table, but we didn't need to because the NORBO was perfect."
—Laura LaVoie, lives in a 120-square-foot home in the mountains of western North Carolina and documents tiny home life on her "Life in 120 Square Feet" blog.
"At just over 10-inches deep, it remains un-intrusive in our tight space, yet its 24-inch width proves very functional while providing extra space for hand soap and the like on a small raised in-sink shelf. Its white ceramic front is a beautiful addition to our little tiny house bathroom!"
—Robert Garlow, lives in a 204-square-foot tiny home in Yakima, Washington, with his wife, Samantha.
"[FINTORP] is perfect for keeping knives safely in place as you travel—plus it clears up drawer space, which is always at a minimum."
—Abigail Epperson, lives full time in a converted 2002 Thomas School Bus with her family of five. She documents their life and travels in "Our Wandering Family."
FYRESDAL, $379
"My favorite IKEA buy has been the FYRESDAL daybed. I love that it can be used as a couch or a bed, and that it converts from a twin to a double."
—Melanie Gnau, former Airstream dweller, now lives in a 888-square feet bungalow-style home that was built in 1953.
"Hooks are a tiny dweller's best friend. We love individual ones because we can space them out as needed and put them anywhere, even the smallest of spaces."
—Epperson
Everything KUNGSFORS, starting at $2
"IKEA's flexible kitchen wall storage pieces are my favorite. The streamlined bars with various hooks and baskets turn wall space into an aesthetically-pleasing, yet functional display area for your kitchen necessities. They're my favorite (and maybe only) IKEA pieces."
—Macy Miller and her family of four (plus pup) have lived in their 196-square-foot, self-designed and built Idaho tiny house since 2012.
"Laundry can easily overwhelm a tiny home, but the PRESSA hangs anywhere we have space and folds up nice and compact when we're done."
—Epperson
Responses have been edited and condensed for length and clarity.