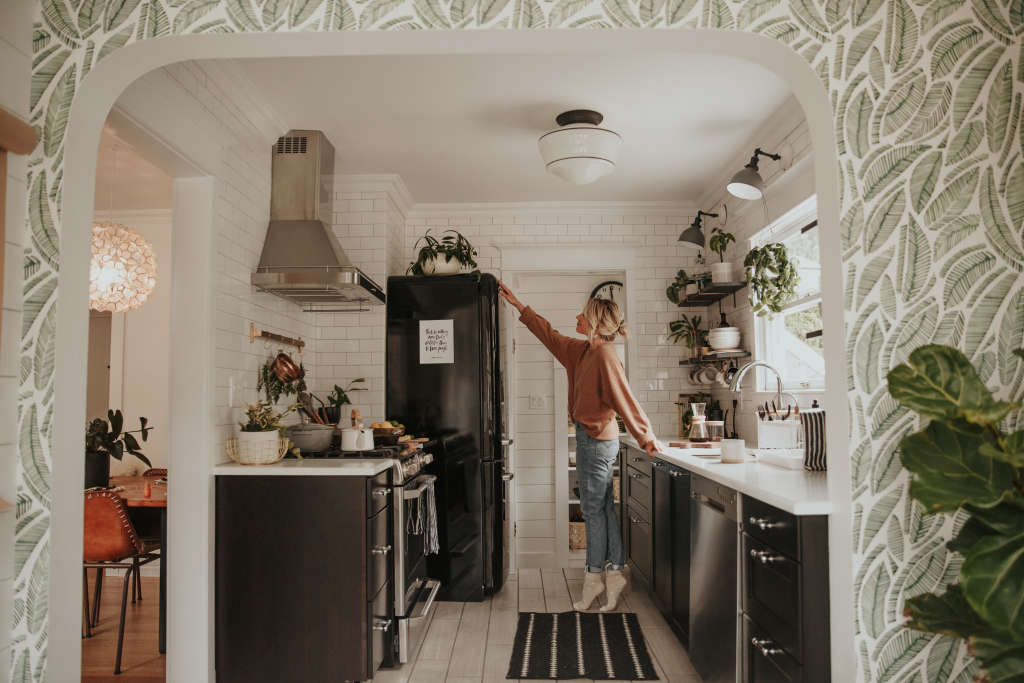 Name: Amanda J Franz and pup Milo
Location: Portland, Oregon
Size: 2,600 square feet
Years lived in: 6 months, owned
My name is Amanda Franz and I live in Portland, Oregon, with my Australian Labradoodle, Milo. I am a creative entrepreneur who owns the custom stationery company, Wide Eyes Paper Co. Wide Eyes specializes in hand-crafted wedding invitations and we ship all around the USA and internationally. I am an adventurous and curious 29-year-old surfer gal from sunny Southern California.
My home is the perfect blend of whimsical and modern. A super charming cottage built in the 1930s with all original windows but upgraded appliances and fixtures. It is white, bright, and just has the best energy.
It features a classic white picket fence along the perimeter of the home and the cutest Dutch door you've ever seen (one of my favorite parts!) It even has an outdoor office that I am going to build out to be my studio space. I work from home so this is such a bonus to be able to design a space to create intentional work-life balance.
One of my favorite features is the shiplap walls seen in the family room, kitchen nook, and the entirety of the master bedroom.
Describe your home's style in 5 words or less: Modern and Charming Portland Cottage.
What is your favorite room and why? This is a tough one, but I would have to say my kitchen. It is on the smaller side, but it has so much whimsical charm. I love the open shelving filled with plants, cook books, and my favorite coffee mugs. However, my favorite part of the kitchen is the rounded kitchen nook. When I first moved in, the house almost felt too perfect. I wanted to add in quirky elements that felt like me in a subtle way. On the inside of the kitchen nook I added tropical wallpaper which was a subtle way to add in a little bit of So-Cal quirk to my house. I also utilized the wallpaper on the staircase up to my bedroom. Lastly, I had warm gray custom cushions made for the ultimate coffee or wine drinking experience. (Depending on the hour.)
If you could magically change something about your home, what would it be? I love being outside, especially in the morning. In my perfect world, I would add French doors and create a terrace off my bedroom upstairs. Sounds cheesy, but it would be my dream to sip coffee and do my morning writing out there. A girl can dream, right?
Any advice for creating a home you love? Be patient, create mood boards, and allow yourself time to dream of what you really want each room to be. Designing and curating a whole house is so much work (and money) so have fun with the process and make it your own.
Lastly, design and buy furniture from your heart space. Think about the energy, emotion, and vibe you want in a room before buying or starting the design process. Think about how you want the people you love to feel when they enter into your home. As a visual artist with a creative spirit this is the most important thing to me.
Thanks, Amanda!
• Interested in sharing your home with Apartment Therapy? Contact the editors through our House Tour & House Call Submission Form.