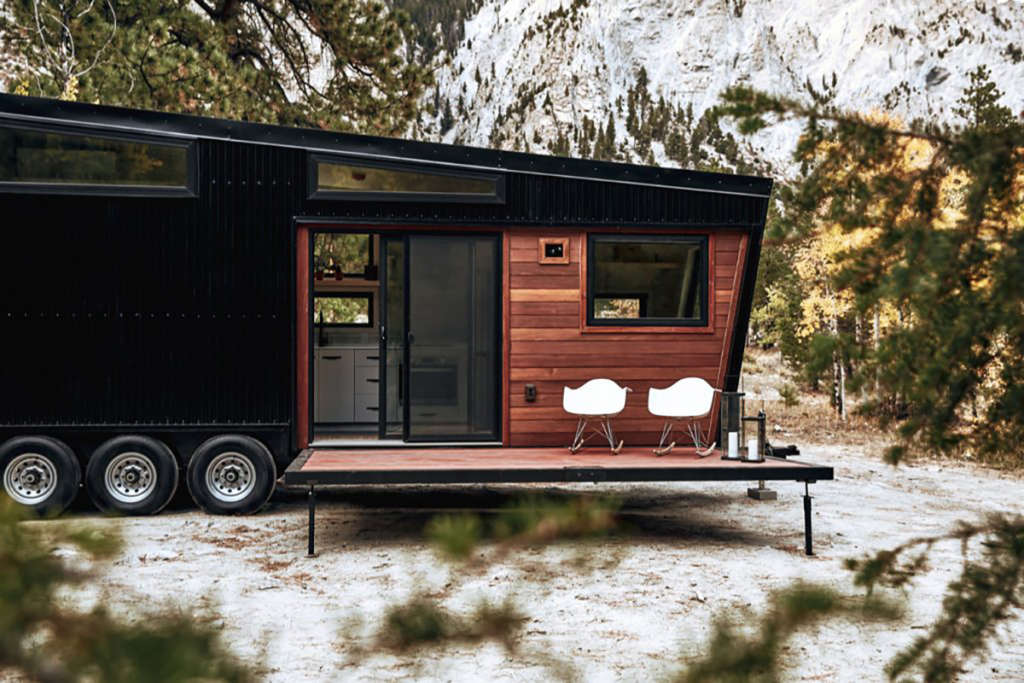 For lots of tiny house dwellers, a big draw is the tiny price tag—and there are lots of designs out there that are perfect for homeowners building or buying on a budget. But maybe, for you, price is less of a consideration. Or maybe you just like to dream big. If you love the idea of living small but don't want to give up on little luxuries, one of these high-end tiny homes might be just the thing.
"But but…" I hear you saying—"where I live you could buy a whole house, with the land, for that price!" I know! I know because I used to live in Houston, Texas, when real estate was cheap. In many parts of the country, you still can buy an entire house for this price. That doesn't change the fact that, for a tiny house, the Golden is ridiculously well-appointed: There's a spacious kitchen, a washer and dryer, and even an actual living room. A Beautiful Mess posted photos of a young couple living in a Golden in Golden, Texas, and it looks like a pretty sweet setup.
Then there's Tiny Heirloom's Goose, which takes advantage of a gooseneck trailer to work in not one but two sleeping lofts (with an optional third, although you would then lose that gorgeous lofted ceiling in the living room). It's a small footprint that doesn't feel small, thanks to an open floor plan and ample windows. The kitchen is generously sized, and the bathroom even has that rarest of tiny home amenities, a tub.
This sweet and spacious model comes with a washer/dryer, a kitchen with quite a bit of storage, and what is probably my favorite feature I've ever seen in any tiny house (or any house, for that matter): a conversation pit.
The Alpha is so pretty and innovative that we've featured it here before. The fold-down deck and retractable overhead glass door create an indoor/outdoor feel you don't get in most tiny homes. And it has a washer/dryer, a dishwasher, and a tub. The price tag might be a bit on the high side, but this is certainly one of the more distinctive models out there.
From my perspective, the 41 foot Denali XL looks less like a tiny house and more like a mini mansion on wheels, but I'm a New Yorker and I live in a shoebox, so your mileage may vary. But look! There's a living room with a vaulted ceiling, a pretty large kitchen, and even a bedroom you might want to wake up in. (Timbercraft doesn't offer pricing for individual models, but their pricing goes up to $150k and this is their biggest model.)
The Draper, with its dramatic roofline and blond wood interiors, is one of the most stylish tiny homes I've seen, but it's also one of the most expensive. Here are a few things you'll get for those six figures: a washer and dryer, a mudroom, a deck that folds up for travel, a spacious kitchen, a couch that can be turned into a second bed. Plus, you'll get a home you can most definitely start an Instagram account around. And really, who can put a price on that?