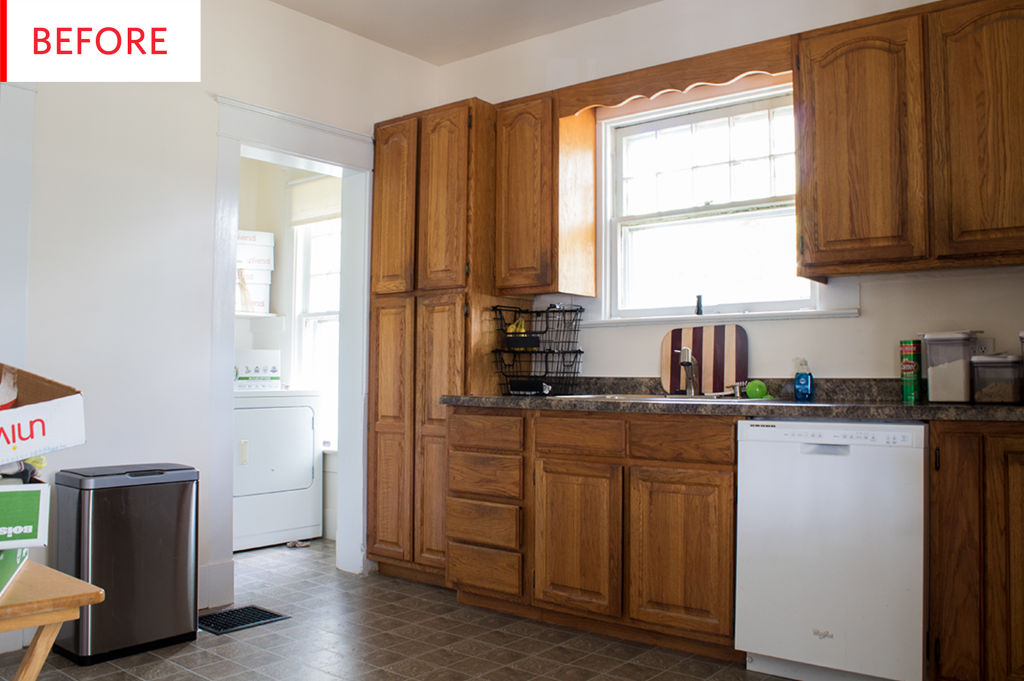 This kitchen had a lot of problems—the ubiquitous over-sink scallop is just the beginning—so its intrepid but inexperienced new owner decided to DIY an entirely new kitchen by herself, including electrical work.
Here's a little more information about the challenges this kitchen was posing:
When I moved into the house, the kitchen consisted of super grimy 100-year-old cabinets with sagging plywood shelves, a smelly dishwasher, gray laminate countertops, and a gray peel-and-stick tile floor. It was dark, disgusting, and completely dysfunctional due to the lack of cooking appliances.
I don't consider myself a gourmet chef or anything, but I do cook most of my own meals. As a result of that, I want my kitchen to have a smooth layout and be moderately attractive. The original kitchen was neither of these things, and considering I had to put out money for new appliances anyway, I figured I might as well go all-in and remodel the entire kitchen at the same time.
Lindsey Fay of A Butterfly House has done such a beautiful job here. This kitchen has the lovely sheen that comes from everything being new, but it also looks like it would be completely at-home in a 100-year-old house. It has a warmth and coziness that isn't often seen in white-and-stainless kitchens. The wood countertops and floor do a lot to warm up the vibe, and all the white finishes reflect the natural light in such a soft way. The cabinet doors are a perfect blend of old and new: The paneling adds depth and character, but is simple with clean lines. The fact that the drawers are flat also makes the whole setup look more modern.
If you're wondering what happened to the door in the Before photo, Lindsey blocked it off to create more kitchen wall space, then added a new access door to the laundry room in the (unseen) hallway. Doing this created a much more efficient and user-friendly work triangle—the previous owners had the stove and fridge stranded on the wall parallel to the sink with no countertops anywhere nearby.
Lindsey has shared a bit about the remodeling process:
I did the entire remodel myself; planning, demolition, installation, everything. It took me four months in total, and cost $9,000, the bulk of which was spent on new cabinetry and appliances. Since I designed the kitchen myself, I spent the entire remodeling waiting for something to go wrong, to realize that I forgot something important that a pro would have caught. This never happened, and I feel so lucky that everything worked out.
Now that it's complete, she's justifiably pleased with the results of all that hard work—with, unfortunately, one notable exception:
I love how much storage I have in the new kitchen. I have a significant amount of kitchen accessories; to be able to store everything in the kitchen is fantastic. Plus, the kitchen is so much brighter now. It's actually an uplifting space where I want to spend time.
However, I'm not a huge fan of the plywood floors. Pinterest convinced me they were an affordable way to get a wood look, so I took a chance. But they scratch and dent easily, and I'm constantly worried about water. In retrospect, I wish I'd gone with something else.
If anyone has any plywood floor advice or encouragement to share, please do so! And if anyone is even considering tackling a kitchen renovation, first listen to someone who's been there:
DIY-ing a kitchen remodel is achievable if you have and are willing to invest a considerable amount of time. Keep in mind that you will be without a kitchen for the duration of the remodel; I spent two months eating frozen TV dinners that were cooked in a toaster oven on the floor of a bedroom. But the remodel was eventually completed, and it was totally worth it!
If the toaster oven lifestyle doesn't scare you off, head over to A Butterfly House for a budget breakdown, behind-the-scenes photos, and more insights and advice.
Thank you, Lindsey Fay of A Butterfly House!