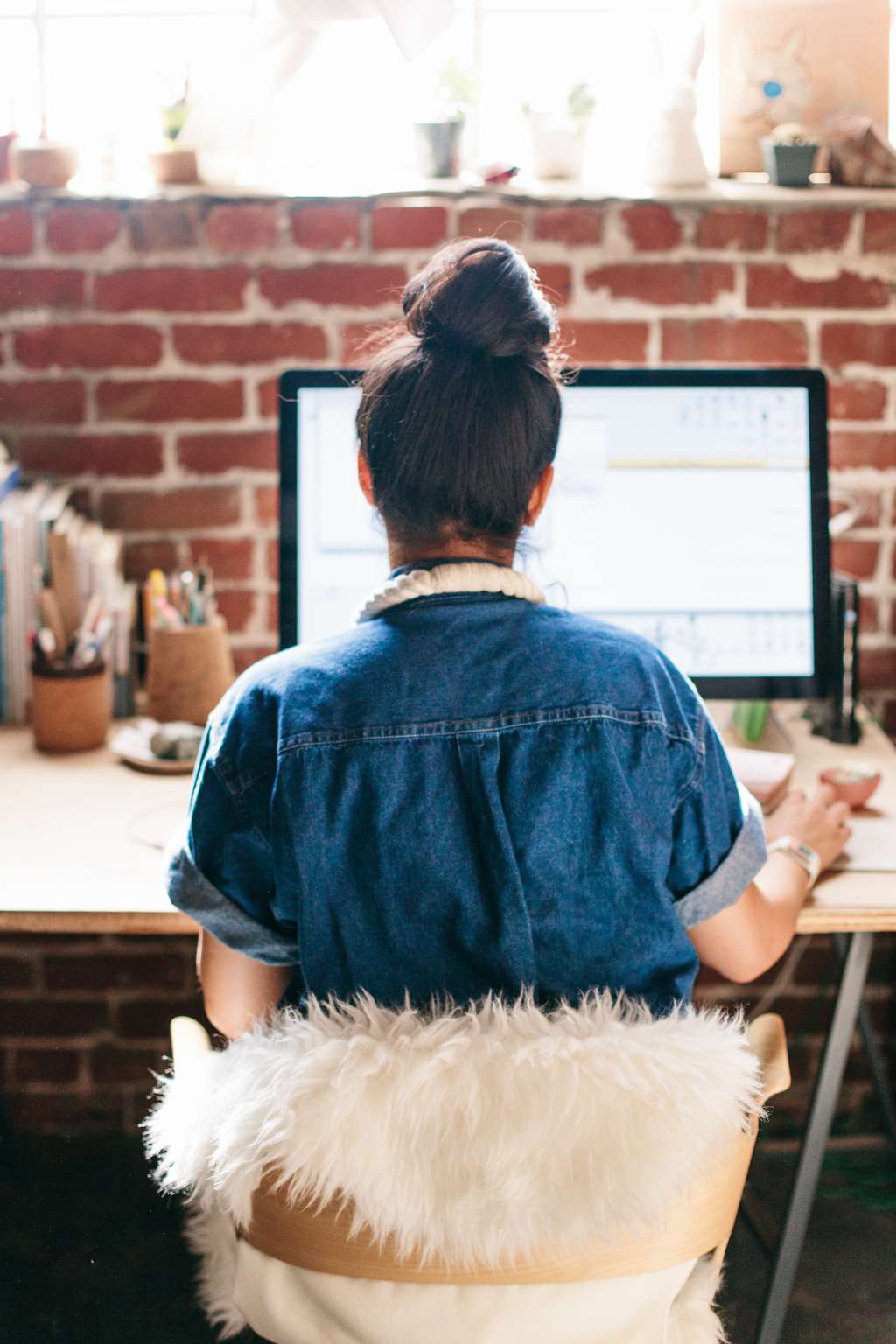 As a freelance writer, I spend the better portion of my week staring at screens. Add in my post-dinner social media scroll ritual and my weekly Netflix binges, and I'm pretty much a walking blue-light zombie—which isn't necessarily a major concern, in and of itself.
During the day, the wavelengths emitted from computer, TV, and phone screens can actually boost attention, reaction times, and mood. But with frequent use, and especially at night, the consensus is that blue light does more harm than good. Studies show exposure to blue wavelengths can lead to dry eyes, eye strain, and sleep-cycle disruption, and long-term, even vision loss related to macular degeneration.
The most obvious solution to blue-light-related symptoms is reducing screen time, or keeping phone and computer use to daylight hours when possible. Harvard Health recommends avoiding looking at screens two or three hours before bed and increasing natural light exposure during the day, which can help regulate circadian rhythms and lead to better sleep.
But if changing screen habits isn't feasible, it may be time to invest in a pair of blue-light blockers: Amber-tinted glasses which are growing in popularity due to a growing body of research showing their effectiveness in improving sleep.
(Image credit: korkeng/Shutterstock)
My Blue-Light Glasses Experiment
Because of the amount of time I have to spend on my laptop—and my chronic difficulty falling and staying asleep at night—I decided it wouldn't hurt to try a pair of blue-light blocking glasses, especially given how cheap they can be (the ones I've seen average $15 to $40). So I bought a pair on Amazon and decided I'd try them out for a week to see if I felt (and slept!) better.
Even though most of the problems with blue light stem from nighttime screen use, I don't get much natural light these days (it's winter in Minnesota, and my office is in my basement). So I opted to wear the glasses all day, every day for a week, whether I was working on my computer or indulging in some late-night Insta stories. And I think they worked: Not only did I dodge my usual Thursday tension headache, I also slept better than normal all week long.
I'll admit, I typically have horrible sleep hygiene. I keep my phone at my bedside table, which means you can usually find me in the nether-regions of Instagram Explore or Buzzfeed at 10:30 p.m. Usually, it takes me up to an hour to fall asleep, and even longer when I'm on my phone in bed. But I fell asleep the fastest—almost instantly—the night I wore the glasses up until bedtime and kept my phone out of my bedroom. Another night, I watched "This is Us" with the glasses on and then scrolled a while in bed, and I didn't notice any difficulty falling asleep then, either.
The most noticeable perk of the blue-light blockers was the absence of my usual Thursday tension headache. By the end of my workweek, I usually have major neck and shoulder pain, which results in a nasty headache—none of which I experienced after a week of wearing the glasses, even though my freelance workload was more stressful than normal.
While I loved the frames I chose, one thing that disappointed me was the visible yellow tint of the lenses. I shouldn't have been that surprised: Amber-colored lenses, which reverse the effect of blue-light are the whole premise of the glasses. But considering the benefits I reaped from regular use of the blue-light blockers, cosmetics are the least of my concern.
All in all? Consider this my hearty recommendation for blue-light glasses, a worthy investment for those of us chained to our computers. Worst-case scenario: You'll have a cool pair of glasses. Best-case scenario: Sleep better, and make it fashion.
Apartment Therapy supports our readers with carefully chosen product recommendations to improve life at home. You support us through our independently chosen links, many of which earn us a commission.