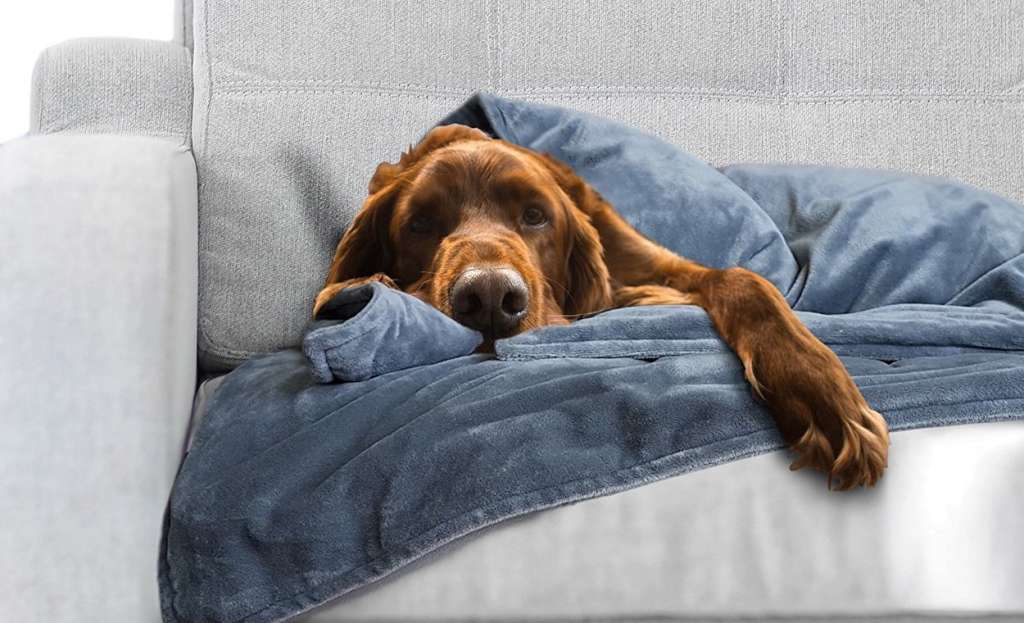 Does your pet suffer from anxiety? Maybe they are terrified of the vacuum or fireworks, or maybe they just hate it when you leave. You might notice they miss you when you're gone if all of your shoes disappear right before you walk right out the door. Or, your neighbor tells you that your dog doesn't stop crying when you're not home.
According to the ASPCA, "One of the most common complaints of pet parents is that their dogs are disruptive or destructive when left alone. Their dogs might urinate, defecate, bark, howl, chew, dig or try to escape. Although these problems often indicate that a dog needs to be taught polite house manners, they can also be symptoms of distress."
If your pet has ever expressed signs of anxiety, you might want to look into this weighted blanket for dogs! Yes, this really exists and it is meant for anxious dogs. The Canine Coddler is perfect for nights when your dog is just a little anxious, they're having bouts of separation anxiety, for long rides in the car, when they go to the kennel, if you have strangers/visitors over, and more.
The product description reads:
The Canine Coddler weighted blanket is designed to be warm and to provide gentle pressure to a dog, mimicking the feeling of being held. The sensation will have a positive effect on dog's moods while reducing stress and anxiety. This technology has been used on humans for years. As a result, weighted blankets are gaining in popularity as an alternative means of combating anxiety and other sensory disorders.
The weighted blanket comes in two wights: small/medium ($79.98, on sale from $119.99) and large ($79.99, on sale from $129.99). The small/medium weight is approximately five pounds, while the large is approximately seven pounds. Both blankets measure to 36″ x 48″, with a machine washable cover.
The Canine Coddler weighted dog anti-anxiety and stress relief blanket has just 12 reviews on their website, but they all seem very positive. One reviewer wrote, "Amazing product!! My Corgi suffered from extreme anxiety. Now she won't leave her blanket alone. it really seems to put her at ease."
As amazing as this weighted blanket is for your pet, you should always be cautious and careful if your pet is exhibiting signs of anxiety. Some symptoms of mild anxiety:
Trembling
A tucked tail
Withdrawing
Hiding
Reduced activity
Passive attempts to escape.
Signs of moderate to severe panic are active attempts at escape, as well as increased and out-of-context motor activity. If your pet shows any of the symptoms, consult with your pet's doctor to see if they need a trip to the veterinarian's office ASAP.
You can pre-order the Canine Coddler for $79.98. Deliveries are set to begin on December 29th, 2018. Currently, if you pre-order the weighted blanket, it comes with free two-day shipping.
Apartment Therapy supports our readers with carefully chosen product recommendations to improve life at home. You support us through our independently chosen links, many of which earn us a commission.