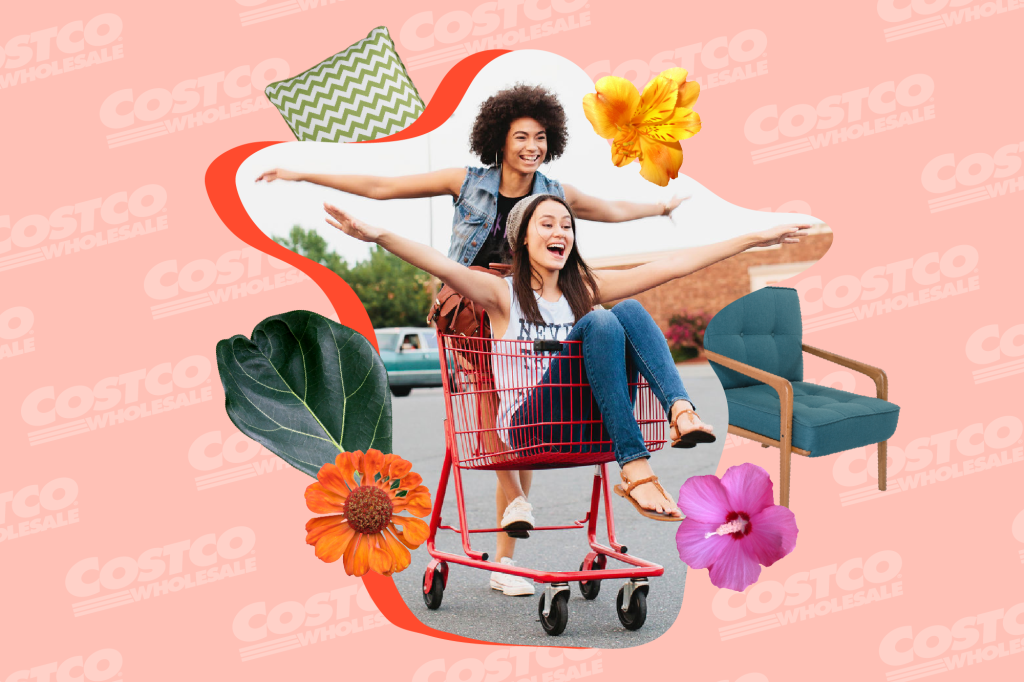 Ah, Costco. Is there anything you can't get at the buy-in-bulk giant? Cars, kitchen cabinets, home mortgages: Costco sells them all. And believe it or not, the store is just as good for small stuff. Nestled among the aisles of 36-packs of toilet paper and $5 rotisserie chickens are perfect hostess gifts, stocking stuffers, and bigger-tickets items (like electronics and jewelry) your loved ones will never guess came from Costco's warehouse.
While you might not head to the megastore just to buy holiday presents, you should absolutely check out these great finds on your next shopping trip.
Flowers
Starting at $9.99, Costco's bouquets range from clusters of roses, lilies, and mums to more elaborate, trend-driven arrangements that come with a vase and look awfully similar to what you'd get at your local florist. You can find blooms in nearly any color, but if you're into a more seasonal vibe, the store is currently offering special bouquets in red, green, and white with Christmasy flair like a Santa-shaped vase or hypericum berries.
Wine & Spirits
The wine department at Costco has a cult following for good reason (just look at costcowineblog.com for proof): Most bottles go for less than $20, and they tend to be high quality; in fact, the store often carries award-winning wineries and vintages, like bottles from Wine Spectator's "Top 100." Don't ignore in-house brand Kirkland Signature either—it's often just as good as the big-name stuff (and even made by the same wineries), but costs half the price.
Gift cards
Gift cards never go on sale—except at Costco, where they're permanently discounted. A $100 gift card will often run you closer to $80, and the multi-packs mean you get several gifts in one go. You'll see gift cards for restaurants, cafes, and retailers and services like Spotify, Blue Apron, and Build-A-Bear Workshop.
Watches
Costco's assortment of men's and women's watches is wide-ranging: Citizen, Seiko, and Skagen are all well represented, as are fashion brands like Ted Baker and Salvatore Ferragamo. Hell, you can even score a Rolex and an Apple Watch there.
Electric Razors
The perfect gift for your stubbly, scruffy loved ones, electric razors can run upwards of $200. Online, Costco is currently selling a deluxe Philips Norelco for $30 off its regular price of $99.
Books
For those of us who still love paper books, Costco is a treasure trove. While the selection can be hit-or-miss, the store often has a good inventory of popular hardcovers, paperbacks, and boxed sets for kids. The store has been known to draw big-name authors, too: Last month, Michelle Obama stopped by a location to sign copies of her new memoir, "Becoming."
Movie Theater Memberships
In addition to gift cards for restaurants and stores, Costco deals in movie tickets. You can get two-for-one discounts and memberships to movie theater clubs (which allow a certain number of visits per month), eligible at Regal, AMC, and other nationwide chains.
Perfume
Costco does big business in designer fragrances, including scents by one of my favorites, Jo Malone. In years past, the store has also stocked sweet gift sets of scented lotions, shower gels, loofahs, and other bathroom goodies.
Designer bags
Marc Jacobs, Jimmy Choo, Rebecca Minkoff, Coach, and Dolce & Gabbana: If this sounds like the handbag selection at a department store, it's by design. Costco often sells famous designers alongside lower-priced Kirkland products, and will feature these luxe items in kiosks throughout the store around the holidays at members-only prices.
Concert, Theme Park, and Event Tickets
My mom is an avid Costco shopper (she goes monthly and only she and my dad live at their house), and even she was like "really?!" when I told her the store sells concert tickets. In fact, according to Costco management, it's one item members are most surprised to see in store. But check online and you'll see tickets available for Cirque Du Soleil, Universal Studios, and even the Super Bowl.
Slippers
This reliable stocking stuffer comes in many forms at Costco and start at just $20 for a shearling-lined pair of Kirkland Signature slip-ons. You can also find cozy options from Ugg and Dearfoams.
Toys
Oh, to be a kid in the Costco toy department: With the store's seemingly endless inventory of play houses, dolls, building blocks, board games, and mega-sized stuffed animals, you'd be entertained for weeks. Grown-ups will appreciate the discounted prices, like $20 off a Fisher-Price Power Wheels Jeep.
Gift Baskets
Everyone's favorite go-to present when you don't really know a person, gift baskets are especially appealing at Costco. Around the holidays, the megastore sells all kinds of fruit, cheese, and chocolate baskets, including a seven-tier tower of treats from Rocky Mountain Chocolate Factory and blueberry breakfast basket from Maine's Stonewall Kitchen.
Decorative Home Accessories
The megastore's selection of candles, serving dishes, vases, and clocks is impressive, and better yet, many of the items are actually stylish (I'm looking at you, retro wall clock and woven African basket).
Headphones
If a new set of noise-canceling headphones or AirPods is on your loved one's list, you're in luck. Costco stocks several high-end brands of headphones and offers rebates with your purchase, bringing down the already discounted price even more.