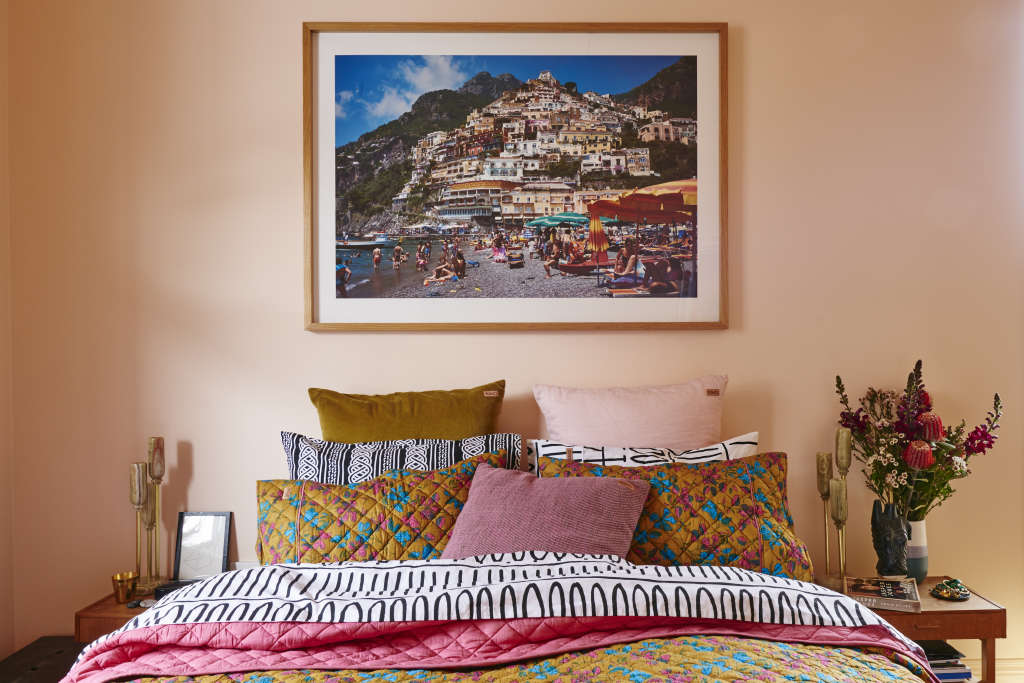 According to the internet, the phrase "sham," at least in the context of bedding, has its origins in trickery. In the 1700s, cases with removable decorative fronts first came into fashion and were appropriately labeled "shams." Since then, people have been using similar ornamental cases on their beds for decoration. Here's where you pragmatic types out there might scratch your heads just a little bit—why have pillows meant only for show? And what's a sham exactly? Isn't it just a pillowcase?
Truth is, you're not totally wrong. Pillowcases are usually open at one end and made of simple sheet fabric. Bedding shams, on the other hand, are typically made of fancier materials that match or compliment your duvet and often have a slit in the middle of their backs (or on one or both sides) that closes with an overlapping length of fabric. Decorative ties, buttons, and hidden zippers can also be used to secure shams. And while you technically could sleep on shams, they're really meant to give your bed a more sophisticated, finished look. As far as their perceived lack of utility, one might argue that, placed in front of or on top of your sleeping pillows, shams can actually shield your pillowcases from dirt and dust. And they're great for an extra level of support when reading or sitting up in bed. It all just depends on whether you're cool with crowding your bed with pillows a bit—and taking them off each night before you hit the hay.
(Image credit: Sarita Relis Photography)
Shams are available in traditional pillow sizes: Standard (26″ by 20″), King (36″ by 20″) and Euro (26″ by 26″). Standard shams will work for most beds, but you can opt for or add Euros if you like the square shape. And obviously, king shams are sized for king beds.
Interestingly enough, while looking for inspiring bedrooms with shams to share with you, there weren't a ton of house tour folks actually making their beds with them. Maybe shams are going the way of the dinosaurs? But shams do present an opportunity to add a pop of color to a bed, to pattern mix and to bring other shades from the room into the top of bed to create an overall harmonious design scheme.
Case in point—this toile guest bedroom set up. By using standard shams that match the duvet, this homeowner was able to create an eye-catching, layered top of bed that incorporates monochromatic pattern mixing and texture through additional decorative throw pillows. Without the toile shams, the look wouldn't be quite as polished, crisp, or pronounced.
This is what I would call using shams to their fullest. You've got patterned, textural Euro shams paired with standard shams that are scalloped, embroidered and monogrammed. Talk about fancy pants!
Or you can go the Euro route for perfect symmetry. I feel like a central accent pillow is missing here, but if you like to keep it minimal, this configuration is a solid option.
If you're more the eclectic type, you can actually mismatch your shams. Here the homeowner has purposely styled two different shams together: One that matches the duvet, and one that's fully striped in a similar tone. Then she's interspersed those with her two solid sleeping pillows—very carefree French-girl-chic.
Here's that same duvet styled as a full set with both shams. The decorative throw pillow adds additional color to the space, but the linear graphic keeps the space feeling consistent.
You can also do something totally creative and asymmetrical, just by adding a few different sized shams and favoring one side of the bed or the other with their placement. This may sound a little confusing, but can look quirky and cool, as seen in this bedroom above.
If you're in the market for a new duvet, you may get shams in a bedding bundle. But if you want to buy some to work into your existing bedding scape, here are a few of our favorites.
Ticking stripes will pep—and prep—up a solid duvet.
Suno's back and taking on the world of bedding. I love this double-sided style. It gives you maximum versatility when styling.
Knock out two trends—velvet and blush—with one luxe pair of pillow shams.
Okay, this windowpane print design is kind of a hybrid between a pillowcase and a pillow sham. But the button detailing down the side vent is darling, and ups its decorative game into sham territory.
Linen Pillowcases in Olive at Cultiver, From $70 per set
If you like linen, you're going to love Cultiver. These super soft olive cases would go well with a white duvet or comforter, especially if you're into the whole boho look.
A little tone-on-tone sateen from Peacock Alley, the legendary Texas-based bedding makers, for you minimalists out there that appreciate fine quality.
I'm feeling the sort of '70s style vibes of these geometric cases.
Apartment Therapy supports our readers with carefully chosen product recommendations to improve life at home. You support us through our independently chosen links, many of which earn us a commission.