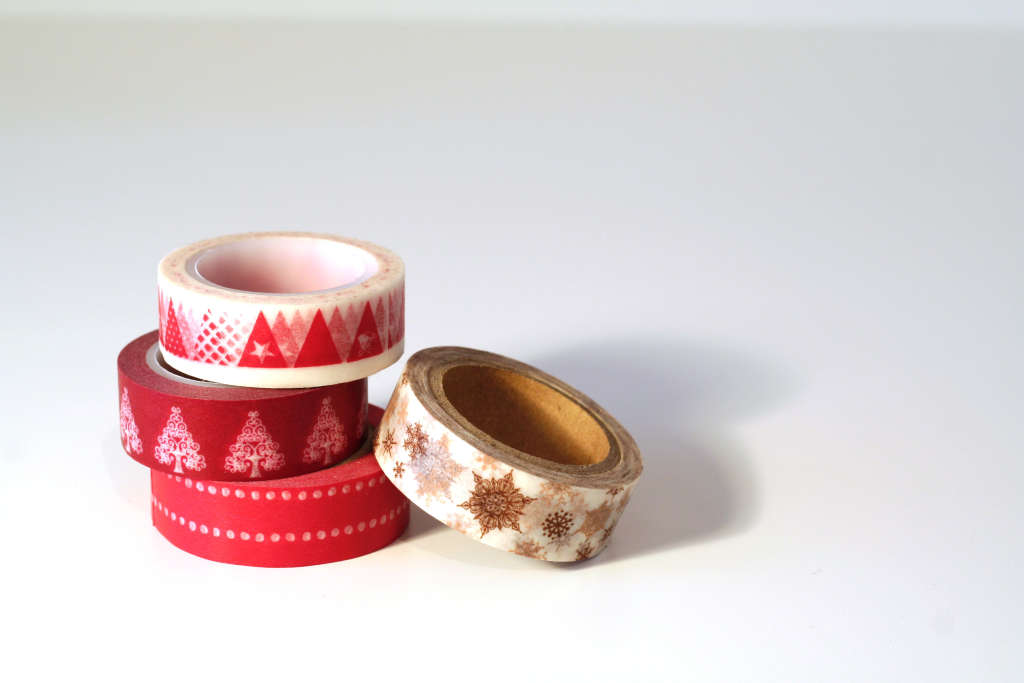 Washi tape has a million uses all year round, but it really shines during the winter holidays—especially if it's shiny. Here are dozen festive ways to put washi tape to use, ranging from small details to major decorations.
Patchwork Giftwrap by @f3l1cia
Washi tape is the "stitching" that holds together this beautiful wrapping paper quilt. Not only is this gift wrap approach stunning, it's a great way to use up leftover bits of paper and unify all of your gifts without buying all new paper.
Plaid washi tape makes the sweetest little roof shingles or tiles in this darling village. Each building is a box with a treat or sweet inside, and the entire town serves as a lovely winter display.
Deck every door with a tree of its own using washi tape in a variety of bright greens. A frostier effect could be achieved by combining the same dark green with blue and gray tapes.
These merry pinwheels make great gift toppers and do double duty as a fun activity for kids. Use patterned washi tape on both sides of the pinwheel, or just one side to spruce up plain paper.
Spruce up plain recycled craft paper and envelopes with a little hit of color and whimsy. Different washi tapes could even be used to indicate whose gifts are whose!
Upcycle empty jars by dressing them up with washi tape in varying widths. Gleaming metallics work especially well here.
Use small bits of washi tape to create graphic trees, ornaments, candles, gifts, and candy canes. Snowflakes made of skinny washi tape in whites, grays, and blues would be exquisite.
Gift tags get a jaunty jolt of cheerful fun thanks to a wrapping of washi tape. Again, different tapes could be used to indicate the recipient of each gift.
Ordinary clothespins are transformed with just a simple stripe of washi tape, with the entire advent calendar serving as a festive banner.
Add some Christmas cheer to your walls with a simple holiday message spelled out with washi tape.
An ordinary tray gets dressed up for cocktail parties and cookie swaps with easy strips of washi tape. This WISH tray is particularly appropriate, but nearly any tray could be dressed up with a few shiny stripes.