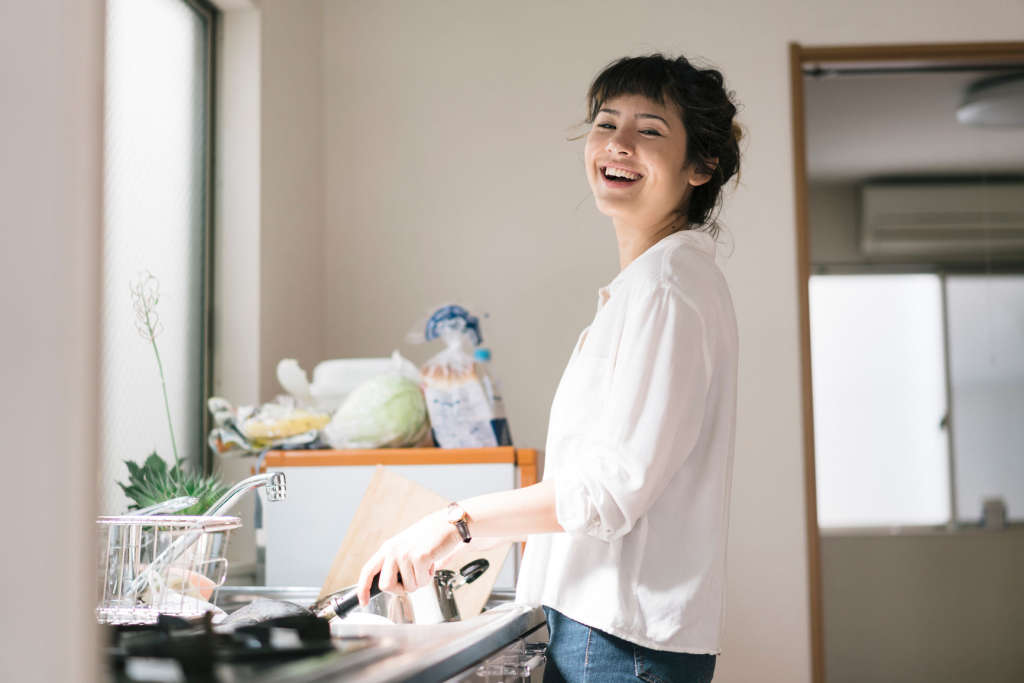 Does your mom know every cleaning trick in the book? Does your brother make you take your shoes off the second you walk in his home? Or does your coworker, with the only clutter-free desk on the floor, flee to a private conference room if you so much as sniffle?
If you answered yes to any of the above questions, it sounds like you know a neat freak. Of course, we mean that in the most loving way possible, which is why we've rounded up a whole host of gifts made especially for the tidiest person on your list.
Your neat freak may be all business about cleaning the house, but that doesn't mean they can't have a little bit of fun with it. This rag does everything—it sops up spills, polishes, and even inspires a little '90s sing-along.
If there's a bottle of sanitizer in every corner of their home, your giftee will be grateful for this stylish touch-free vessel to make hand washing more sanitary. This rechargeable dispenser is completely hands-free—no germs, no smudges.
For the resident germaphobe, a hand sanitizer that pokes gentle fun at their clean freak behavior. Don't worry: While this sanitizer might be a bit of a gag gift, it still kills 99.9 percent of germs.
If you're going to sweep every day, you may as well do so in style. Swap out that drab plastic all-plastic version for one with an oiled beechwood brush with durable horsehair that's handmade in Sweden.
This isn't your mama's label maker. This sleek and modern Bluetooth version has all the same functionality of the original, but is lightweight and compact and loaded with predesigned templates, plus a variety of fonts, frames, and symbol.
Nobody is allowed inside, unless it's been cleaned from top to bottom. You may know better than to show up unannounced, but this funny doormat will help uninformed visitors understand why their knock has gone unanswered.
Nobody likes mopping spilled juice and oil splashes from countertops multiple times per day. These colorful dish towels add a little sunshine to the mundane, plus look great hanging from the oven door.
These everyday slippers take the effort out of keeping hardwood spotless. Simply slip them on and marvel as the microfiber bottoms pick up dirt, dust, and hair as effectively as a mop.
There's nothing like a nest of tangled cords to send an organized person into a tailspin. Slip these snap-on labels into their stocking to help them keep their work station "corderly."
If given just one wish, even the biggest neat freak might wish to never have to vacuum again. Grant their wish with this small robotic vacuum. It cruises around the house completely unassisted to pick up dirt, crumbs, dust bunnies, and pet hair.
You get a job, you get a job, and you get a job! These small stickers hold a lot of power: They give your favorite neat freak the ability to delegate freely, or just keep track of their own tasks in their planner in the tidiest way possible.
If your giftee is committed to using homemade cleaners and homemade cleaners only, these sophisticated label decals look a lot better than scribbled permanent marker.
They're clean, their bathroom sparkles, and this cheeky bath mat is here to tell everyone all about it.
If they knew how many germs were on their smartphone, they might never touch it again. This handheld sanitizer is a game-changer—it uses a special UV light to zap 99.9 percent of surface bacteria in just 10 minutes.
A grimy, wet sponge perched on the edge of the counter is a clean freak's worst nightmare. Save well-meaning family members the scolding with this decorative ceramic double sponge holder—with room for the "good" sponge and the grimy one.
When clutter is your arch nemesis, this book is a must-have. This book, from the popular blog Remodelista, offers 100 simple and stylish tips to help conquer your home's problem zones, from the kitchen to the bedroom (and everywhere in between).
Read more: We Finally Have an Organizing Bible for Design Lovers
Your favorite neat freak could really use a day off. But you know that's not happening—unless someone else cleans the house. Come to their rescue: Give them a thorough house-cleaning on you.
Apartment Therapy supports our readers with carefully chosen product recommendations to improve life at home. You support us through our independently chosen links, many of which earn us a commission.