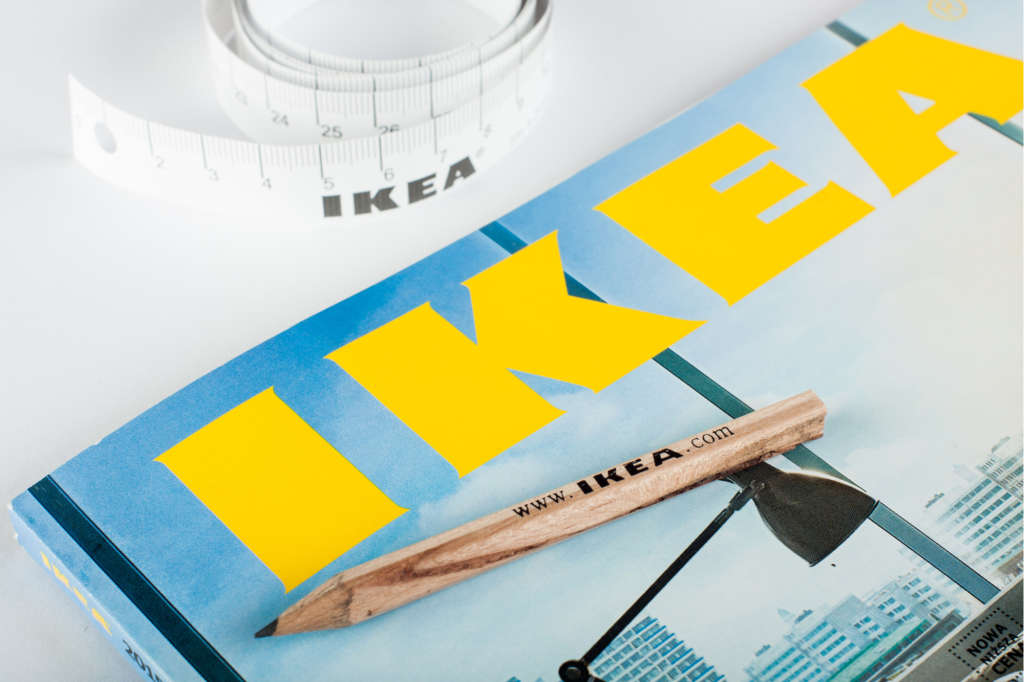 When you want smart space-saving strategies, you can pretty much turn to IKEA. Almost all of their interior images are built sets, so they're jam packed full of editorial ideas that someone has dreamt up and turned into reality. Inspiration abounds, and yet, these IKEA "homes" still feel like real homes with actionable ideas beyond just buying a table or a sofa or whatever. They put their product into different contexts than you'd expect and show you how to pair things together you might not think would ever work side by side. Not sure what do in your dining room or lacking one altogether? IKEA to the rescue with these 8 ideas we pulled from their styled eating spaces.
1. Go Halfsies
Wainscoting is a fixture in traditional dining spaces, but the people at IKEA know you don't have to have beadboard or even box paneling to add some visual interest to your walls. This dining area does have a chair rail, but you could paint regular old dry wall halfway up to the ceiling to create this cool two-toned look. Go for something bold like an emerald green or even a navy blue. And while you're at it, be flexible on seating. There's nothing wrong with pulling a stool or two up to your table when you have extra folks to feed.
2. Get a Gateleg Table
Living in a small space or studio doesn't mean you have to eat all your meals at your coffee table, that is, unless you want to. Most tight quarters would still have space for IKEA's NORDEN Gateleg table, which has two drop leaves and even a set of drawers built into its compact base. It can be a full-sized dining table then placed flush to a wall (or jammed into a corner) when not in use.
3. Mismatch Your Chairs
Dining rooms can be so stuffy. If you're lucky enough to have a dedicated space for eating, have a little fun in there. Change it up with a few funky colored, mismatched chairs. You could even try a bench on one side of the table. Cozy that piece up with some textiles or even a sheepskin throw during the colder winter months. The more variety, the less formal and stodgy the space will feel.
4. Raise the Bar
High-top tables are where it's at, especially if you don't have a ton of free floor space for a massively long dining table. Try clustering a couple together so you can accommodate as many people as possible in your space. This is a great solution for a galley kitchen that may open up to a living room, for example, as seen in this IKEA designed area.
5. Try a Tiny Table
If you don't want to go high with your table, you can always go tiny and on the lower side. The solid pine GAMLARED Table has just enough surface area for two or three adults to gather around. The natural top and black leg color combo give it a "Modern Farmhouse" vibe, but it could work in a more traditional home too. I'd pair it with stackable stools that nest underneath it to really maximize the footprint.
6. Work Your Walls
Maybe you don't have room for a freestanding cabinet or hutch for all of your dishware and linens, as seen in this IKEA dining room. And that's okay. Because you can always hang a wall-mounted shelving unit, also seen here, which allows you to take advantage of your walls. Or wheel in a kitchen cart with all of your utensils and supplies. Flexible storage is really where it's at, and that's the hallmark of an IKEA dining space.
7. Round it Out
Yes, the DOCKSTA Table has been used ad nauseum in house tours and homes everywhere, but it's for good reason, people. Not only does a circular table soften a room, it also improves flow by having virtually no angles. It's super easy to walk around and pull up a chair to, meaning you can probably squish more than four people in here. And this guy's modern silhouette can be made a little more traditional looking by simply covering it with a tablecloth.
8. Extend Your Reach
If you often host family around the holidays or even dinner parties for friends, get yourself an extendable table of some sort. The VANGSTA Extendable table is less than $100 bucks and has a leaf so you can fit 6 (maybe even 8, according to some reviews!) people comfortably. I often think putting two of these guys together would be smart as well. Sometimes the more expansive a table, the more expensive it is. So if you really want a long table and don't want to spend a fortune, just double up.
Here's to hoping these ideas will help you find a little dining room nirvana.