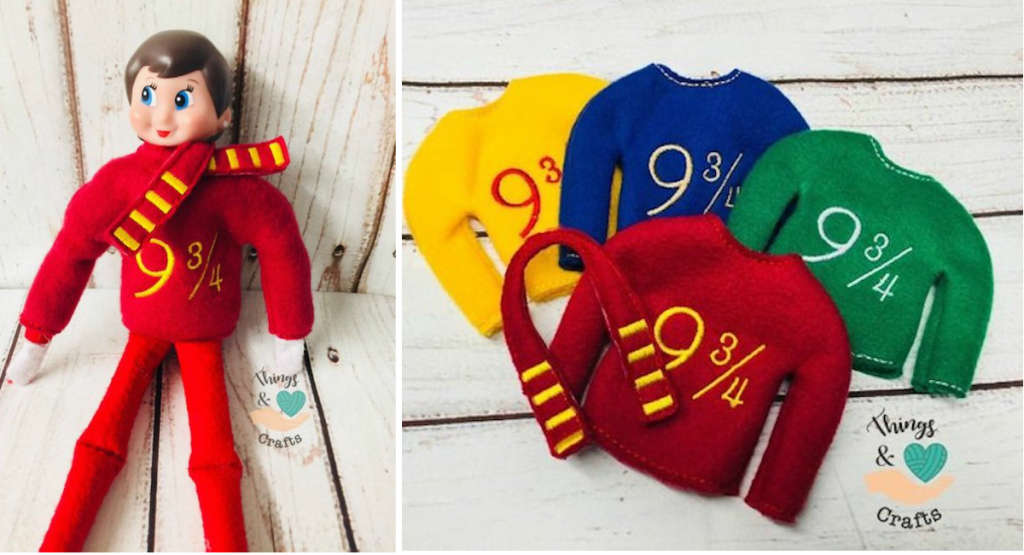 Attention all muggles, witches, and wizards! You can finally have an elf in your house. It isn't going to be one of the house elves we all know and love. This is a little elf with a job that Hermione Granger would actually approve of.
We're talking about Elf on the Shelf, of course. Most parents (and even non-parents) are pretty familiar with Elf on the Shelf at this point. Each house has an elf that reports back to Santa on how the children are behaving at Christmas time. The small elves come with a storybook that explains to the kids how their magic works. Elf on the Shelf is an adorable newer Christmas tradition, but it can be tiresome for some parents.
If you're not crazy about regular Elf on the Shelf, maybe you need to bring a little extra magic back into your life with these Harry Potter-themed elves. Now, you will technically need to own an elf from the brand Elf on a Shelf, but you can quickly turn them into a tiny wizard.
Thanks to Etsy, you can deck out your family's elf with all of the best Hogwarts gear. Who would have thought that we'd be sorting our elves into houses in 2018? Not us! But we're glad that this exists. It is just another excuse to celebrate Harry Potter during the holiday season.
Etsy seller Things & Crafts has four different 9 ¾ sets available for your elf. Each set comes with a sweater and a matching scarf. The sets are available in red, green, yellow, and blue (A.K.A. the Hogwarts houses – Gryffindor, Slytherin, Hufflepuff, and Ravenclaw). Each 9 ¾ elf set is available for $12. It looks like the green option is the only one available currently, but hopefully, the other three come back in stock soon!
If moving an elf around the house is just not your thing, you might want to look into Santa's Lazy Gnome for next Christmas. The little gnome stays in one spot and virtually has the same "duty" of reporting back to Santa like Elf on the Shelf.