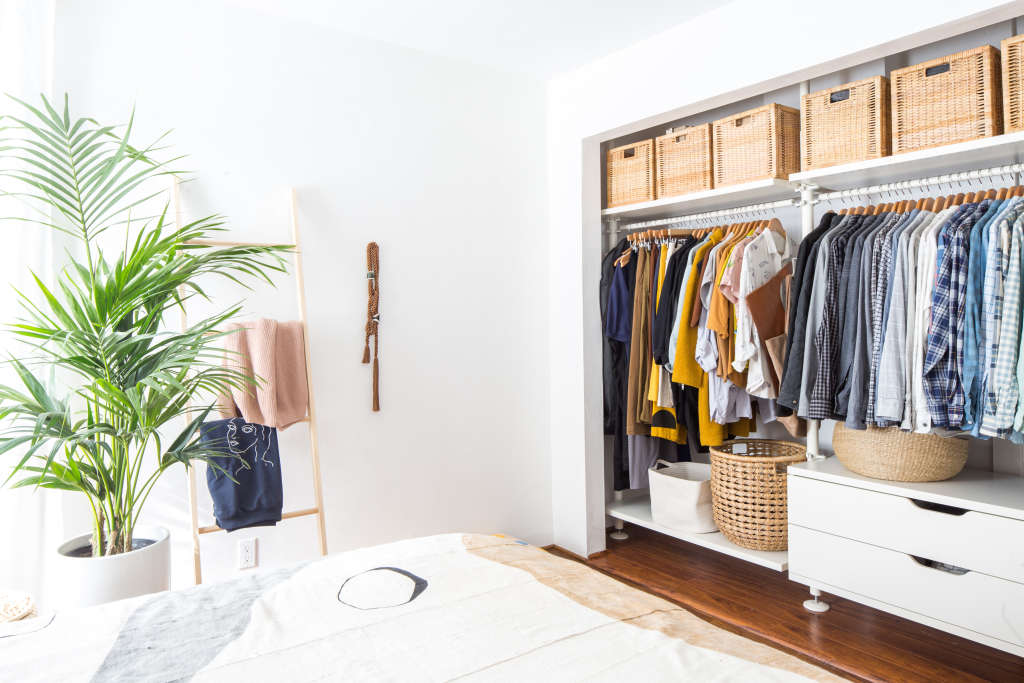 When I started looking to buy an apartment on my own, one of the things I felt most excited about (besides escaping my creepy, noisy neighbors) was the prospect of having ample closets. My old place had nothing in the way of a linen, hall, or coat closet, forcing me and my roommate to cram all our towels, sheets, and puffy jackets in a rickety armoire from IKEA. The apartment I ended up buying had a sizable amount of space for a coat closet (exciting!), but instead of being outfitted with shelves and hooks and rods, it was just an unadorned nook carved out of the hallway (sigh). The previous owner had placed a hutch in the space, which baffled me. Why waste such precious space by filling it with a piece of furniture that could be pushed against any wall? So I moved the hutch and set about designing a coat/utility/linen closet, using a DIY system from Rubbermaid I ordered from the Home Depot for about $65. It turned out to be one of the smartest purchases I made: It completely transformed what I used to call "the nook" into serious, usable storage. As you can probably tell, it has also made me a closet-system evangelist—custom closets are incredible, but if you don't have the budget, these off-the-shelf products can really make a difference in your home. Here are some to consider:
One of The Container Store's signature products, Elfa is arguably the gold standard of closet systems, and has been since 1999. Once just basic metal shelving, the brand has expanded into luxe finishes, including wood veneer and real wood. It's also entirely customizable with shelves, baskets, shoe organizers, and shelves galore—which may sound overwhelming, but isn't when you use the store's free design service. The system is also famously easy to install and durable.
You can't beat the variety of options from ClosetMaid, but the Impressions line is particularly nice because of its more upscale look and multiple finishes (white, cherry, chocolate, and walnut). One kit offers plenty of shelving, plus multiple telescoping rods, optional shoe storage, and stacks of drawers.
This is the system I used, and while I admit it's more functional than beautiful (the rails and wire shelves look pretty builder-basic), you can't beat the price or ease of installation. It just took a measuring tape, a drill, a level, and a big handful of screws to get going. I also liked how the rail telescoped and how easily I was able to move the shelves and brackets around—which I did multiple times until the setup seemed right. Did I mention that I didn't even use all the pieces that came with my kit, so I gave them to my brother so he could add some extra storage to his own apartment? It doesn't get better than two closets for the price of one.
As you might expect from the home superstore, the ALGOT system is remarkably affordable. It's also more than a closet system—designed to be used in multiple rooms, it offers special shelving configurations and attachments, like a drying rack. You can even turn the system into a media center. Although the line only comes in white, it's fairly sleek-looking with nice wire baskets and solid shelves.
If you need some organization inspiration, head right to Easy Track's website, which has a gallery of helpful ideas for how to configure its modular kits. Although they come in standard sizes, you can easily trim them to fit your dimensions. The starter kit doesn't come with a ton of shelving, but you can find plenty of affordable add-ons (tie racks, belt racks, pull-out hampers) at retailers like Wayfair.
These pre-designed wire kits are freestanding, so they can live inside or outside a closet. They usually run less than $150, and get mostly rave reviews from customers at Bed, Bath & Beyond, Amazon, and Walmart, which is where they're sold.
This company's DIY organizers are crafted from solid wood, making them durable and giving them an inherently upscale look, but at a more affordable price—they start at around $200—than many competitors. You can get shelves and rails at different depths, and there is a wide array of configurations available.
Apartment Therapy supports our readers with carefully chosen product recommendations to improve life at home. You support us through our independently chosen links, many of which earn us a commission.