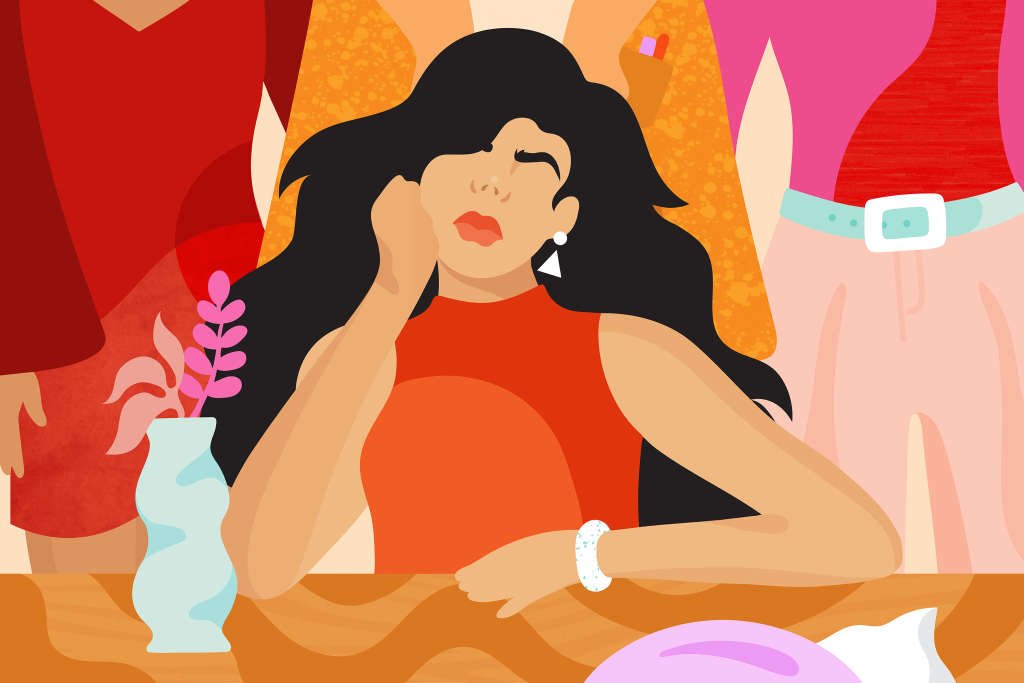 Let's just say your family doesn't exactly resemble a perfect Hallmark gathering of super connected cousins or in-sync siblings. And, if you feel like these relationships are bordering on toxic or if there's abuse, addiction, and estrangement to contend with, too, it's more than likely that you're regarding the holidays with no small feeling of dread. Despite all of this, you can have an intact holiday. Here, the nine things you need to do to make this the most wonderful time of the year.
1. Be prepared
If you have a family member who has a tendency to make controversial or hurtful remarks, rehearse a few ways to handle that moment, suggests Vinay Saranga, MD, a psychiatrist and founder of Saranga Comprehensive Psychiatry in Apex, North Carolina. "Even a prepared statement like 'I don't believe now is the time to discuss this subject' before you pivot to 'This cake is really delicious' can really defuse the moment."
2. Accept that holiday happiness isn't a given
The holidays can actually bring out the worst in people because inherently there's stress intertwined in the holiday season, says John Mayer, a clinical psychologist at Doctor On Demand. "We have an overriding notion that the holidays are all bliss and good feelings, but that's not always the case. Between the gift giving, obligatory visits and being in the presence of relatives and friends we are in conflict with or estranged from, this all adds stress that we typically avoid the rest of the year."
3. Try to stick to your routine
No matter the tension you might be facing at this time of year, you'll have a happier season if you can balance out holiday activities with your normal routine as well as the things you love, suggests Rachel Gersten, co-creator of Viva Wellness, a holistic wellness center in Brooklyn, New York. "For example, if fitness grounds you, make sure you're still prioritizing that workout class when things get busy," she says. "You need to take a break from all of the holiday activities, especially if they're not always a pleasant experience, and still feel like 'you' during a stressful and busy time."
4. Understand your family's coping mechanisms
When a family member is bothering you, try to key into this behavior and always remember that their words (or actions) have nothing to do with you, Mayer adds. "Once you are empowered with this understanding, your empathy toward these relatives increases tremendously because you can distance yourself from getting into conflict with that person," he says. "Most importantly, you're not expecting them to be different and that can actually be very empowering."
5. Find a way to find solo time
It can be exhausting to go from not seeing your family regularly and then being inundated with family updates, chatter, and togetherness at this time of year. "If you feel overwhelmed, you might need some down time," says Jor-El Caraballo, co-creator of Viva Wellness. "Bring some solo activities with you such as a book to read or noise-canceling headphones so even if you have to be around people you can still get a bit of silent refuge."
6. Remain an adult
When interacting with family, it often happens that we regress to childlike behavior. To avoid this, remind yourself of your age and recent accomplishments. "Though one might feel like they are a child again in their parent's company, it is best not to act like one when negative feelings come up," says Steven Reigns, a licensed marriage and family therapist and founder of Therapy for Adults in Los Angeles. "If you're obliged to spend time with your family, schedule activities to engage everyone in or a task that isn't loaded. This can range from preparing meals together to playing board games."
7. Stay in neutral
Before attending a gathering with strained family ties, think of neutral conversation starters or amusing stories to share. "Have these stories ready to pull off the shelf if there is a lull or awkward moment," says Reigns. "If relationships are already strained, avoid loaded topics such as religion or politics. Focus on the commonalities you share. If your father enjoys cars, talk about the cars you like. If your brother enjoys hunting, talk with him about your own camping adventures."
8. It's okay to say no
There's no rule that says you have to say yes to events that are too triggering. "It's okay to not be around family members who are toxic or abusive," says Emily Cosgrove, a Canadian licensed marriage and family therapist. "Since family gatherings can be stressful during the holiday season it's more important to maintain your mental health and wellness." If you're triggered or struggle with family members, politely decline invitations to gatherings if you can. "If you have to go to a holiday gathering set a time limit," Cosgrove says. "For example, say to yourself, 'I will stay at the party for an hour and then I will leave.' This way you'll have carried out your duty to attend but will not have to spend the entire time there."
9. Try not to take things personally
In the end, remember that everyone has their own stresses during the holiday season and that they may be experiencing their own holiday anxiety. This is especially important if you feel your anger beginning to build. "Do your best to have compassion and be forgiving," says Kathryn Smerling, a psychotherapist in New York City. "Treat people as you wish to be treated and, ultimately, your goal is to realize that people are who they are and let it be."
If you're struggling with a dysfunctional situation and need emotional support or assistance, you can access the Crisis Call Center's 24/7/365 hotline at 1 (800) 273-8255, or by texting "ANSWER" to 839863.