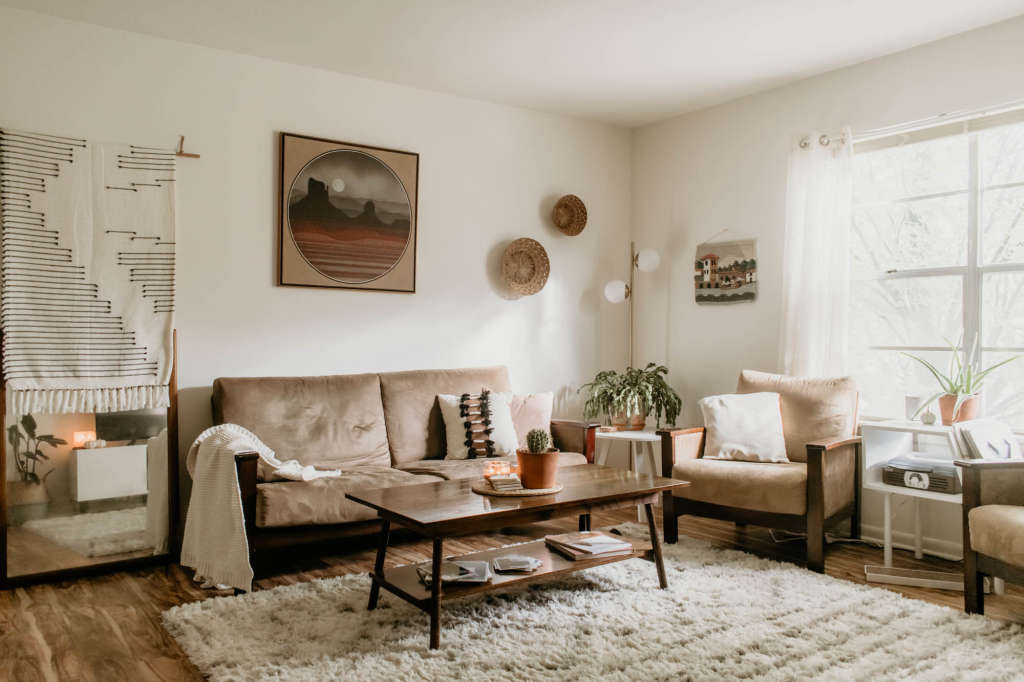 Name: Adrianne Herold, fiancé (Dylan) + our cat (Scavenger)!
Location: Champaign, Illinois
Size: 1,005 square feet
Years lived in: 1 year, renting
My fiancé (Dylan) and I have lived in this apartment for just under a year. We actually lived in a unit across the parking lot before here but we saw that they were doing some (faux) wood floorings in a few units and we asked to transfer to one!
Our style evolved so drastically from our last apartment to this one. I feel like I finally got a hold of what my style actually is. Dylan is pretty easygoing and doesn't care too much about what I do with our apartment but we do blend our styles together. Dylan is more rustic, industrial, and woodsy. I'm more bright, airy, and minimalistic. I think you can definitely see the two of us blending pretty well throughout the whole apartment.
Something kind of unique about our place is that roughly 80 percent of our furniture is handmade by myself, my dad, and Dylan. Everything from our headboard to our counter-height table is handmade in my parents' garage. I think the only things that aren't custom built are things that we sit on. (That stuff is hard to build LOL).
Describe your home's style in 5 words or less: Earthy, minimal, handmade.
What is your favorite room and why? I think my favorite room is our living room. It's the room that I've focused the most on when it comes to design. It's also the first room people see! The living room is exactly what my visions are when I think of my ideal aesthetic. It's roomy, it's natural, and it's just so cozy.
If you could magically change something about your home, what would it be? The natural light. UGH. We have huge windows but this unit is surrounded by huge trees that block right in front of the windows. It's pretty and it gives a lot of privacy, but it makes the rooms feel like nighttime. The winter gets better, when all of the leaves fall but the evergreens on our back windows stay year around.
What's the last thing you bought (or found!) for your home? The think the last thing I bought was the bench we put under the window in the living room. We just got our new Christmas tree as well so we needed something to fill some extra space after re-arranging!
Any advice for creating a home you love? I stick within a very strict color palette. I have the swatches saved on my phone and anytime I see something I might like, I make sure it lines up within those colors first! I also think it's important to constantly clear things out and organize. Even places you can't see, clean it out, make more room, and make sure you're never cluttering!
Thanks, Adrianne!
• Interested in sharing your home with Apartment Therapy? Contact the editors through our House Tour & House Call Submission Form.