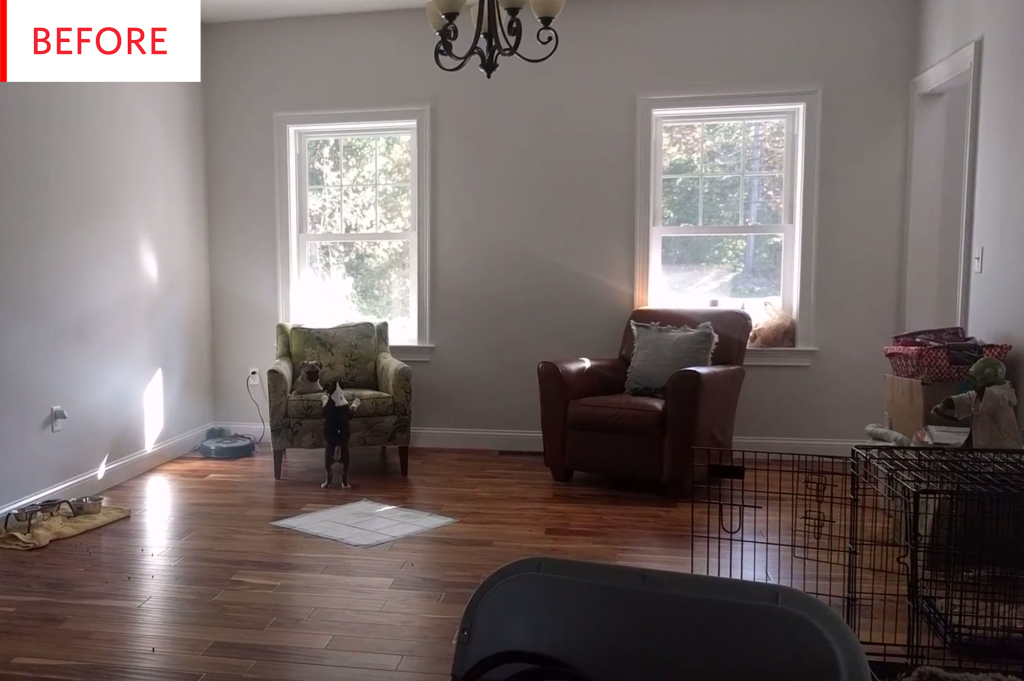 Many makeovers involve transforming dark rooms with white paint and paring things down, but this one is completely the opposite. This room is about to get a lot darker, significantly fuller, and exponentially more fabulous—with one special surprise.
(Image credit: Brianna Thomas)
This is absolutely stunning. The room has the feel of a 200-year-old study, a magical place to stumble upon in an ancient home. One would never guess it was totally put together from scratch. The colors are luscious, the built-in is amazing, the chandelier is old-world gorgeous, and the paint colors are somehow both dramatic and subtle.
Brianna Thomas of Bloom in the Black did an amazing job bringing life, character, depth and authenticity to what was really a blank canvas. See that glimpse of pattern in the lower built-in cubby on the left? It's actually this amazing Puppy Pillowfight wallpaper that Brianna designed that's available for sale from Spoonflower.
(Image credit: Brianna Thomas)
This "before" photo is more like a "halfway" photo, taken after the first phase of the project was complete:
We tackled this room in two phases. Phase One was to design and install a full wall of built-ins on one side of the room. We wanted a place for books and display, and also to create a little apartment for our dogs.
Two-thirds of the bottom section is actually a dog den with a tunnel that leads outside through a concealed dog door (which is much prettier than a crate in the middle of the floor). I sketched out a design for the piece and then we contracted with a very talented local woodworker to build and install everything. He suggested some modifications that worked out great. The cost for that portion was around $4,000 and took about three weeks (a large chunk of that was him building off-site). During this phase we also replaced the basic light fixture with a stunning bistro-style chandelier.
A dog den with secret escape hatch is the greatest pet hack the world has ever seen. In a decade they should be standard in all new homes built. It takes true vision to come up with something like that, and major confidence to actually make it happen. Brianna is apparently a bit of a design genius.
(Image credit: Brianna Thomas)
That floor is really stunning, and while the empty room allowed it to be admired fully, everything Brianna has added to the space has really come together beautifully:
I tackled Phase Two as part of an online project called the One Room Challenge. The goal of which is transforming a room in six weeks with the support of an online community. This was a last-minute decision but luckily the built-in was complete and I had styled out all the shelves months prior, so one huge chunk was already done.
The built-ins set the general tone and I knew what kind of vibe I was after (picture a cocktail lounge in the middle of a library). Keeping an open mind when designing a room is important though, so I kind of ran with ideas as they came up, even when they felt like too much work. Like painting the room once I realized that the whiteish walls were way off base. I tried to mostly use things we already owned, like those beautiful leather chairs and side table, and go as affordable as was reasonable for the things we still needed. That couch was a total steal at $230; and rather than splurging on a sweet antique rug, I found a beautiful reproduction that is equally lovely at half the cost. I also designed some wallpaper for the dog den for a bit of fun and personality.
The biggest challenge for me was figuring out the floor plan. With the two entrance points, figuring out how to arrange the furniture without disrupting the traffic flow was TOUGH. I realized that I needed to just jump in there and drag furniture around, even if I thought it wouldn't work. Once I stopped overthinking it and just started experimenting, the solution appeared. I think overall the room cost around $9,000, including decor, furniture, light fixture, and built-in. However, a lot of the bookcase items were things I'd accumulated over time and aren't included in that final cost. Those are a mix of books, antiques, and random big box purchases.
(Image credit: Brianna Thomas)
Seriously, what a dreamy spot. There's natural light shining in from the window and the kitchen, providing brightness without ruining the deep, dark richness of this room. The sofa glows, the textiles are so inviting, and the art inspires contemplation and relaxation. Overall, it's perfection, so it's nice to see that Brianna is pleased:
I just love how it FEELS. It's so inviting and lush and really nails our style. And I feel a huge sense of pride at how far it has come from that empty white shell. I honestly don't think I would do anything differently. It was a really fun learning experience!
Lush is the perfect word to describe this room. It's indulgent, comfortable, sensual, and full of beautiful things that are meant to be touched, not just gazed at from a distance. The room seems like it would envelop you.
The (very affordable convertible) sofa is by Novogratz from Joss & Main, the polyhedron side table is by RH Teen, the green chenille lumbar pillow is from Target, and the coffee table is by WE Furniture from Amazon.
The art on the left is Books and the piece on the right is Bath, both by Carlos ARL from Society6.
(Image credit: Brianna Thomas)
This space, like the rest of the room, is completely fabulous. The art above the bar cart is Lily Pond Lane by Beth Hoeckel from Society6, the bar cart itself is from Joss & Main, and the rug is by Loloi Rugs from Rugs Direct. The wall color is Benjamin Moore's French Beret, and the built-in color is Northern Star by Pratt & Lambert.
This renovation is inspiring because so many of the choices are bold and daring, but they come together so organically, as if meant to be. If you'd like to achieve the same effect, no matter what style you prefer, Brianna has some advice:
Trust yourself and trust what you like. When you use things you love it will all come together, as long as you take things step-by-step. Evaluate as you go and don't be afraid to change directions if something isn't working.
Thank you Brianna Thomas of Bloom in the Black!
Apartment Therapy supports our readers with carefully chosen product recommendations to improve life at home. You support us through our independently chosen links, many of which earn us a commission.