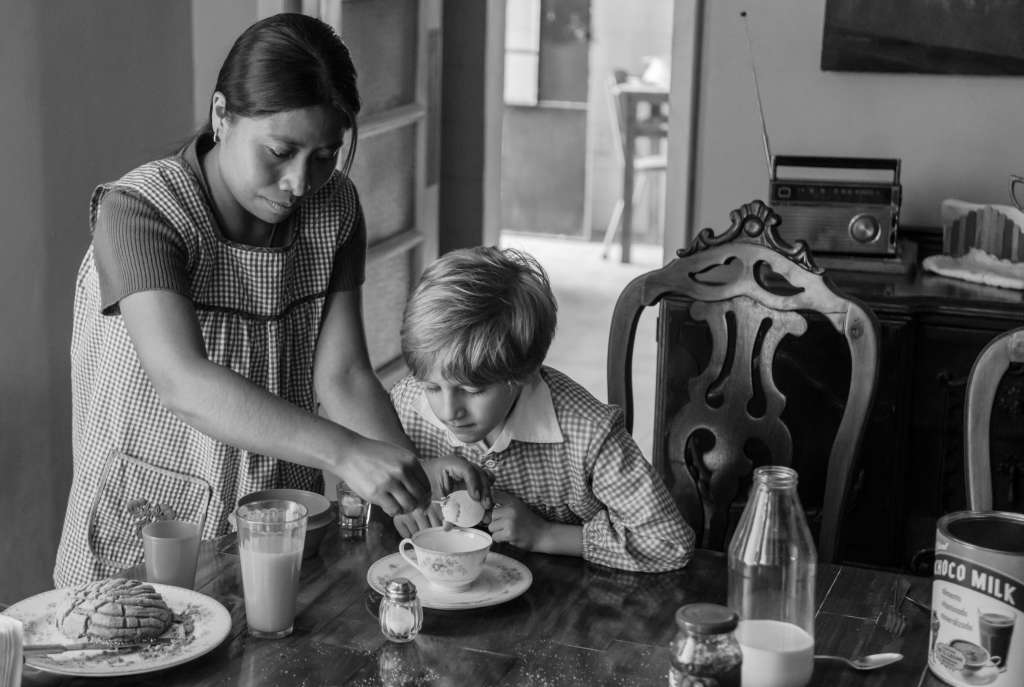 Netflix's latest original movie is already making waves as "Roma" has taken home over three dozen awards so far. Recently named one of this year's Golden Globe contenders for Best Foreign Language Film, and Best Director and Best Screenplay for "Gravity's" Alfonso Cuarón—it's clear "Roma" is steadily on its way to the Oscars, but before the cast and crew walk down even more red carpets, we sat down with production designer Eugenio Caballero to talk about the unorthodox process he and the rest of the "Roma" team went through to create this true original.
(Image credit: Courtesy of Netflix)
Biographical tales are not far from the norm when heading to the movies. This year alone, "Bohemian Rhapsody" has entertained audiences near and far, but "Roma" isn't the retelling of a rock star the world still celebrates today. It's a heartfelt (and at times heartbreaking) homage to writer and director Alfonso Cuarón's live-in housekeeper, Lido, who took care of him as a child. To say this film is personal would be an understatement, as audiences don't just see Lido in the form of "Roma's" Cleo, but are transported back to Cuarón's childhood thanks to hours of conversations that allowed Eugenio Caballero and his crew to recreate their innovative leader's past—right down to the tile.
"Seventy percent of the furniture came from Alfonso's family and of that there were some pieces that were useful, some that had to be restored, and some that had to come from our own research and conversations," Caballero recalled as he explained it wasn't just Cuarón's "strong memories" that helped recreate a time and place in their director's life, but his own. Caballero grew up in the same neighborhood some years later, so he and Cuarón's lengthy conversations weren't one-sided. Each bounced recollections of their past off one another to come up with the exact look for "Roma."
Eugenio Caballero on the set of "Roma"
(Image credit: Courtesy of Netflix)
A look that, when you watch, spans a few decades. While set in the '70s, the home's design does not stick within the confines of what one would expect from that era. This is a fact Caballero stated was necessary to respect the integrity of Roma as a whole: "The house was originally built in the '30s. We knew the '70s were a very iconic period with very strong visuals but in Mexico City, especially back then, we noticed in pictures that techniques and styles mixed a lot. There were a lot of things from the '40s, the '50s, and the '60s as well. At least four to five decades, and all this historical turn of the century architecture."
The intertwining of the decades allowed the home and the rest of "Roma" to feel realistic instead of cliche. Since Mexico often didn't get American TV programs until years after they ran in the States, Caballero knew that shows like "The Jeffersons" and "Mary Tyler Moore" weren't going to serve as inspiration. And while both "Moore" and "Roma" are centered on strong women, the latter highlights the life of a Mexican domestic worker, something rarely seen on this level in Hollywood.
Rarely highlighted, but something so common. Caballero didn't take long when asked about the work ethic of Hispanic domestic workers.
(Image credit: Courtesy of Netflix)
"It comes from necessity. To tell you the truth for domestic workers, workers in general, it's really not a choice and that's the sad thing. They have to work hard, commit, and be really good at what they do because they need the work because of the conditions in their own hometowns. Most of them come from rural areas or smaller cities and their realities are tough." It also likely has to do with the family values many Mexicans grow up with that they pass onto the families they tend to: "That's why the relationships with the nannies in Mexico is so intense. In the case of Lido, Alfonso's real nanny, she's really family. She's almost like a mother to Alfonso as well."
While it may seem simple to create a movie based on one's childhood, the process to get Roma made was quite out there compared to Caballero's past sets.
"I try to really follow the story and understand what is the tone we want to do. In this case, the premise was to be very realistic, to work in bigger scale but to look very intimate," he said. "I started months before reading the script, designing the spaces and building the sets based on conversations. The idea was not to talk about the specific actions, but rather about the main subjects we wanted to showcase. So we talked a lot, and instead of reading the script, Alfonso would basically share with me the little details of the house. It was an unusual process."
(Image credit: Courtesy of Netflix)
It's not the only unusual thing about Cuarón's latest film. As of December 14, "Roma" is streaming on Netflix—less than a month after its theatrical release. It's also in black and white and Spanish, but even with subtitles, the heart and the humor is not lost. Emotional layers are peeled away from the start and that's thanks to how it was shot. While almost every other movie is filmed out of order to save time, money, and sanity—"Roma" was shot in sequence.
"We kept the house for many months. The actors didn't know what was going to happen in the film, what would happen to their characters, how their characters would evolve. So they would discover what happened in the story on the day they shot. So there was a lot of truth in their reactions. They were authentic and it shows on screen in a different way, unlike a normal film."
(Image credit: Carlos Somonte/Netflix)
From gutting a home and making it anew, to constructing building facades to take audiences back to a Mexican neighborhood in the '70s, Eugenio Caballero had nothing to go on but piles of old photographs, Alfonso Cuarón's memories, and hours of conversations, but in the end he came through to design a stunning recreation of the past in order to move the movie-making process forward.