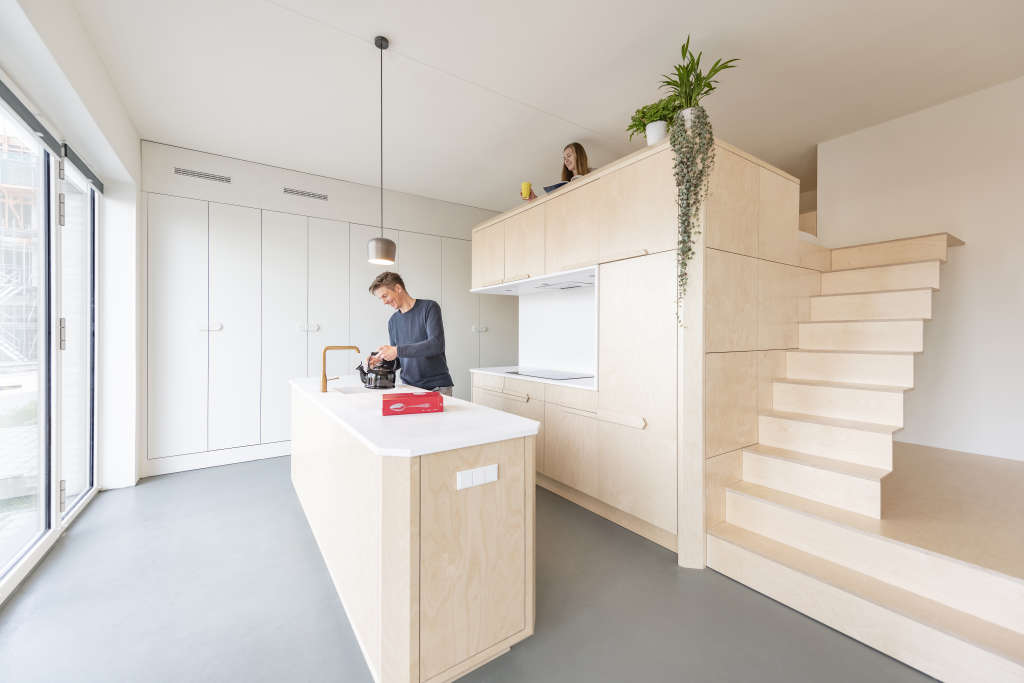 How do you make an home that measures just 484 square feet seem positively palatial? In the case of this Amsterdam apartment, the answer is: with really smart use of vertical space.
Heren 5 architects, the designers behind this very modern pad, have managed to fit in a living room, dining room, kitchen, lofted bedroom, and even a walk-in closet and a hidden second bed. But the most impressive thing about this apartment is not that all of those things fit in that space: it's that even with all these different elements, the apartment seems spacious—roomy even.
One thing contributing to this is the color scheme: the overall palette of white and birch wood brightens the space and creates a feeling of cohesiveness and calm. There's quite a lot of storage: the wall next to the entryway is full of it. But it's all hidden away behind closed doors, which blend into the wall, so you'd hardly know it's there, and clutter stays out of sight.
The kitchen, quite generous for a small apartment, features custom 'diamond edge' detailing, a creation of furniture designer Paul Timmer, who collaborated with the architects on the project. (The diamond motif pops up throughout the apartment, in cabinet pulls and recessed door handles.) Sliding doors in the kitchen and dining room open up to an outdoor patio, enhancing the spacious feel.
The lofted bedroom is stacked over the closet and bathroom space, overlooking the rest of the apartment. (And there's even an actual stair to get there! Although I might request a railing, too.) The living room sits on a platform a few steps above the dining room, which helps to create an intimate feel. It also has a very practical application: an extra bed slides out from under the platform, as seen in the diagram below, so overnight guests have their own spot, too.
To see more photos and read more about the apartment, check out the project page on the architects' website.