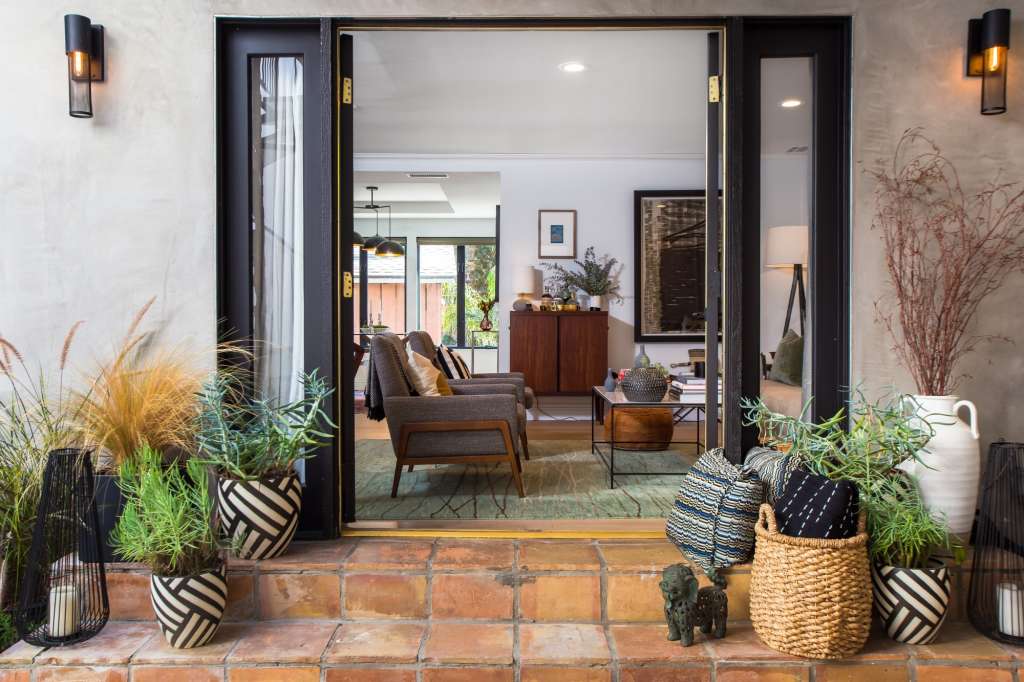 Name: Mario Sansalone, my husband, Matt, and dog, Charlie.
Location: Beverly Hills, California
Size: 1,400 square feet
Years lived in: 2 years, owned
I'm a Customer Operations exec at Grindr and my husband, Matt, is a management consultant at Deloitte; neither of our careers allow much creativity but we've found a way to scratch that creative itch through renovation and interior design. In 2016 we decided to look for a single-family home in a quieter area, without sacrificing our short commutes, and ideally one we could fix up in some creative ways.
(Image credit: Halton Pardee + Partners)
When we found this longtime rental home in Benedict Canyon, it had been sitting on the market for months with no real interest. And it was easy to see why. But when we walked through, we were able to look past the horrendous painted wood exterior, stained carpeting, crumbling parquet floors, faux fireplace, windowless master bath, and tiled kitchen countertops. We saw what it could become, and we saw a huge inviting project. So we moved in and got to work.
(Image credit: Halton Pardee + Partners)
We designed everything ourselves and worked with a contractor to help us manage the project and manual labor. Major projects include: replacing wood exterior with smooth stucco; replacing all windows and adding one in the master bath; replacing all flooring with new oak; removing the faux fireplace; adding new exterior lighting; refinishing and painting kitchen cabinets; adding new premium appliances; adding thick Carrara marble counters; and installing steel pylons on the roof for a future deck.
(Image credit: Halton Pardee + Partners)
We thoughtfully designed every corner and would love to share it with Apartment Therapy readers, who we know will appreciate the decisions we made to turn this forgotten rental into a well-loved home. We live here currently with our big happy dog, Charlie, but we're hoping to sell it to someone who values a peaceful, beautiful retreat with all the comforts of modern, eco-conscious living just minutes from city life.
(Image credit: Halton Pardee + Partners)
Describe your home's style in 5 words or less: Serene, collected, natural, comfortably chic.
What is your favorite room and why? We're split here. Matt's favorite is the bedroom—the fireplace makes it so cozy and the views of the sunset over the distant hills makes it so easy to disconnect from the busy day. Mario's favorite is the outdoor living room—we've packed the space with so many trees and plants it's a little oasis—the perfect place for morning coffee.
(Image credit: Halton Pardee + Partners)
What's the last thing you bought (or found!) for your home? New Nord chairs from Article. In the living room we needed something low enough to not block the view of the tv from the sofa. We don't have a ton of space, so the chairs also needed to be on the smaller side. And since these would be in the middle of the room, we needed something that looked great from all angles.
(Image credit: Halton Pardee + Partners)
(Image credit: Halton Pardee + Partners)
Any advice for creating a home you love? It's so simple. You create a home you love if you do your best to only fill your home with things you love. It's math! Here's an equation for the quants out there: (A home you love) = (thing you love) + (thing you love) + etc. And if you're stuck, don't be afraid to ask for help, from a professional or generous friend.
Thanks, Mario!
• Interested in sharing your home with Apartment Therapy? Contact the editors through our House Tour & House Call Submission Form.
*This submission's responses have been edited for length and clarity.
Apartment Therapy supports our readers with carefully chosen product recommendations to improve life at home. You support us through our independently chosen links, many of which earn us a commission.