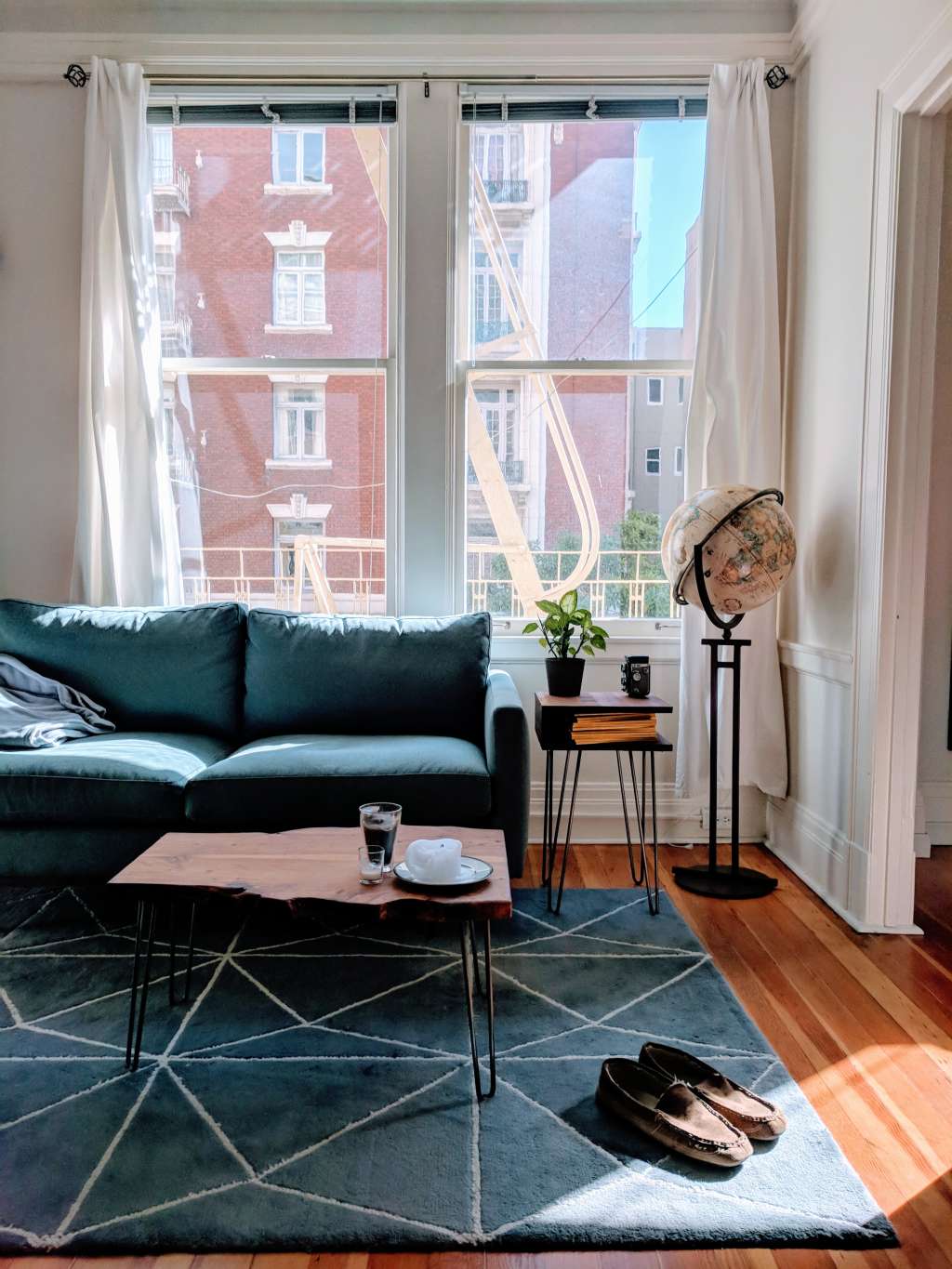 Name: Jon O'Shaughnessy
Location: San Francisco, California
Size: 400 square feet
Years Lived In: 3 years, renting
I moved to San Francisco almost six years ago from Boston. It's a genuinely unique place and I couldn't be happier to call it home. That said, as much as I enjoy my apartment, I'm usually happiest when I'm far away from it. I have a goal to spend time in 100 countries before I die, and so far I've been to 41. To me, exploring new places, people, or cultures is living life on steroids. You get to experience completely new ways of doing things, meet people who are both unimaginably different and yet strangely similar to you, and see firsthand the breathtaking things on our planet.
I wanted my home to remind me of those experiences, and so I only keep things that have special meaning to me. I also deeply love the outdoors and wanted my home to be reminiscent of a cabin that I spent time in when I was younger, so I put emphasis on live-edge furniture and wood accents.
Apartment Therapy Survey:
My Style: Outdoorsman traveler.
Inspiration: I'm inspired by the things that make me happy—travel, the outdoors, and forests.
Favorite Element: The hardwood floors. They have a beautiful hue to them which remind me of the Redwoods here in California. On a bright sunny day, they're incredibly vibrant. I don't know why, but they make me think of my favorite hike near SF.
Biggest Challenge: As anyone who has hunted for an apartment in SF knows, simply finding an apartment is a huge challenge. Even if you have great credit, a down payment, and superb references, actually being the one to get an apartment—let alone one you love—is extremely tough. Open houses can last for 15 minutes and 40 people show up with applications pre-filled out and checks in hand. It's hard and finding a rent-controlled place can be even harder.
I looked for quite a while before I found my spot. I had bounced around the city for a little while and I remember seeing homes on Apartment Therapy that were stunning. I hoped that I'd have one someday. When I got the call from my (now) landlord, I was beside myself. I feel so tremendously fortunate to have found a beautiful, sunny space, an amazing landlord (Sean—who lives right down the hall), and a place to settle into. It's a great feeling.
Proudest DIY: I made the shelves and am very happy with how they turned out. I saw this feature on Apartment Therapy and loved the style. I knew I wanted to try to create something similar and contrast the shelf color with an accent wall. It took me several tries to get the color of the accent wall right but I think they complement each other well.
It's special to me. When I go to a new place and find something meaningful to bring back, I'll usually keep it here. The stone elephants are from a market in Mandalay, Myanmar. The sandstone one was a gift from a friend in India. The golden Buddha I found in Vietnam. The other Buddha was from Thailand. The singing bowl comes from Kathmandu, Nepal (and has a beautiful sound to it). The red bowls are gifts from a friend in Russia. The picture I took of the Petronas Towers in Malaysia. The list goes on. But each item is deeply meaningful to me and reminds me of a specific place, person, or adventure. It brings me immense joy to remember those experiences and I'm happy that it's a centerpiece of my home.
Best Advice: It might be cliche, but I found the book "The Life Changing Magic of Tidying Up" to be especially powerful. I'd highly recommend reading it. I was already a clean/tidy person before reading it, but the theme of the book underscores the idea that if you have something in your home that doesn't bring you joy, you should get rid of it. It helped me get rid of everything that I didn't love and my home feels lighter and happier because of it.
Resources:
PAINT & COLORS
Accent Wall — Benjamin Moore Symphony Blue
LIVING ROOM
Live Edge Coffee Table — Denim Wood Works (Local SF Woodworker)
Sofa, 71-inch Jasper Loveseat — Room and Board
Mid-century Modern Side Table — CaseModern (Etsy woodworking shop)
Globe, Leather Chair — Craigslist
Antique Typewriter, Railroad Hammer — Alameda Antique Fair
Rug — CB2 (discontinued)
Throw wool — A sheep pelt from a mountain pass in Norway.
Blanket — Amazon
DINING ROOM
Metal vintage table — Overstock
Dining Table — West Elm
Shelves — DIY. I made them, inspired by another Apartment Therapy feature
Headphones — Sennheiser
Stone Elephants — A market in Myanmar
Bowl — Singing bowl from Kathmandu, Nepal
Red Bowls — Gifts from a friend in Russia
Buddhas — One from Vietnam, another from Thailand
BEDROOM
Throw Pillows —Amazon
Bed Frame — Houzz
Nightstand — LivingSpaces
Art — Photography from my travels
Welcome Sign — Hand-carved stone from Thamel, Nepal
Fossils — I excavated two of these with a geologist friend from a desert region in Morocco. Nothing quite beats sleeping under the stars in the Moroccan desert many miles from anyone. The next day after finding them, he taught me how to prepare them by removing the rock around the fossil itself. They're some of the oldest fossils on our planet—400 million years—and they lived before mammals were even on land. Some others are for sale here.
Thanks, Jon!
---
Apartment Therapy supports our readers with carefully chosen product recommendations to improve life at home. You support us through our independently chosen links, many of which earn us a commission.