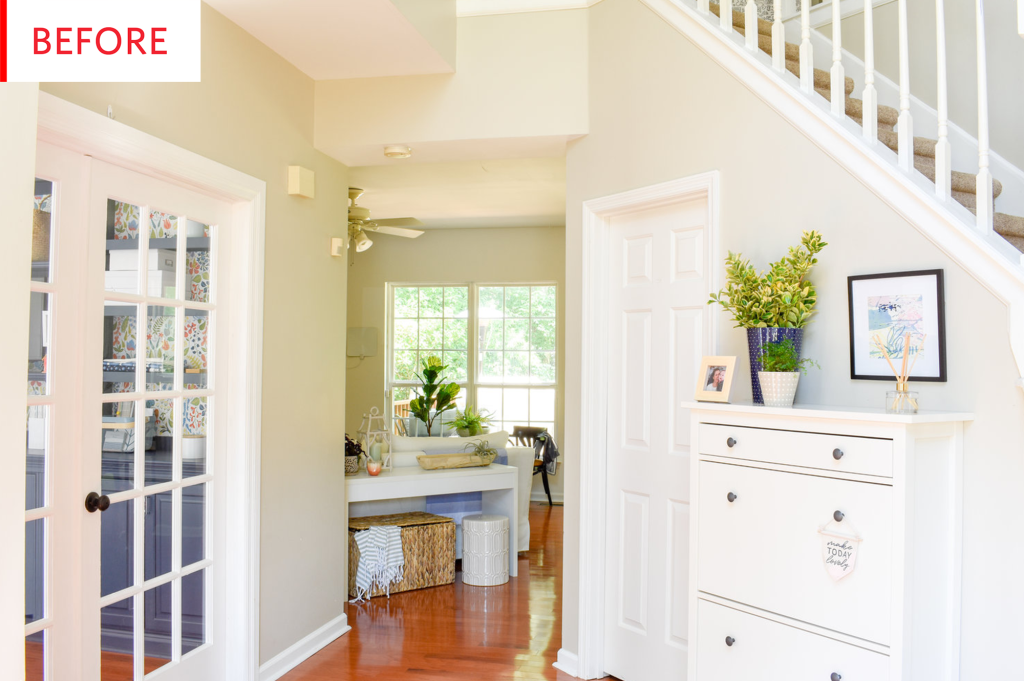 This entryway is pretty darn aspirational, but its owner knew it could be even better and was determined to improve upon the "standard, builder-grade finishes like the dreaded 'boob lights'" and the 20-year-old brown carpet on the stairs. Six weeks later, the stairway and entryway have a fresh new look.
While white and cream walls have a definite beauty, the new grasscloth wallpaper adds an upscale richness and texture in the subtlest of ways. In a predominantly blue-and-white house, the warm hues of the grasscloth and the wood stool legs and floor add a counterpoint to all the cool tones.
While the piece that was formerly in this spot—a slim dresser—offered plenty of storage, there is now a true command center. The mirror is on-hand for last looks before leaving the house, the lights provide a nice glow to be greeted by, the footed bowl could hold keys and such, and the charming stools provide a spot to put on and remove shoes or just get oneself together.
Teri Moore of T. Moore Home did a great job on this space, adding classic, classy elements without playing it safe. Teri even made a DIY version of this $1,198 table from Serena & Lily for just $80 using a basic console table and grasscloth wallpaper from Wayfair.
Funnily enough, this entire project actually began with the simply sprucing up the stairway and its 20-year-old carpet:
To give our front entrance a facelift, we decided to carry hardwood up the stairs and through the hallway. We plan to sell our home next year and knew this project would relay a good return.
Unfortunately, we couldn't find a contractor who wanted to take the stair job. Due to odd angles which required complicated cuts, they all said the project was too complicated. One company even told us it was "physically impossible"! So we decided to tackle the project ourselves.
Deciding to install hardwood stairs against the recommendation of contractors takes a serious amount of DIY confidence, and it appears that confidence was well-earned.
The newly gorgeous steps are hardwood, the risers are painted MDF, and the runner is actually three joined runners over a double carpet pad. The colors are subtle and serene and provide a beautiful complement to all of the blue in this home. Painting the risers white was a good choice, as it brightens the entire area, and definitely saved money compared to doing all hardwood.
This photo shows how seamlessly the entryway fits into the larger home. It's a unified little island that also harmonizes with the greater whole, which is quite an accomplishment in something like an entry where the "room" is more of a concept than a clearly defined space.
It's all even more impressive considering the table, lamps, stools, mirror, accessories, and wallpaper weren't even part of the plan:
After installing new lighting, hardwood floors, and a "custom" DIY stair runner made from three store-bought runners, we decided to elevate the space by transforming an accent wall with grasscloth wallpaper. We absolutely love the new space. It remains relatively neutral, allowing our adjoining rooms to shine, but adds a sophisticated peek into our home.
If you want to make sure your home suits you and that you love all the changes you do (and don't) make, Teri has some serious advice:
Don't let contractors decide what is and isn't possible for your home. Do your research. Make wise decisions. And never back down from a challenge.
Thank you, Teri Moore of T. Moore Home!
Apartment Therapy supports our readers with carefully chosen product recommendations to improve life at home. You support us through our independently chosen links, many of which earn us a commission.