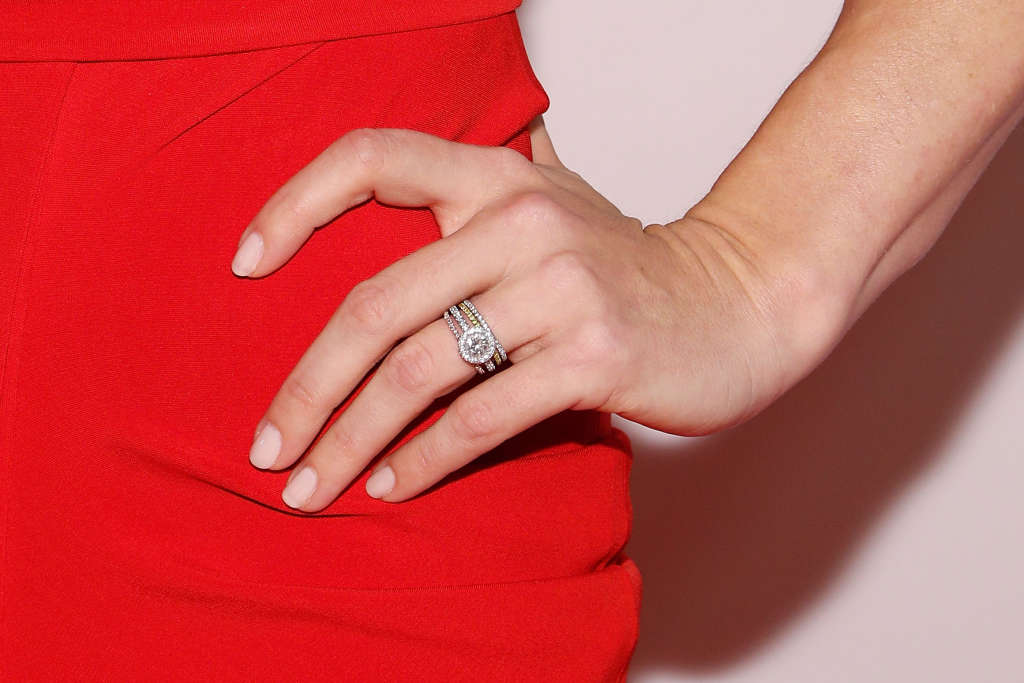 The diamond solitaire is trusted and true, but bold and unique ring styles and stones are on the rise, according to Pinterest's latest engagement insights.
Brides are eschewing tradition for something a little more personal and special. Think classic designs with a twist—diamond solitaires with atypical cuts and rings showcasing special stones. Brides also are interested in fun styles ranging from vintage-inspired Edwardian sparklers to sleek minimalist wedding bands.
"I see people gravitating towards these styles," says Chrissy Bertolli, jewelry designer and owner of Christine Guibara Jewelry. "I think each of these fresh styles fits the mentality of going with a mostly classic and timeless look, but updating it with a unique twist."
Diamonds with distinct cuts
Pinterest's engagement ring trends show that brides are interested in white diamond solitaires in a range of silhouettes, aside from the traditional round stone. The Asscher cut (+1344%), double halo (+991%) and east to west setting (+111%) are the most popular in Pinterest's engagement ring searches.
Ruta Reifen, the jewelry designer and owner of Brooklyn-based Ruta Reifen Jewelry, recently got engaged and is donning a 0.6-carat minimalist east-to-west diamond. "We've been making a similar setting contour with my signature coral-like settings and texture," says Reifen. "There's something visually comforting about east-to-west stones nestled in organic settings. It was instantly popular."
Jeweler Bertolli also has noticed an uptick in east-west settings with engagement rings. "I've been noticing more interest in east-west three-stone designs, which I find to be a fun way to mix up the traditional look," she adds.
Alternative stones are on the rise
The old adage "diamonds are a girl's best friend" still rings true, but there are a whole host of glitzy gemstones that are getting some attention. Pinterest insights show that top searches include engagement rings that incorporate emeralds with yellow gold (+317%), black diamonds (+200%), and rubies with rose gold (+104%).
At Ruta Refen Jewelry, Reifen has seen an uptick in engagement rings that incorporate unconventional stones. At her studio, diamonds remain the most popular, followed by morganite; diamonds in organic shades like gray, green, brown; along with blue sapphires.
"In terms of alternative stones, sapphires are my largest request," confirms Bertolli. "While many brides-to-be really like emeralds (or other alternative stones), most are much softer than diamonds, sapphires, and rubies and therefore don't hold up as well for an everyday ring. Emerald is right on the cusp of questionably — durable enough to hold up to everyday wear, but it also depends on how it's set."
Fresh styles are making their debut
Brides who are looking for a unique aesthetic are seeking out offbeat styles like vintage-inspired Edwardian baubles (+476%), along with natural-looking stones (+410%), and rings with a sleek minimalist vibe (+159%).