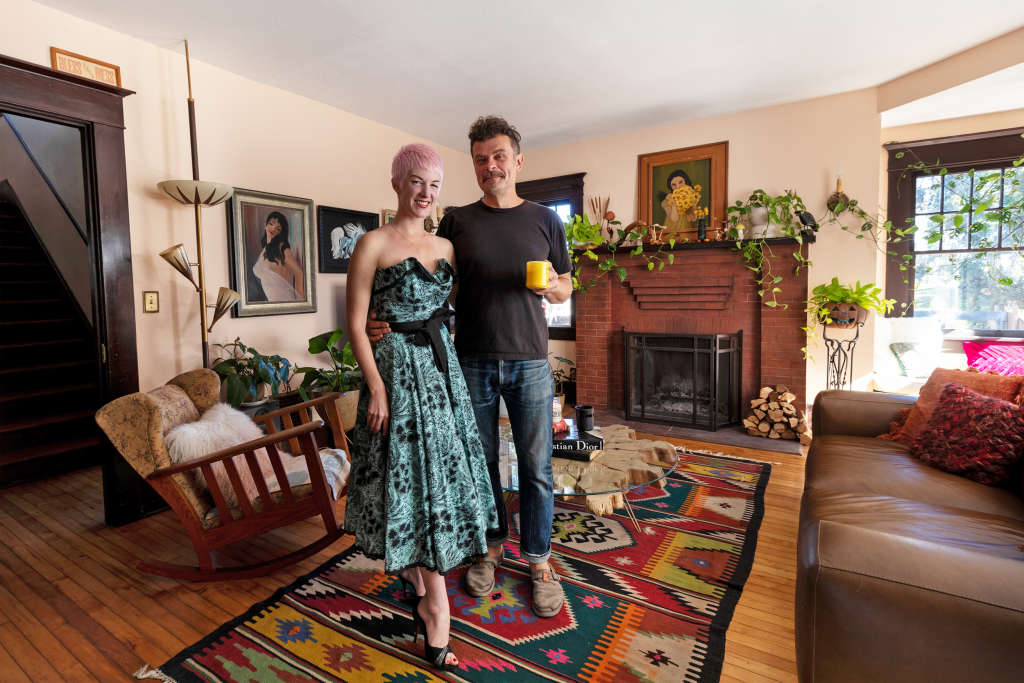 Name: Amanda Suter and Dmitri Slavashevich
Location: Hillcrest — San Diego, California
Size: 1,848 square feet
Years Lived In: 6 months, owned
Amanda and Dmitri moved into their home this past July, but you wouldn't guess it. Their Victorian vernacular cottage feels cozy and lived in, with lots of personal details. Both Amanda and Dmitri have successful vintage clothing businesses—Amanda's the owner of the wildly popular Butch Wax Vintage—and they've filled their home with unique vintage pieces they've collected at thrift stores, swap meets, and flea markets. Their home is definitely a labor of love, as they moved from a previous rental home that was decorated in a completely 1950s mid-century modern style. Moving into this new home, which was built in 1910 possibly by the famous California architect Irving Gill, required some thoughtful redecorating. Both Amanda and Dmitri wanted to honor the history and natural beauty of the home, and they've filled it with furniture and artwork that fits seamlessly with the home's decorative features, while also reflecting their eclectic personal styles.
Somehow Amanda and Dmitri have managed to tackle the redecoration and some DIY and home improvement projects while running their own thriving businesses. Amanda works from home and her closet and office are seriously enviable. The home also has amazing natural light. It faces east and west, so you see the sun rise from Amanda's office, and the sun set from the master bedroom. And Amanda and Dmitri have even more improvements in mind. They still want to tackle the kitchen, and redo one of the bathrooms. There's a big backyard space, so they're even contemplating putting in a pool! But Amanda has excellent advice to new homeowners: "Don't rush to do a ton of projects immediately when you buy a home. Settle in, feel the space. Be patient; everything takes time."
Apartment Therapy Survey:
My Style: Everybody who first sees our home has the same response, "It looks like a dollhouse." Our home technically is a "Victorian Vernacular/Transitional Craftsman" style. It was built in 1910, and it was sold as being built by the prominent southern California architect, Irving Gill. In reality, the builder still remains a mystery to us, something we definitely plan on investigating more in the future. So because our home is so old and has such a unique style, we try to honor that as well as adding our own unique touch.
We both sell vintage for a living, so our tastes gravitate towards antiques and older oddities. We also love to travel; Dmitri is from Ukraine, so that is incorporated into our decorating style as well. Basically, we love to dig for old treasure all around the world, so our home is a reflection of that. It's an eclectic and interesting mix of antiques combined with an overall coziness. Above all, we believe that our home must be warm, inviting, and inspiring to us and others.
Inspiration: Vintage architecture, antiques, travel, Japanese antiques, Soviet era antiques, eclectic art, music, spiderwebs (Amanda collects vintage spiderweb everything)…
Favorite Element: The natural light, the dark wood molding, the hidden spaces and tiny extra rooms, the beautiful staircase, the huge yard that has tons of potential… but above all, the lighting in this house is just magical. It faces east and west, so you see the sun rise from the living room and Amanda's work room, and the sun set from the dining room and master bedroom.
Biggest Challenge: We moved from our previous rental home that was decorated completely 1950s mid-century modern in style. When we moved into our home now, none of our furniture looked right inside of it. So that was a challenge at first, getting rid of a lot of our older 1950s pieces, and slowly finding the right pieces for our 1910 home. But, it has been a test of patience and it has paid off. It's amazing where you will find that perfect piece; be it the flea market, swap meet, thrift store, or a hoarder's house down the street. And yes, we have even kept some of our favorite 1950s piece; they are in the record room/sunroom (or stored away in our secret hiding rooms).
Proudest DIY: Nothing really yet, we basically just moved in. We do have plans to convert the crawl space basement into a livable space; that's our first goal I think. Also, eventually redo the kitchen, the bathrooms, and build onto the backyard. There's tons of potential in our yard, tons of space. A pool may even be in the works farther down the line…
Biggest Indulgence: Simply just buying this house. It's a dream that I never thought could happen, especially in the Hillcrest area.
Best Advice: As a self-employed woman, it's not the easiest buying your first home. Find a great real estate agent and lender who will really work with you. Anything is possible, you just need the right guidance. Also, don't rush to do a ton of projects immediately when you buy a home. Settle in, feel the space. Be patient; everything takes time.
Resources:
PAINT & COLORS
Not sure the maker, they were here when we moved in. As well as the wallpaper in the dining room.
ENTRY
Side table — Vintage MCM teak, gifted from an old neighbor
Moon birdcage — Vintage, Atlas Antique Mall in Seattle
LIVING ROOM
Sofa — Overstock.com
Coffee Table — Vintage from High Rise Goods (previously Rusty Gold)
TV/Record Cabinet — Thrifted but originally from Crate & Barrel
DINING ROOM
Dining Room Table and Chairs — Antique, early 1900s, thrifted, previously taken out of a 1930s home
Credenza — Antique, early 1900s, purchased from a neighbor
Pendant Lamp — Vintage 1960s, swap meet find
BEDROOM
Armoire — Swap meet find, Art Deco
3-Way Mirror — Macy's store closing sale; it was a store display item
Bed — Yard sale find, antique
Bedding — Pottery Barn
BATHROOM
Plants — Pigment (shoppigment on IG)
---
Apartment Therapy supports our readers with carefully chosen product recommendations to improve life at home. You support us through our independently chosen links, many of which earn us a commission.