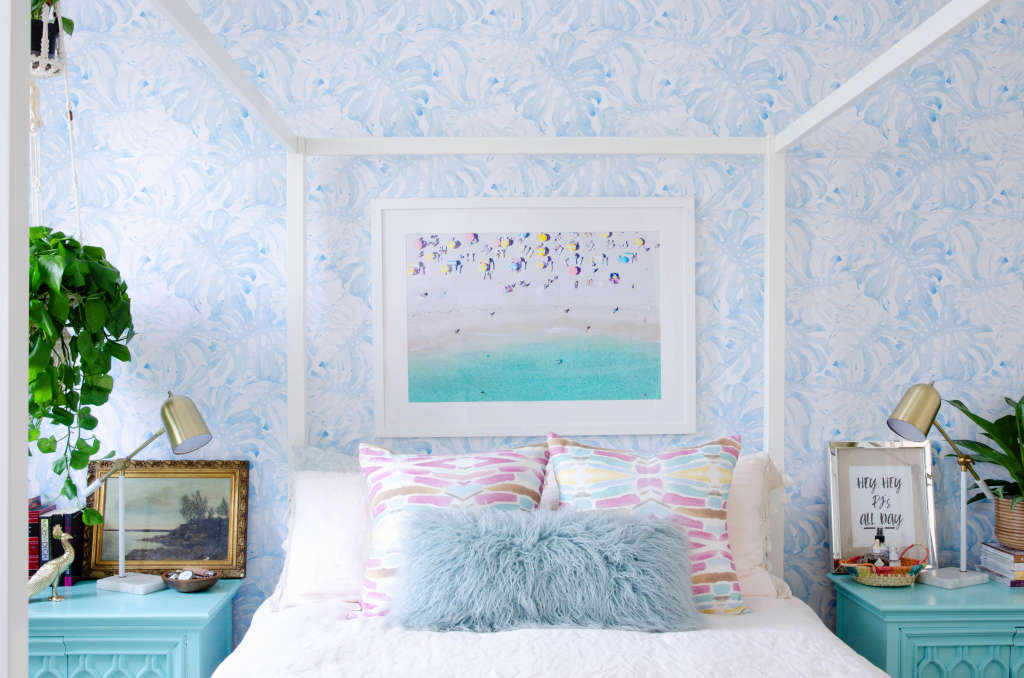 Whether your bedroom is tiny, huge, or some size in between, the bed is the star of the show, and the space above is ripe for making a statement. If the wall above your headboard is currently empty, consider the list below a smorgasbord of options to decorate that spot. If the wall above your bed is currently occupied, get inspired to shift your decor in a new direction. Some of the ideas below are fresh and fun, some simple and sleek, but they're all great options for what to hang above your bed.
Mini plant wall
Bring more nature into your bedroom with a collection of cute plants hanging above your bed.
Framed wallpaper
You can afford to splurge on a favorite bold pattern when you buy only a sample of pricey wallpaper and then frame it.
Drapes
Don't worry if you don't have a window behind your bed… you can still add the drama and softness of drapes by hanging them on the wall!
Mural
You could paint one yourself, or purchase some mural art paper, but a mural on the wall above and behind your bed makes a strong visual statement.
Faux antlers
There are a lot of retailers that sell decorative options for faux antlers.
Tassels
I love the mix of texture and traditional that hanging some tassels above this bed produces. This would be an easy DIY opportunity, too.
---
Woven baskets or plates
Add texture and 3D vibes to your bed by hanging woven baskets or plates on the wall.
Wreath
It's another simple way to add texture and sweetness to your bedroom.
Blanket + basket
Combine two textured elements into one composition for a double dose of textiles.
Small rug
Rugs aren't just for the floor.
Woven art/macrame
Macrame has made a huge resurgence in interiors, and above the bed is a perfect spot to play with this trend.
Pennants
Not just for kids or sports fans, pennants can be a fun way to show off your love of your home state or of witty sayings.
Reclaimed architectural element
If your home doesn't have a lot of architectural interest baked in, you can infuse your bedroom with some by hanging a reclaimed architectural element above your bed as a focal point.
Metal tray
The metallic finish will add a bit of global glam above your bed.
Mini art installation
Any collection of small options attached to the wall will become a little art installation.
Absurdly oversized portraits of your pets
They're the light of your life, so highlight them with a focal point above your bed.
Chalkboard shape
With all the chalkboard paint options available, you can splash some above the bed and then have a canvas you can change and update as often as you'd like.
DIY vinyl cross pattern
If you can't paint your wall or add wallpaper, consider creating a pattern yourself with washi tape or vinyl stickers.
Upcycled window frame
With or with glass, hanging an old window above your bed is another great way to add architectural interest.
A bunch of small framed items
The 32 frames behind the bed above are filled with veterinarian pathology specimen cards.
Tennis rackets
It's fun and sporty, and the more vintage, the better.
One piece of art
Does it get much simpler than hanging one piece of art above your bed? For the ultimate look of sophistication, consider the art as a composition with your bed frame and nightstands—choose a proportional piece of art and coordinate the color palette.
Two pieces of art
Two pieces of art hung side by side above your bed's headboard will immediately add a shot of symmetry to your bedroom's design.
Three pieces of art
Want to add a uniform vibe to your bedroom? Incorporate a calming visual rhythm? Opt for three pieces of art hung in a tight row.
Art that says something
When you choose art with text as the primary element, you infuse a huge dose of graphic vibes to your bedroom.
A painted shape and art
Not impressed so far with the hanging suggestions above? Grab your paint brush and splash some color on the wall behind your bed in a dynamic shape, then hang some art.
Vintage brass sculpture
Opting for a 3D element above your bed will make the decor visually jump off the wall in your bedroom. Just be careful not to hang it too low where you bump your head on it!
Wood accent wall
When you need added warmth and a bit of nature in your bedroom, hang a wood accent wall. You can do it with reclaimed wood, faux wood, or even wood flooring. In the above room, the wood paneling is from Lowe's.
Mirror
It's simple, sweet, and will go with just about any type of decor, depending on the frame style.
Oversized mirror
An oversized mirror hanging above your bed (hopefully properly anchored to the wall) or leaning against the wall behind your bed can make for an instant boost of light in your sleep space.
Wallpaper and mirror
This combo combines the light-producing powers of a mirror with the showstopping powers of a bold wallpaper pattern.
Art and two lights
Don't be afraid to mix a combo of elements above your bed to up your design game. I like that in this bedroom the sconces become a part of the art composition, rather than just placed on either side of the bed.
Wood map
Part-art, part-sculpture, a wooden map like the one above is both worldly and warm. The one shown above is from Wooden Amsterdam.
Wallpaper paneled accent
Need instant architectural gravitas? Hang some wallpaper up behind your bed and frame with wood to create faux wall panels.
Wallpaper and gallery art collage and hanging lights
This look is a three-fer, but it really wows. A tight collage of abstract paintings pop on top of a bold wallpaper, which are both accentuated thanks to hanging pendants on either side of the bed.
A wall of shelves
Don't live in earthquake country? Consider shelves above your bed. It adds an architectural element and extra storage.
Trompe l'oeil feature wall
Did your rental not come with a charmingly crumbly brick wall in the bedroom? Fool your eye with a faux wallpaper instead.
Vintage map or chart
Simple, affordable, and educational.
Vinyl lettering
Sometimes words on the wall are corny, but also sometimes they're incredibly sweet.
Solo shelf
If an entire wall of shelves above your bed doesn't feel quite right, consider swapping a piece of art with a small shelf/ledge for decor display.
Little collection box
This makes the list because it's just so cute.
Hanging frames
What makes this gallery collage so unique is the oversized, long hanging strings that are visible.
Casual, random gallery wall
If you have a bunch of small pieces of art and want to create a casual, bohemian energy in the bedroom, create a randomly arranged art collage.
A very uniform gallery wall
If you like the idea of a wall collage but want something more controlled and uniform, line all of your art up and make sure the frames match.
Neon word
Have something to say? Say it in light and hang it above your bed.
Neon shape
If you're not keen on words but do like neon, choose a fun shape like a heart instead.
Solid color canvas
Grab a fresh canvas (or reuse an old vintage piece of art) and coat it in one bright, bold solid color.
Bookshelves
It's like shelves above your bed, but much more substantial.
Ornately framed art
When in doubt, take any piece of art and put an ornate frame around it!