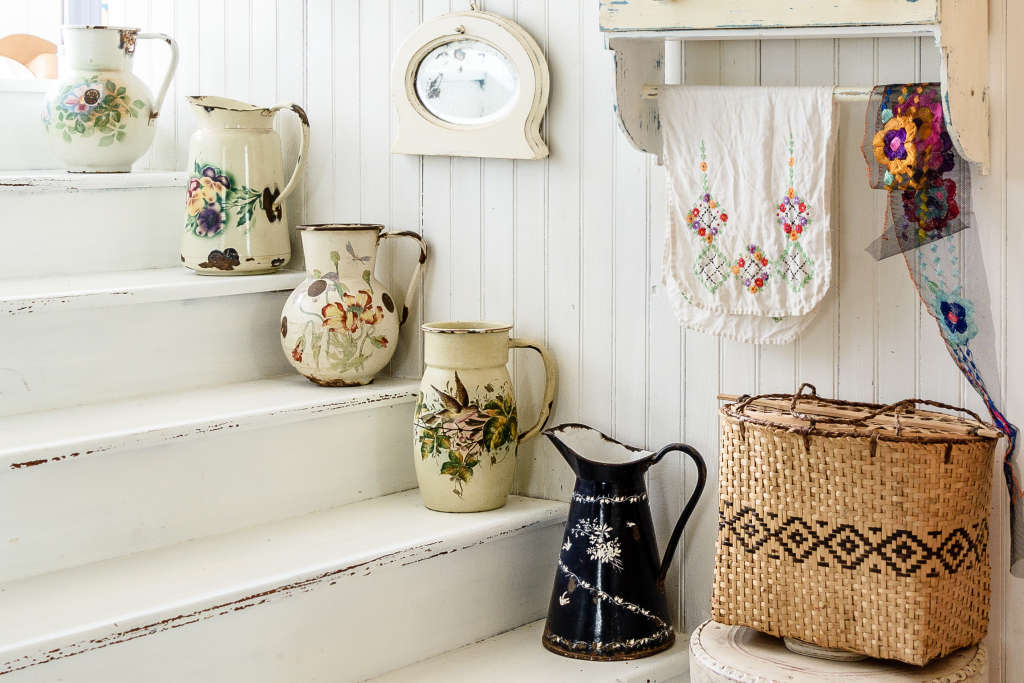 Few gifts are more sentimental than ones with a history, and that's why it's smart to sometimes shop secondhand for presents. Whether this means scouring your neighborhood flea market for cool vintage furnishings or hitting up an online antique dealer for an old piece of jewelry, shopping secondhand allows you to find truly one-of-a-kind items that make especially awesome gifts.
So to help make finding the perfect gift that much easier, we asked Elizabeth Brown, CEO of Sotheby's Home, and Diana Blinkhorn, vintage enthusiast and blogger behind The Gray Ruby, for advice about shopping secondhand. Read ahead to hear what they had to say.
Tips for Thrifting Gifts
1. Plan Ahead. "Before going to an antique store or shopping online for a gift, think through the items you're looking for." Brown explains: "Are you looking for a specific style, aesthetic, brand, size, material, etc.? By zeroing in on what you want, you'll be able to focus your hunt."
2. Look for history. "Vintage and antique items all have their own unique histories," says Blinkhorn, "making them truly one-of-a-kind. Search for pieces that you can connect with in a way that you wouldn't be able to with a brand new item."
3. Only shop vetted sites and stores. "Getting a good deal is all about understanding the condition and history of a piece," says Brown. "Be sure to shop at a reputable site or store—i.e. ones with pieces that have been vetted by curators—in order to receive all the pertinent details and ensure authenticity."
4. Search locally. "I love connecting with people within my community to find one-of-a-kind items," Blinkhorn says. "Sites such as Facebook Marketplace allow you to look online locally for interesting used furnishings and gifts."
5. Size matters. "Just because you've stumbled upon a well-priced antique armoire doesn't mean the person you want to gift it to has room for it. "Be sure to be conscious of measurements before purchasing." Brown explains, "All too often people buy a piece before figuring out whether it will actually work in a space."
6. Search outside the box. "When shopping online sites for secondhand gifts, make sure to search alternate names and keywords for items in the search engine," Blinkhorn explains, "to make sure you're really find that hidden gem."
Best Places to Shop Vintage Online
1. Etsy: The go-to marketplace for handmade items and one-of-a-kind vintage finds, Etsy is brimming with unique artisanal and thrifted items with affordable price points.
2. Facebook Marketplace: Kind of like Craigslist, but for social media, Facebook Marketplace is a convenient online place to search, buy, and sell secondhand items from people in your community.
3. Sotheby's Home: If you love the idea of shopping at an upscale flea market, then Sotheby's Home is the place for you. Overflowing with eclectic art, rugs, lighting, and furnishings, it's your one-stop-shop for sophisticated antique and vintage gifts.
4. 1st Dibs: If you're in the market for beautiful antique pieces, look no further than 1st Dibs. The online furniture, art, and jewelry seller offers an endless array of elevated vintage and antique pieces (that, FYI, are priced accordingly).
Apartment Therapy supports our readers with carefully chosen product recommendations to improve life at home. You support us through our independently chosen links, many of which earn us a commission.