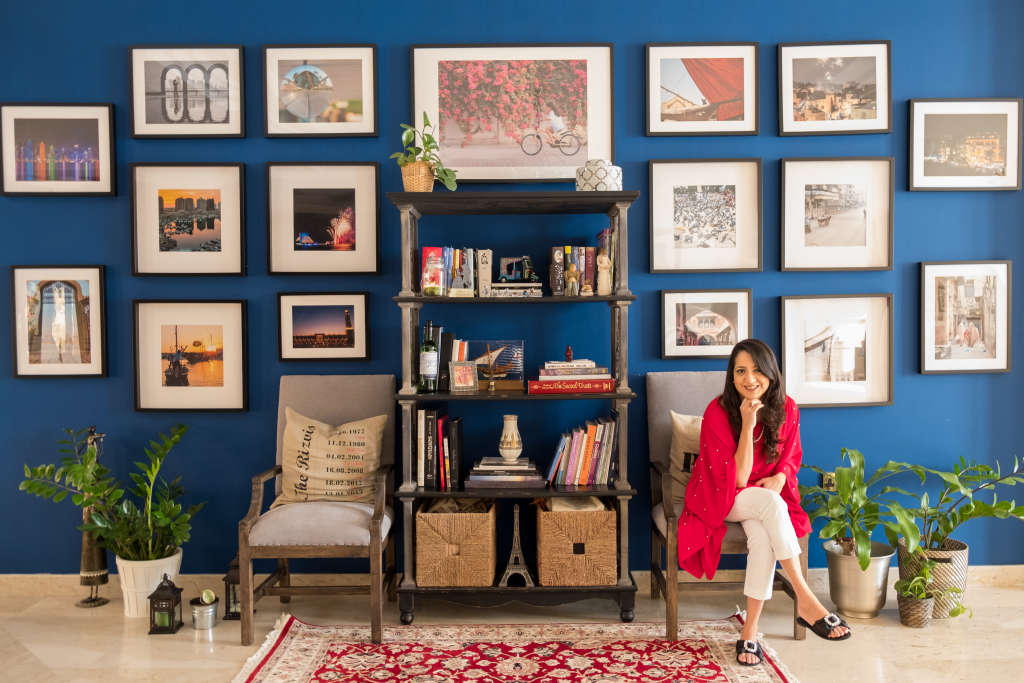 Name: Shehar Bano Rizvi and Mohsin Mujtaba Rizvi and three kids
Location: Doha, Qatar
Size: 5,000 square feet
Years Lived In: 1.5 years, renting
It's not just this home's size that's impressive; I was struck by how much Shehar—a lifestyle blogger and photographer—was able to take a fairly beige rental house and turn it into a personal space for her and her family. The rich jewel tones she's used throughout as accent colors are inspiration for those looking to add more color to their home's palette. And she's deftly mixed a surprisingly robust amount of IKEA furniture in with other purchases (as well as family antiques) to create a high-end look. Though this home is a lot larger in size than what many of us live in, it holds a lot of inspiration inside, and I enjoyed getting to see into a home from this part of the world.
"Since Mohsin and I moved to Doha 15 years ago, we had always been living in apartments and loved the ease of maintaining a small space. But as our family grew, we moved to this rented home, which has been a wonderful change for our growing kids (one girl and two boys)," writes Shehar. She continues describing what makes her home special below:
"When we came for a viewing I fell in love with the location and the floor plan of the house. The house has a very open feel, which is what we both fell for. Plus, it checked most of the requirements on my list. Four bedrooms, a study, three living spaces, kitchen, a dining room, and a huge entryway!
Downstairs we have a family room, a formal living room, a dining room with a powder room, kitchen with a pantry and storage room, and a study, which we converted into a kids' study/playroom. That's where they do their homework and spend time when we are hanging out downstairs or I am busy cooking.
The upper floor has a big landing area (which was also used as a living space in the model home we saw), which I have converted into my office/studio. This is where Mohsin and I spend most of our time in the evenings after putting the kids to bed. He lounges on the sofa with a book while I spend time writing or editing the photos. In the mornings, I use this space for doing photo shoots and is probably the part of the house where I spend most of my time. It is also physically in the centre of the home and I can keep an eye on everything that is going on from here. Mohsin calls it my throne, where I sit and give orders to everyone!
I love gallery walls and have lots of them around the house, which are mostly my own photography. We also have lots of emotional pieces around our home, and those pieces have a story behind them and hence has an emotional value. I have some of my mother's and grandmothers' decor pieces, paintings, and even crockery (more than half a century old). I am a child of nostalgia and love the feeling of having old family things around.
On the other hand, Mohsin is very patriotic with the love of Urdu language and Pakistani art and culture. And hence you will see a lot of pieces from back home, in every corner of our home. Even the family room wall was painted in white and green to be a symbolic representation of the Pakistani flag.
Our home tells our story!"
Apartment Therapy Survey:
My Style: My style is a reflection of who I am, where I come from and where I live now. I think my style is a combination of modern, vintage, and ethnic. I love vintage pieces and love to include bits of our tradition and culture.
Inspiration: Many websites like Apartment Therapy, apps like Pinterest, and stores like Restoration Hardware, Pottery Barn, etc.
Favorite Element: I absolutely love the open floor plan of this home and the indoor Juliet balconies from the rooms looking into the living space. Although it's a big house, I always feel connected and can keep an eye on what's going on. I also love love love the high ceilings! Another thing that I adore are the huge windows, which allow daylight to come in from everywhere.
Biggest Challenge: Though I love the open floor plan, it is actually the biggest challenge, too! Controlling noise in this house (with three kids) and the lack of walls to put up more art and my photography is what I struggle with!
Proudest DIY: The one I love the most is the DIY project I did in memory of my father who lost his battle to cancer. He was an ophthalmologist and a philanthropist, and the eye chart that says, "Life is All About Giving, Dr. Hasan Rizvi" is what he was all about! I love the feeling of having his essence around the house for my kids to learn about him and know him more.
Biggest Indulgence: Rugs! I love handwoven Afghani carpets.
Best Advice: Your home is a reflection of you and your life! So, let your home tell your story.
Resources:
PAINT & COLORS
Jotun Paints – Blue and green accent walls (I don't remember the shade numbers)
ENTRY
Green Entry Table — The One
Clock — IKEA
Monogram Family Frame – a DIY Project
Our Praying Hands Sculpture – Casting Memories
Quilted HOME Letters – Pan Emirates
Karachi Key Chain Holder – ARTEL by Bina Ali
Round Foyer Table — Pottery Barn
Lamp — IKEA
Blue Bench — Darriche
Paintings – Art Directt
Cushions – Khaadi
Bookshelf and Chairs — Pan Emirates
Pictures Frames —IKEA
Rizvi Family Cushions – A DIY Project
Crystal Bear family, which represents our life story — Swarosvski
Rugs – Afghan Carpet
FAMILY ROOM
Book Shelf and TV unit — Custom made in Pakistan
Pictures Frames — IKEA
Cushions – Custom made in Pakistan
Wing Chair and Footstool — IKEA
KIVIK Modular Sofa — IKEA
Script Fabric Side Chairs – Custom made
Pakistan Coin Table — Saad Peerzada Design Studio
Hand-Painted Pakistani Landmarks Wooden Planks – Saad Peerzada Design Studio
Rugs – Afghan Carpet
Pendant Lamp — IKEA
Floor Lamps — IKEA
LIVING ROOM
Sofa, Settee, and Cushions — Pan Emirates
Rug — Pan Emirates
Coffee Table – The One
Blue Chairs – Midas
Clock Table – Midas
Wooden Tray with Crescent – Tali, Karachi
Coffee Table Books – Mobeen Ansari
DINING ROOM
Dining Table, Chairs, Buffet Table and Mirror — Custom made in Pakistan
Pendant Lamps — The ONE
Blue Turkish Lamp – Souq Waqif, Doha
Dinner Set – Noritake (which belonged to my grandmother)
KIDS PLAYROOM/STUDY
HEMNES Day Bed — IKEA
MICKE Desks — IKEA
JULES Children Desk Chairs — IKEA
KALLAX Shelving Units — IKEA
Hooks for Hanging Bags — IKEA
MAMMUT Stool and Table — IKEA
Time Table Chalkboard – Jarir Book Store
Rug – IKEA (old and discontinued now)
Versa Chalkboard Wallpaper – Amazon
Velcro World Map – Amazon
Customized Monogram Cushions – Pottery Barn Kids
BEDROOM
Bed and Nightstands — Custom made in Pakistan
Candle – Karachi Candle Company
Bed Tray – Tali, Karachi
Bedding — Zara Home
Rug – Afghan Carpet
HOME OFFICE/STUDIO
KLIPPAN Sofa — IKEA
Office Chair – IKEA (discontinued)
BILLY Bookshelf — IKEA
Rug — IKEA
Office Desk – Home Centre
Black Glass Paintings of Women – More than 50 years old, painted by my mom.
Eye Chart – A DIY Project I did as a tribute to my dad after his death.
Vintage Camera – My husband's grandfather's camera
BAROMETER Floor Lamp — IKEA
HEMNES Side Table — IKEA
Polka Dot Wall Stickers — Amazon
Vintage Type Writer — Pan Emirates
KITCHEN
Table — IKEA
Adult Chairs – IKEA
Junior Chairs — IKEA
Thanks, Shehar and Mohsin!
---
Apartment Therapy supports our readers with carefully chosen product recommendations to improve life at home. You support us through our independently chosen links, many of which earn us a commission.