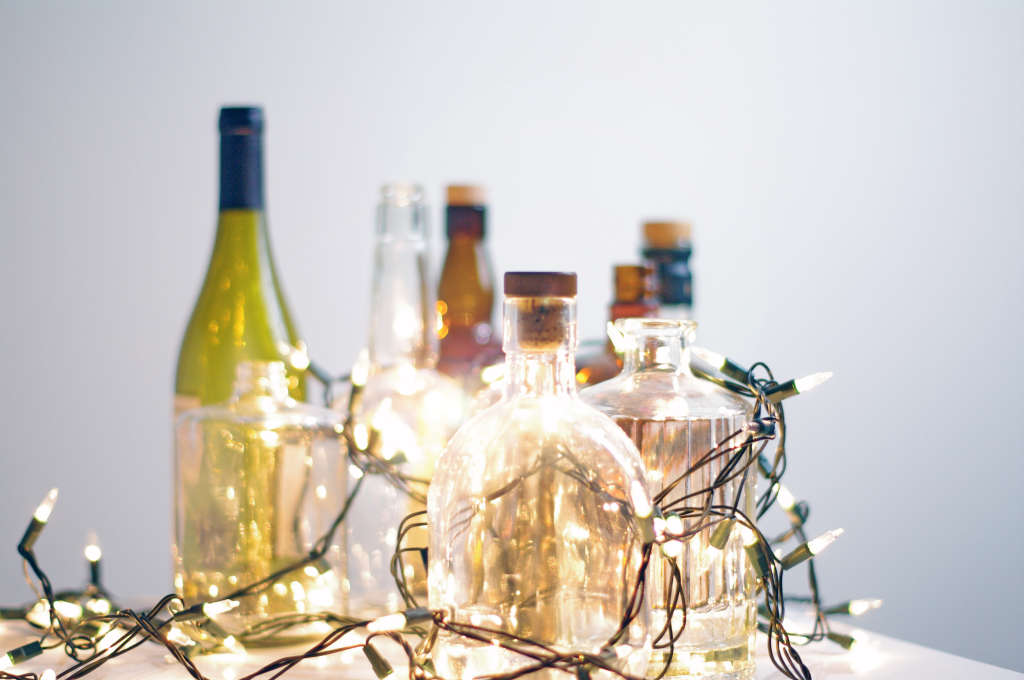 While we're not suggesting you hoard all of your glass liquor bottles—please, recycle that mountain of two buck Chuck empties—sometimes a glass bottle comes along that's too pretty to toss. And when that happens, there are several ways you can choose to repurpose it. Here are some of our favorites:
For serving water: If it's good enough for some of my favorite restaurants, it's good enough for me. Obviously, before you fill 'er up with water, you're going to want to give it a good cleaning (or three) to make sure you're not imparting any boozy aftertaste to your H20. It's really handy to have a bottle of water on your dining table, so guests can help themselves and no one has to schlep to the kitchen for refills.
For DIY projects: There is plenty of Pinterest fodder to choose from, so explore which projects you choose to do. The sea glass painted bottles, bottles painted with modern colors, and the bottles that get cut and turned into a tumbler, lamp, vase, or candle are all solid options. Etching a design into a bottle is also really easy to do too. Just pick up etching cream from your local craft store.
As candlesticks: "Lady and the Tramp"proves that a dinner is much more romantic when you have a candle stuck in a repurposed glass bottle (preferably with wax dripping down the sides). Because let's be honest: We all base our adult romantic ideals on that movie. Not only does it set the mood, it gives you a place to put your prettiest tapers, without having to pay for pricey candlesticks. For the best result, vary the size and shapes of your bottles and have several clustered in the middle of your table.
As glass vases: Sometimes keeping it simple is the smartest way to go. Beautiful glass bottles filled with small bouquets of fresh flowers will always look lovely. If the bottles are the star of the show, keep the blooms neutral but complementary. If you want the flowers to stand out, keep the bottles the same color and add really sculptural and colorful blooms. It's the closest you'll ever get to a no-brainer floral arrangement.
For plants: Overwater-ers rejoice! It can be really hard to determine how much a fickle houseplant needs (we're shooting side eye at you fiddle leaf figs). Some people swear by filling a bottle with a neck (wine bottles especially work well here), and sticking it a few inches into the dirt. As the soil needs water it will release from the bottle. Or you can place the bottle into one of these terracotta watering stakes, which offers a more regulated flow of water but does the same thing. Or, you can make your own self-watering planters: