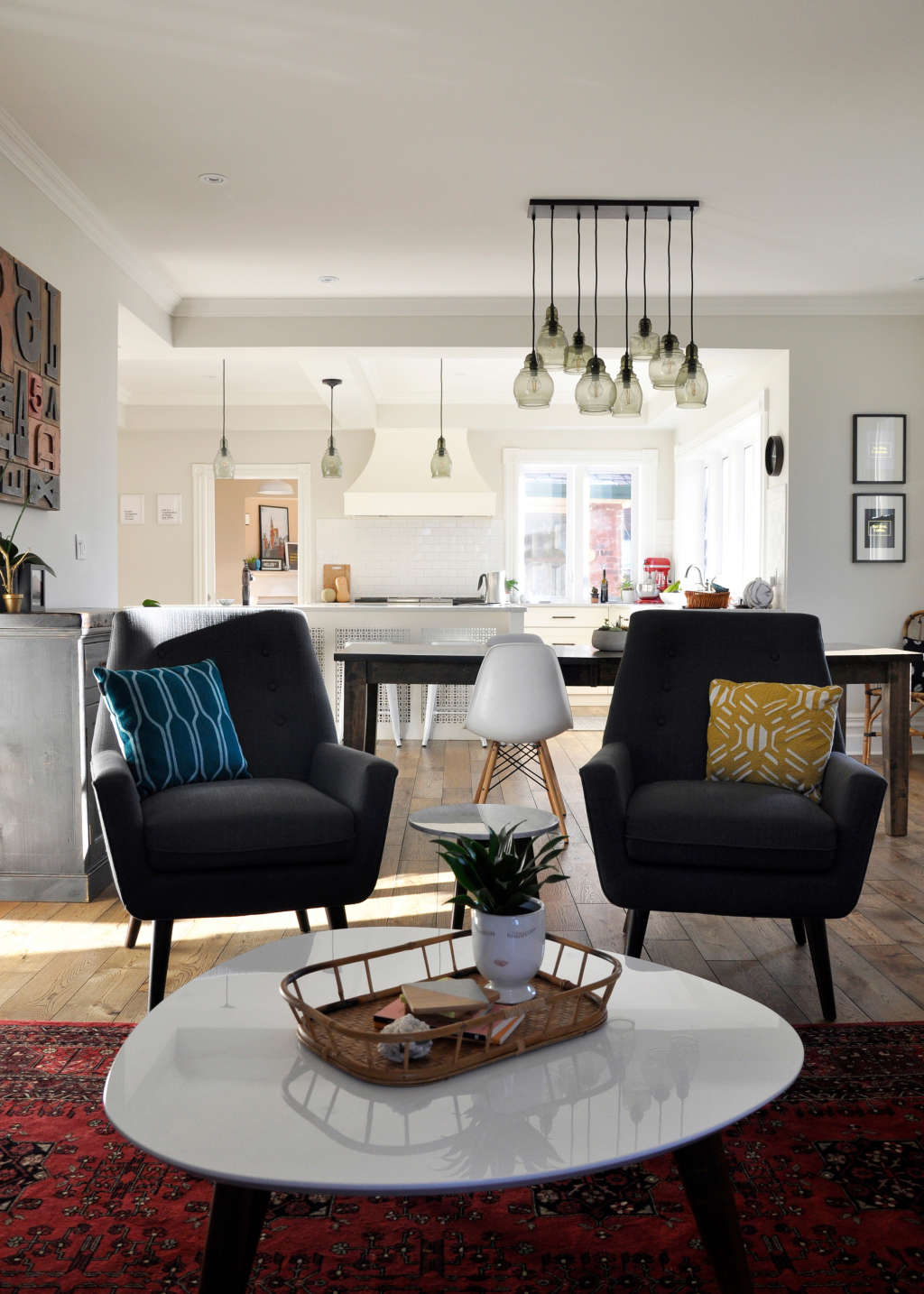 Name: Lesley Pocklington, partner Kevin, two kids aged 5 and 8, and a cat Named Mona
Location: Peterborough — Ontario, Canada
Size: 2,000 square feet
Years lived in: 2 years, owned
Two years ago we packed up our family of four and moved to Peterborough when opportunity called. Kevin, an engineer and food scientist, was starting a new job at a historic oat factory. Lesley, a designer and small business owner, was apprehensive at first; but could pick up with her "mobile" career. Having lived across the country, we welcomed the challenge together.
We left our semi-attached home in Toronto and found a renovated century home (that still needed a bit of love). It reminded us of our previous house and neighbourhood with a blend of urban living and the outdoors. We settled in to small-city living where a river runs through it, the air often smells like baked COOKIES, and old trees are everywhere. Two years in, we have made it our own family home where we often entertain new-found friends. Our home is filled with loved treasures from travels, design pieces that we have collected over the years, and plants. Lots of plants.
With a love for mid-century design with bohemian touches, our modern style gives a nod to the classic elements of our century home and leaves room for real family life. With two small kids, we love cozy spaces to snuggle. Especially during Canadian winters where bright light and warmth are must-haves.
Describe your home's style in 5 words or less: Family, bright, modern, boho, cozy
What is your favorite room and why? Our renovated bathroom! We took a bizarre and cringe-worthy bathroom with a shower that Lesley called the "coffin" and turned it into a dream. With a minimalist but roomy walk-in shower and a custom mid-century cabinet and brass and black fixtures and finishes. The bathroom is filled with light and is a favourite spot to start or end the day.
If you could magically change something about your home, what would it be? We have an attic loft space that Lesley is currently using as a studio for her lifestyle brand. It has wall-to-wall drab carpet and a mish-mash of stuff we just don't love. We'd love to see it turn into an extension of the rest of the house with a minimalist style, but magical charm that would spark creativity. We'd also change some the fixtures and finishings in our kitchen. While beautiful, we would have chosen something a bit more streamlined.
Any advice for creating a home you love? Over time, collect and curate pieces that you absolutely adore and will stand the test of time. If you don't love it, don't buy it. Life is too short for meaningless stuff, so be thoughtful about your purchases and how they make you feel. They will be a true reflection of you and your own unique style to create a space YOU love.
Thanks, Lesley!
• Interested in sharing your home with Apartment Therapy? Contact the editors through our House Tour & House Call Submission Form.