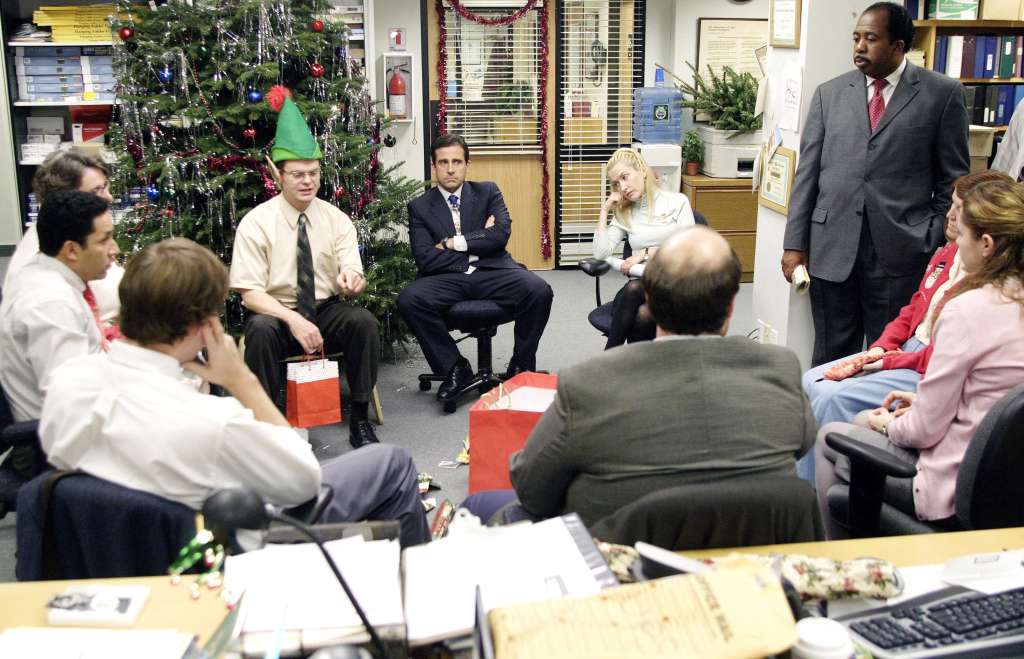 While "Bob's Burgers" and "Friends" maintains the monopoly on Thanksgiving stories, other shows crafted and perfected the sitcom holiday episode. Chief among them may be NBC's "The Office," which ran for nine seasons and celebrated Christmas for seven of them.
It's true that this show has not aged well since it aired. Today, Michael Scott would never be in a managerial role; Jim's "cute" advances toward Pam would be viewed through a completely different lens in 2018; and Dwight wouldn't be allowed to stay in a cubicle setting. That said, the show really knew how to throw a mid-aughts holiday party, and we're here to rank every single one.
7. Season 9, Episode 9: "Dwight Christmas"
NOPE. In this, the series' final holiday episode, the staff forgets to plan the party until the morning of. Dwight tries to save the day by throwing a German-themed party, which wins over the other suggestions of "tropical Christmas" and "topless Christmas." There are new characters but no Michael, and even though I know I'd seen this episode before, I remembered none of it in my rewatch.
6. Season 8, Episode 10: "Christmas Wishes"
This is the first season without Michael, and you really feel it in this episode. Andy's the boss now, and he's bringing his girlfriend Jessica to the party to introduce her to everyone and maybe to make Erin jealous. It doesn't work because zero people are invested in the will-they-won't-they dynamic between Andy and Erin.
(Image credit: NBC / Getty Images)
5. Season 5, Episode 11: "Moroccan Christmas"
The staff holds an intervention for Meredith after she drunkenly catches her own hair on fire at the party. Meredith's alcoholism has been a running "joke" throughout the series that was never, ever funny, so this episode is not my favorite.
4. Season 6, Episode 13: "Secret Santa"
Highlight: This is the first holiday episode with Ellie Kemper! Lowlight: Michael makes a transphobic joke about Phyllis playing Santa Claus.
3. Season 7, Episodes 11 & 12: "Classy Christmas: Parts 1 and 2"
Michael and Holly are reunited at the office Christmas party after Toby in HR is called away for jury duty. Unfortunately for Michael, Holly is still involved with her boyfriend, A.J., who comes to crash the party. This didn't need to be a two-parter but it gets a higher ranking because it features a rare moment of Michael acting maturely (after acting wildly immature).
2. Season 3, Episode 10: "A Benihana Christmas"
The one with the feuding party planning committees! Michael gets dumped by his realtor/girlfriend the morning of the office party and proceeds to have a spiraling meltdown. The guys take him to Benihana to cheer him up, and the scene at the restaurant in which Dwight shouts directions to a waitress about how to correctly kill and dress a duck is maybe the funniest moment of season three.
1. Season 2, Episode 10: "Christmas Party"
This is the best holiday episode of the series. It has so much good Jim and Pam stuff, which is honestly the only reason to rewatch seasons two and three. Jim gets her the cutest Secret Santa gift, only to have it co-opted by Dwight in a round of White Elephant. In the end, that teapot winds up in the right hands, even if the surprise note that was inside doesn't make its way to its recipient. That's what "Casino Night" (season two's finale) is for.
Watch all of these episodes now on Netflix.