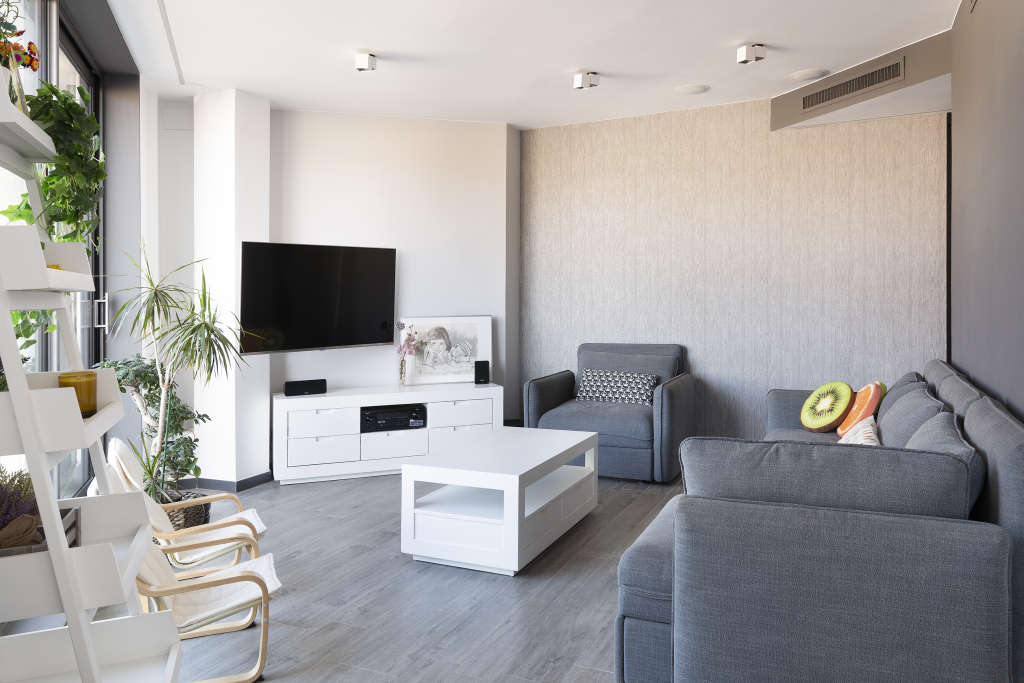 Name: Raul, Igone, Nora and Naida
Location: Sagrada Familia — Barcelona, Spain
Size: 1,600 square feet
Years lived in: 2 years, owned
As their children grew, Raul and Igone started to look for a bigger apartment where their two girls could have more space to run and have fun. House searching was not easy, however, and it took Raul and Igone three years to finally find the place. Though the apartment certainly didn't look like it does now when they first viewed it. Poorly laid out and dark, the 1980s-style vibe made it hard to visualize the clean, minimal home of their dreams. After a year-long renovation, though, the final result proves their instincts about the apartment's potential were spot on.
Both engineers, Raul and Igone were able to design the structural part of the renovation on their own, but when it came to the interior design and details, they enlisted the help of architect Nuria Heras of nu-he Studio and Nella Kasurinen of Nordic Light Construction.
Raúl and Igone like "elegance without ostentation," so Nuria and Nella helped the couple find just the right mix of color, simple lines, and textures that they were looking for. The home's soothing canvas is a beautiful backdrop for the two colorful and energetic kids. And, as an added bonus, the apartment's terrace has views of La Sagrada Familia, the famous Gaudi-designed church. The home's sleek architecture allows the city views to shine, too.
Having fun is an important part of the young family's life, so it was a must to have a practical apartment with sturdy materials and open spaces, where the girls can run around and enjoy themselves. The place may look minimal, but it's not precious. It's a home that's lived in.
Apartment Therapy Survey:
Our Style: We like simplicity, softness, and elegance without ostentation. We love to stay at home and enjoy it as a family. We hate vintage, retro, and modern.
Inspiration: The apartment itself! It was such a dark and unbalanced apartment that we decided to renovate it completely. We wanted to give it a much younger and brighter look.
Favorite Element: The living room and the kitchen. We love the open space and the fluency between them.
Biggest Challenge: Being able to see the potential of the apartment. We had been looking for a place to buy for such a long time that we really wanted it to fulfill all our expectations. In the end we are more than happy; above all because everything started with a note in my car that said: Old apartment for sale!
What Friends Say: They love the view of La Sagrada Familia and the geometry of the place; when we close the corridor doors everything seems to be part of a big box.
Biggest Embarrassment: The tap in the small bathroom. We chose a short one because the space was not big enough. So now, when you clean your hands, you have to bend over too much. Such a pity!
Proudest DIY: The stickers on the girls' room wall. We bought them online and spent one afternoon all together sticking them on the wall.
Biggest Indulgence: The puzzle we generated with the four different floors we have in the apartment. Everything was so well thought-out.
Best Advice: Do not be discouraged! It's hard but it seems to be so much better when, getting it right, is complicated.
Dream Sources: Two stores that we really like are Nordic Think and Cubiñà.
Thanks, Raúl, Igone, Nora, and Naida!
---