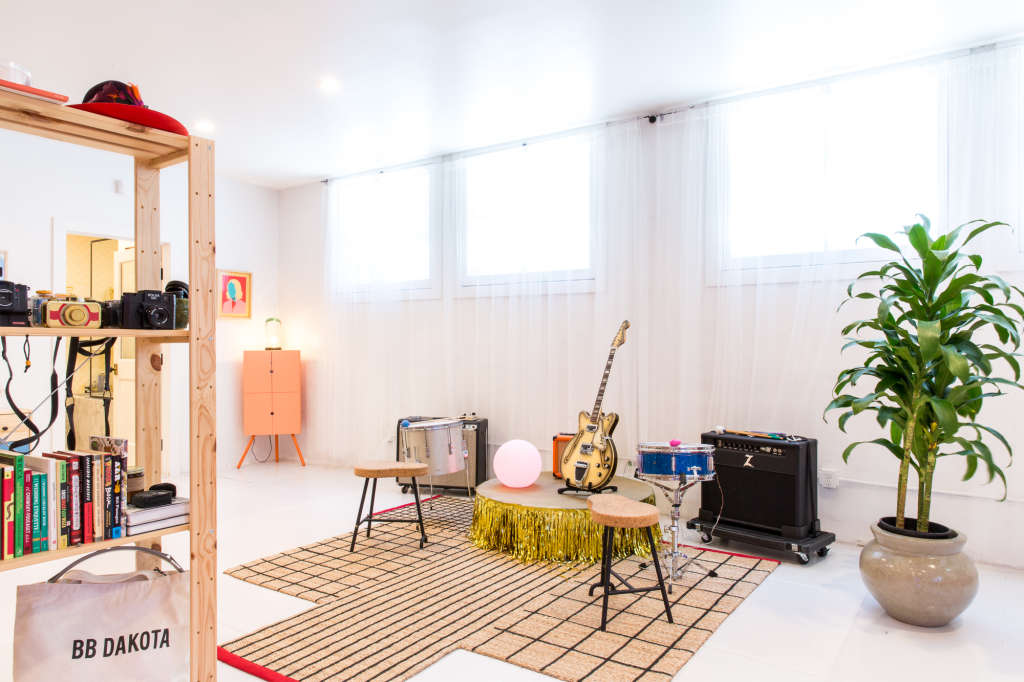 From sending invitations, to catering, to prepping and cleaning the house, a party host has a lot to think about. One thing they shouldn't have to stress over? Whether their guests are going to have a good time.
With ample food and drink, a party is always a good time. But when partygoers aren't well-acquainted or Uncle Joe has a tendency to ruffle feathers by talking politics, it's smart to have a few tricks in your back pocket. We're not talking groan-inducing games—just some good old fashioned fun to add to the merriment and help get people talking.
Oh, you want games? We've got some ideas!
1. Leave instruments out
Strategically place a basket full of small handheld instruments—a tambourine, a harmonica, or even a small steel drum or bongo, says Jennifer Porter, etiquette expert and owner of Satsuma Designs. If you have a piano, be sure to leave sheet music out, as well. Hopefully a jam session will break out!
2. Create a craft station
A small craft station serves as a fun activity, but doubles as a party favor for guests, says Porter. Set out the supplies for guests to decorate a wine glass charm, plant a mini pot with herbs, or make a small holiday ornament. You can also turn this into a service project by asking guests to decorate and sign blank greeting cards for residents of your local assisted living/retirement home.
3. Organize a cook-off
There's nothing like a little friendly competition to lift the energy level in the room, says Jung Lee and Josh Brooks, co-founders of FÊTE NY and Slowdance. Challenge a few guests to make their best version of one dish—think a cocktail with peppermint or an easy appetizer like guacamole. Then, ask the rest of your guests to embrace their inner food critic and vote for a favorite. Send the winner home with a small prize; loser does dishes… just kidding!
4. Set up a photo booth
A perennial favorite, the photo booth adds a fun interactive element, but also serves as a memento. No fancy equipment required—simply set out a polaroid camera and some props.
5. Arrange a tasting
Choose a food or a drink you're passionate about—cheese, beer, or even tequila, suggest Lee and Brooks. If it's beer, for example, get an assortment of the best cans from local breweries. Keep it informal by setting up stations, or go the more formal route and walk guests through a short tasting (maybe even with flight boards). The point is to keep it fun, but send guests away with some interesting new factoids.
6. Let the group create the playlist
Have a music decade theme and let people request songs on a clipboard or a list, says Porter. Populate the list with a few ideas to get creative juices flowing. After guests go home, create a Spotify playlist featuring your guests' selections. Give it a fun name to reflect the party, and share it with all of your guests.
7. Ask guests to come dressed in something specific
Lee once asked dinner party guests to come in their worst bridesmaid dress. It was an instant conversation starter—everyone had stories to tell about their dresses and the weddings associated with them, she says.
8. Set up a dessert bar
The host can take one thing off their to-do list—perfecting a dessert—by setting up a DIY sweets bar, says Porter. Let guests decorate cookies or cupcakes, or set up an informal candy bar.
9. Try conversation starters
"Spending time with friends and family over the holidays is always wonderful, but when you can take that time to deepen your relationships it makes the occasion that much more special," says Tracy Taylor Ward, president and principal designer and planner at Tracy Taylor Ward Design. Ward suggests the "Well Known" pocket guide, a small flip book filled with conversation starters. Alternatively, says Porter, place a few prompts in piles of five to seven conversation starters or questions around the party—you can even frame them.
Apartment Therapy supports our readers with carefully chosen product recommendations to improve life at home. You support us through our independently chosen links, many of which earn us a commission.