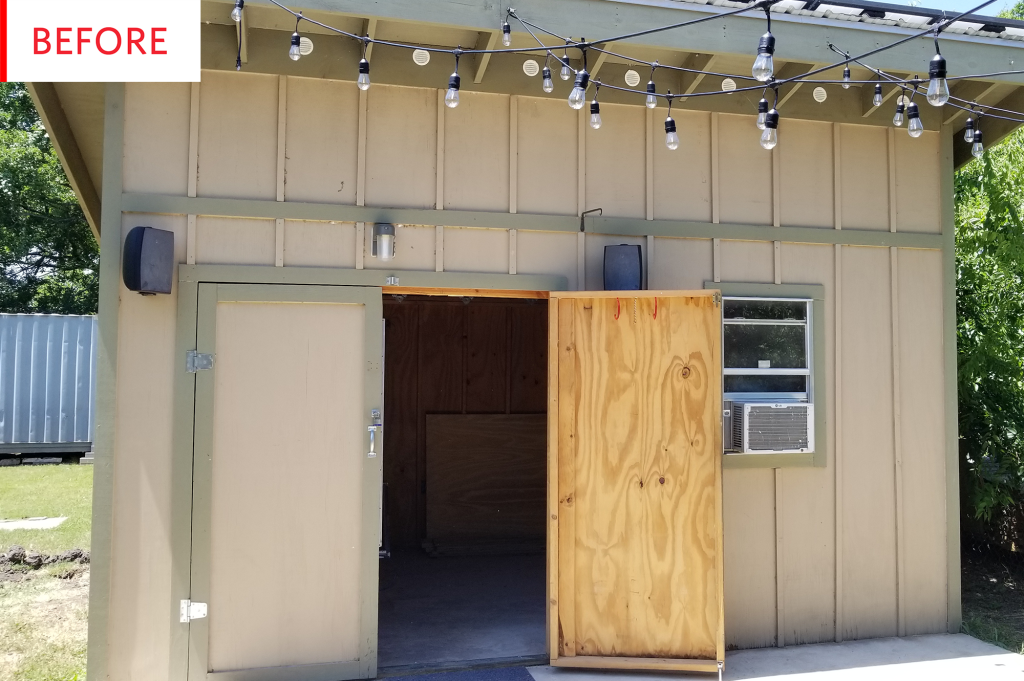 This shed was just sitting a backyard, decidedly not pulling its weight and contributing zero to the household budget. Its owner decided to invest a reasonable amount of money, and a lot of hard work, to take it "from shabby storage shed to chic guest suite."
Here's a bit more information about the pre-makeover situation and what led to the decision to convert the shed into a hot Austin destination:
The existing "before" structure was a simple storage shed, but I immediately saw potential in the 12-foot pitched ceiling and the fact that it was already wired with electricity and solar panels. Originally, my idea was to convert it into an office space for my events business but decided it would be a better investment as a rentable guest suite.
I decided to make a change because I saw so much potential; both in how great I knew I could make the space look, but also because I'm a fan of "house hacking" or creating supplemental income by renting out extra space. I wanted to tackle the design challenge of completely transforming a building and create a guest suite that could cover my mortgage payment.
Richelle Ouellette of Alchemy Events did an amazing job—the formerly utilitarian shed is now stylish, inviting, personal, and full of rustic-glam. Black, white, and wood is a beautifully minimal combo that allows the ceiling and door to be the stars, with a little assist from well-chosen art pieces and accessories. The welcome basket is so sweet, and the coffee maker on the left makes the mornings a bit easier. Overall the style seems absolutely perfect for Austin, Texas, making this an amazing place to stay in the area.
There are so many welcoming touches both practical (bedside light and chair/table), whimsical (gumball machine!), and entertaining (the record player).
Here's another fabulous sliding door—remember this recent DIY door—that's also a real space saver in a small place. The door's height gives it a major presence, and the diagonal alignment of the wood is unique and dynamic. There's only a glimpse of the shower, but it appears to be stunning. Tiling the wall all the way up to the wooden ceiling creates a luxurious look—that alone makes this a special place to stay that feels vacation-y. The tiles' skinny proportions set it apart from the more commonly seen subway tile.
I am absolutely obsessed with the space—to the point that I'm seriously considering ditching my house and moving into the guest suite! I honestly love everything, but my favorite features are the cedar plank ceiling (which was the biggest design splurge), the 12-foot tiled shower, and the beautiful custom modern barn door that a friend built for me at a steal of a rate.
The one thing I would have done differently is include a more accessible closet space. We justified that, since guests would be coming in and out, they wouldn't have many items to store, so the utility "closet" access is actually hidden behind a frame. I would like to (and might in the future) make the room more functional with extra storage room.
The clothing rack is smart move in a guest suite. It's almost always large enough to hold all the clothing a guest might bring on a trip, and it contributes to the suite's cool, urban, loft-like feel. The lower platform of the rack can hold lined-up shoes, bags, purses, and more.
What does it take transform an ordinary shed to the hottest boutique hotel in town? Richelle explains:
From start to finish this project took about four months with my (21-year old!) handyman working on it part-time and me pitching in on free nights and weekends. We had professionals help with the plumbing and drywall, but did everything else ourselves for right around $10K. We were lucky not to have any major setbacks or surprises, but certainly minor ones.
It felt like I was learning something new every day, such as the fact that you have to think several steps ahead of where you are actually at in the process! We lost at least a couple weeks waiting for items that were on backorder (and should have been purchased weeks before—whoops!), or because we had miscalculated how long each of the prep steps would take. For example, the mortar on the tile has to dry for at least a day before you can grout, and then the grout needs another week before it can be sealed. The shower, which I thought would be a weekend project, ended up taking at least two weeks.
In general, we went through a fair amount of trial and error because we were DIY-ing so much of the project, but in the end I'm thrilled with the finished result and happy to have gained the experience along the way.
Timing, in renovations and most other aspects of life, seems like a terribly challenging and crucial element, and one that would be difficult to get the hang of until you have a few major projects under your belt. This is where an expert contractor comes in handy, but for a totally DIY project, having Richelle's flexible attitude and enthusiasm for the experience is the way to go.
A simple coat of paint, a lovely copper light, and a cheerful doormat have given this shed an entirely new house-like, totally un-shed-like look. (This is a different view than the "before" shot above, but the gist is the same.)
If you're thinking of hacking part of your home, or just diving into any improvement projects, Richelle has some excellent encouragement:
My best advice is to just jump in, knowing that there will be bumps along the way and mistakes made no matter how well you prepare. Obviously, get your ducks in a row with financing and contractors as much as you can beforehand, but don't spend too much time overthinking it. It's (mostly) all fixable and should be fun!
Thank you, Richelle Ouellette of Alchemy Events!