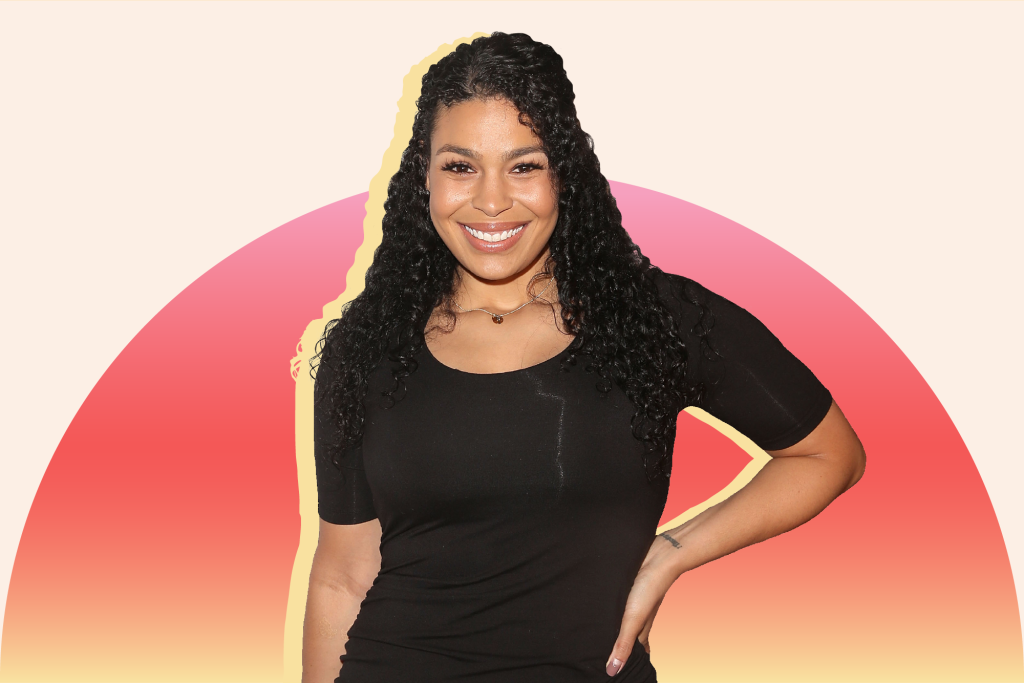 Welcome to My First Apartment! Whether it's your first studio, a four-bedroom deep in the city shared with a handful of roommates, or even an entire house (lucky you!), there's something special about moving into the first place that's truly your own. In this series, we'll showcase actors, artists, entrepreneurs, and beyond—asking them to revisit that oh-so-sweet nostalgia of newly-found freedom.
When you win American Idol at 17, your life tends to accelerate in a way you never imagined: You're releasing albums, headlining tours, and singing at the president's inauguration—all before you turn 21. Yes, this was the case for Jordin Sparks, who also experienced a Millennial milestone before many others her age: renting her first apartment. Sparks moved into her first apartment in Manhattan back in 2010 (when she was just 20), while she was starring in "In The Heights" on Broadway.
"My first apartment wasn't a crappy little apartment," Sparks told me as we chatted after a workout class at AKT in New York City in partnership with Febreze as part of their #FebrezeYourGear campaign. But just because it was more luxe than most 20-year-olds, doesn't mean she still didn't have the typical "adulting" faux pas—it was still a total learning experience.
Interested? Read on as Jordin Sparks revisits her first apartment.
My First Apartment: Jordin Sparks
City: New York City
Neighborhood: Hell's Kitchen, 42nd and 11th by the Intrepid Sea, Air & Space Museum and Restaurant Row
Size: 2 bedrooms, 2 bathrooms
How you paid your rent: Starring in "In The Heights" on Broadway
Why you decided to live there: It was my first time getting an apartment, living alone, and living in New York. It was a lot! There were a lot of options, but that one was the closest to the theater. It was still far enough away that I could get away from the theater, but close enough to walk.
What you did on the first night: I was on my Battlefield tour, and my last show was in Philadelphia [the night before], so after we drove to New York. The next morning, I moved in with whatever I had on tour—some boxes came later. That night, I slept because I was so exhausted and I had rehearsal the next day, too!
Set the scene in three words: Light, contemporary, homey.
Roommates?: My two dogs and my best friend, Morgan.
Three things on your wall: I had one of those decals on a huge window that looked out into the city. [It said,] "Life's not the breaths you take, but the moments that take your breath away." Every morning I woke up, and looked out the window into New York City, and saw the view through that.
But I didn't put anything else on the wall because I didn't want to get in trouble. I'm not getting charged extra!
Worst idea you ever had in the apartment: I'm glad I had them with me, but apartment living with dogs is difficult! They tore stuff up because they needed a little bit of attention. I should have moved somewhere closer to an actual park—as opposed to just the cement [outside.] I was not thinking about any of that stuff when I was doing eight shows a week.
Best memory: I've wanted to do Broadway my entire life, so the first show was emotional. My mom and dad were the ones that took me to Broadway plays when I was a kid, and they came to see me. It was a full-circle moment. After that, we came home and I made some cupcakes for my family.
Neighborhood haunt: It wasn't a bar because I was actually 20 at the time—but there was a Juice Generation that I would get all the time.
Daniela Trattoria is also right around the corner from Richard Rodgers Theatre [where "In The Heights" was]. On a Saturday, between the matinee and the evening show, I'd order from there, eat half of it, and take it home. If I was home on my day off, I'd eat there, too! They "put their foot in the food."
Thing you hated most about living there: New York has a piece of my heart. My dad played football for the Giants when I was growing up, so we lived in Jersey half the year. I always loved visiting the city, but I never thought I would live here. And then once "Idol" and everything happened, my life just became so fast-paced. And to live in a city like New York that's also so fast-paced—that was difficult to adjust to.
But that was then. I feel like if I were to be here now, with my mindset and the place I am in life, things would be a little different.
Thing you loved most about living there: Everything was close. I saved lots of money on gas. There's so much to look at, so much to learn. New York City hits all five senses for sure. That was a really cool experience—especially being by myself for the first time. If anybody can get out of where they live for just a little while to experience it, I'm all for that.
One feature you'd never live with again: A kitchen that small. It wasn't even a galley kitchen.
One feature you'd never live without: Lots of light. I'm from Arizona so I'm naturally like, "I need light everywhere!" But to come to New York and get that was absolutely incredible.
Song that will always take you back: "Breathe" from "In The Heights." Every time I come to New York and pass that apartment, I sing, "This is my street…" in my head every single time. I love it so much.
Smell that will always remind you of it: Completely honest… Dog pee. It was clean in the apartment, but not when I had to go down to the "dog park" (it was just concrete covered in pee.)
What you did on the last night: It was the last show, which is a bittersweet memory. I was exhausted and worn out from being actually sick, but also homesick. I didn't want to leave the show. It was so much fun!
But that night I had to come home and pack up my boxes. I was pretty emotional. But it's a good memory because it really sealed the whole time, but I miss it every single day.
Did you get the security deposit back?: I have no idea. I should check my bank account!
One item you still have today: Kelly Clarkson actually came to see the show—I was freaking out! Instead of a bouquet of flowers, she got me this little Swarovski crystal bouquet of flowers. I thought it was the smartest—it's so sweet and I'll have it forever. I still have the cupcake tin, too.