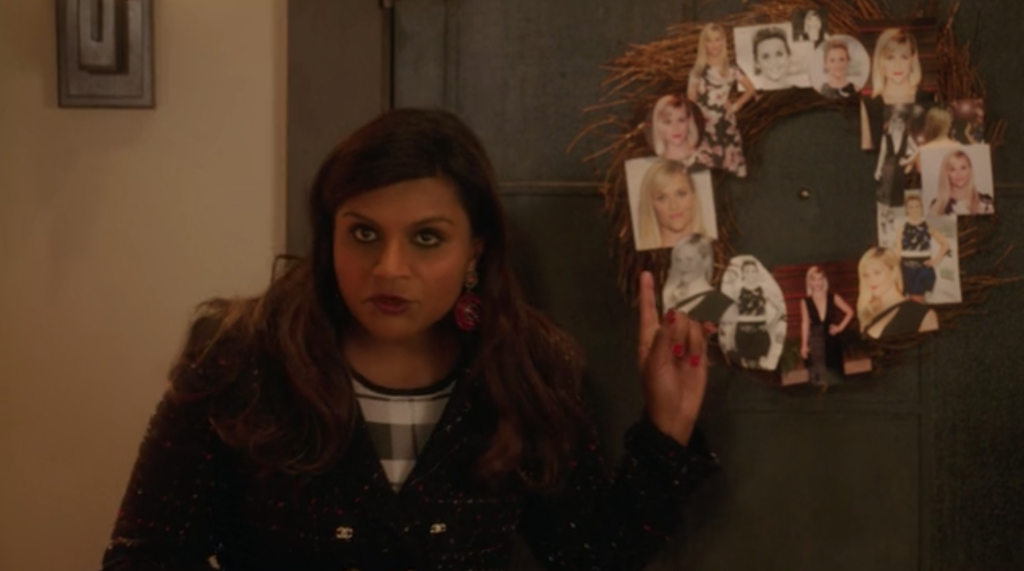 It is that time of year again! Christmas is just days away and Mindy Kaling has her Wreath Witherspoon hung on her door. Not familiar with a Wreath Witherspoon? It is Mindy's decorative Christmas wreath that is adorned with photos of the beloved actress, Reese Witherspoon.
Mindy first debuted her wreath in a 2014 episode of her hit TV show, "The Mindy Project." In the season three episode, Mindy is decorating the tree with her boyfriend, Danny Castellano, when she is looking for her Rihanna Christmas tree topper. Danny jokes that exposed breasts don't belong on a Christmas tree and even goes on to say Mindy's lucky he puts up with her wreath. To which Mindy replies, "Wreath Witherspoon? This is the nicest thing in your apartment."
Since it first appeared, Wreath Witherspoon is has become a tradition. Many fans of Mindy and Reese have since created and shared their own wreaths online. In fact, Reese loves this tradition so much, every year, she personally picks some of her favorite wreaths dedicated to her and shares them on her personal Instagram account.
Not to be outshone by strangers online, Mindy has debuted some new Christmas decor and the items are as punny as ever! Mindy shared the new items on her Instagram with the caption:
I'm throwing a holiday party tonight. It's going to be very punny… 🎄🎉 Swipe for all my festive decor inspired by #WreathWitherspoon
All of the new items are celebrity-focused (obviously). If Mindy is anything like her TV counterpart, she loves celebs and she absolutely loves rom-coms. Of Mindy's new Christmas decor, she has a gingerbread decoration named Ginger-Fred Armisen, garland adorned with "Wizard of Oz" star Judy Garland, a little Matthew McConau-Tree, as well as a Chris Pine Tree, a Margaret Cho-Flake, and a present topped with a Michael Candy Caine.
All we want to know is how we get invited to Mindy's Christmas party next year?