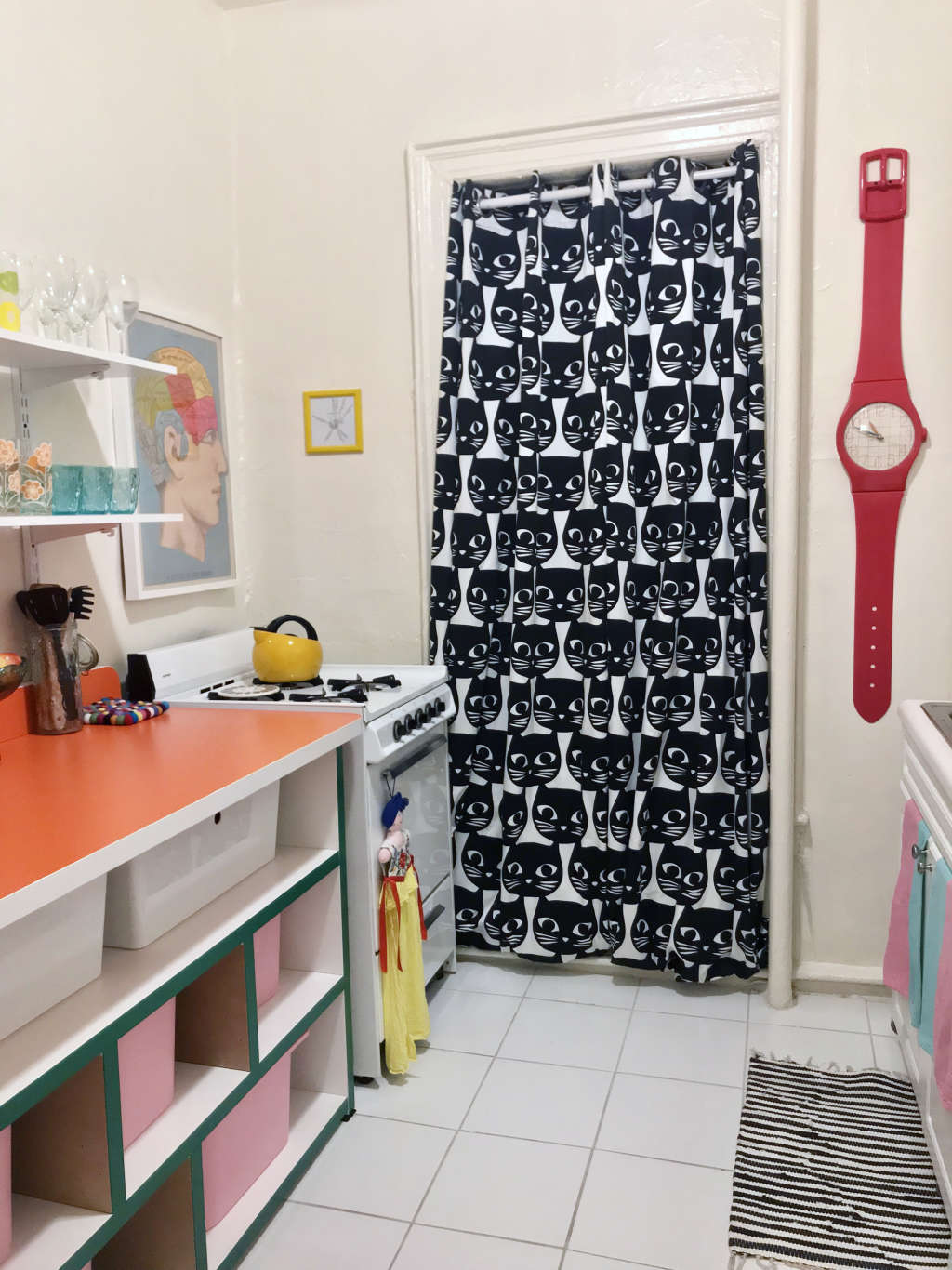 Name: Rebecca Duckert and a new roommate [but she hasn't contributed to any of the decor in the apartment yet]
Location: Upper West Side — Manhattan, NY
Size: Around 1,000 square feet
Years lived in: 2 years, renting
When I moved to New York three and a half years ago from my hometown of New Orleans, I drove up here in a U-Haul with all of my belongings because I was committed to starting a real life in my new city. I know New York can feel very transient for most people, but I was ready for this new chapter, and bringing all of my clothing and home furnishings with me was not only a practical decision (saved money on purchasing all new everything) but a symbolic one. I had lived on my own for a decade by that point and had accumulated a lot of really unique, special items—family heirlooms, antique furniture, mementos from my travels, art pieces I made, childhood keepsakes—I didn't want to start from scratch with a bunch of new stuff that didn't matter to me. Getting used to life in a whole new place was going to be an adjustment enough, I at least wanted to be surrounded by things that made me feel good and comforted.
Anyone who knows me can attest that I am incredibly sentimental and nostalgic, an "old soul" in the truest sense of the phrase (but one who knows what a trite phrase it is). At least 90 percent of my wardrobe is vintage (I love the cuts, fabrics, and the thrill of finding pieces that no one else has), and that reverence for the past carries over to my home decor as well. My personal style, both in fashion and in my home, is hugely influenced by my family (specifically my wonderfully kooky Lebanese/Latin immigrant grandparents who I saw almost every day of my life well into adulthood and who passed down much of their clothing and furnishings to me) and my life growing up in New Orleans, itself a living, breathing vestige of a bygone era. If you've ever been there, you know that it is a city bursting with color, music, and infinite joy. The spirit of New Orleans and my lively multicultural upbringing permeate almost every aspect of my life, and their influences are certainly apparent all over my home.
Finally tried open shelving a couple of months ago because I wanted my colorful dishes on display and I am loving it! Vintage juice and wine glasses from an old family friend mixed with cheap buys from Flying Tiger and Marshall's; thrifted 60s and 70s fruit bowls and pasta jar used for holding larger cooking tools. I love mirrors everywhere because of the way they bounce light and color around the room, and the kitchen is no exception. This little one with a delicate floral design is from a thrift store (of course). Somehow the orange countertops have become a unifying neutral for all the other colors in the room.
(Image credit: Rebecca Duckert)
An added component to my apartment that is in keeping with my New Orleans roots are the businesses I run out of it. In an effort to carve out my own niche in the big city and bring a bit of my hometown to my new home, I started a New Orleans-style shaved ice business, Sweetface Snoballs, two years ago. We do festivals, markets, and events all over New York and I make all of the syrups in my kitchen. Thanks to the (wonderfully bright orange) countertops my former roommate's dad installed for us, I have ample space to work. I am also the co-founder of an all-women's dance team, the Big Apple Babes, formed in the style and revelry of the Big Easy's marching krewes, and I frequently use my living room to work on choreography and host crafting/costuming parties with the gals. So my home serves me well for my creative and entrepreneurial endeavors.
I created the art piece on the right using high school photos that flooded during Hurricane Katrina. As I pulled the stacks of photos apart, I loved the way the ink was swirling and drying in such strange ways. And some aspects of the photos are still visible, giving this piece a ghostly, nostalgic quality. I repurposed a lot of my flooded items as a way of making something positive out of such a tragedy. Desk was my dad's from his grammar school; antique Coca-Cola crate used for storage; grandpa's desk lamp in my favorite color, yellow; curtains I got at TJ Maxx for $10 over 10 years ago
(Image credit: Rebecca Duckert)
Lastly, I love my apartment's central location in Manhattan. My first year in New York was actually spent in Carroll Gardens, Brooklyn, which was perfectly quaint, but I knew deep down I was meant to be in the city. I moved to New York for the bustle, the vibrancy, and I just didn't have that in Brooklyn. I never thought I would end up in the Upper West Side, but it actually suits me pretty well—it's residential but still has that "buzziness" I crave (there are 24-hour bodegas and halal carts all around should I ever need aspirin or avocados at 4 a.m.), plus it's chock-full of real-deal New Yorkers, many of whom have lived in this neighborhood their entire lives, and real-deal New York restaurants and shops like Barney Greengrass and Zabar's, all of which adds an authenticity to the neighborhood that you don't necessarily find in other parts of the city anymore, and that is very important to me, especially coming from a place like New Orleans.
What is your favorite room and why? This room is definitely the heart of the apartment. I like to think of it as a microcosm of my personal style and everything I love, all shoved into one little room: a perfect mix of bold colors and prints, vintage furniture, family heirlooms, personalized art, mementos from my travels and childhood, New Orleans kitsch, salvaged pieces mixed with new staples—all of which come together to create a cozy, stylish space that encourages conversation. The gallery wall behind my sofa is essentially my entire life in a series of frames. The natural storyteller in me really comes out in this room because almost every little thing in here has a story behind it—from the coffee table that belonged to my grandparents where my sister cut her own bangs with safety scissors as a toddler, to the photo that I stole from a hostel in Florence on a dare on my very first trip to Europe at age 19. I love inviting people into my life and my history and the living room is the center of it all.
My love of mixing graphic prints carries over to the bedroom, with my black-and-white pillowcases and Urban Outfitters poppy curtain panels. The number 8 was my grandma's lucky number, so when I found this antique cast iron cake pan from an old bakery in the East Village that was going out of business, I knew I had to have it. We were very close and I feel like it's her watching over me in a way. I left the small IKEA chest of drawers natural wood in lieu of painting or staining it, but added crystal knobs to play off of the crystal lamp. I wrapped the plain white lampshade in yellow chenille yarn to make it feel more special and add a pop of yellow (did I mention it's my favorite color?) Small mirror was my great-grandmother's, the "Love Me Tender" souvenir snow globe from Graceland. I did the nude painting as a senior in college. I actually just found the chair a few days ago on the sidewalk in my neighborhood. The legs and back are really unique, which makes me think it's vintage (did I mention I like vintage?)
If you could magically change something about your home, what would it be? I love color and would love to paint the walls of my apartment, but since I rent, I don't want to go through the hassle of painting everything just to have to paint it all back to neutral if/when I move out. That was a challenge for me because everywhere else I have lived prior to this place, I have painted my walls in colors that felt more "me;" I think this has forced me to figure out ways to make my decor elements shine in their own right and express my style without having colored walls to anchor my choices.
I'd also really love more natural light and a bigger bathroom, but who wouldn't?

Thanks, Rebecca!
• Interested in sharing your home with Apartment Therapy? Contact the editors through our House Tour & House Call Submission Form.